BUILDING ANOTHER SWAP MEET CRUISER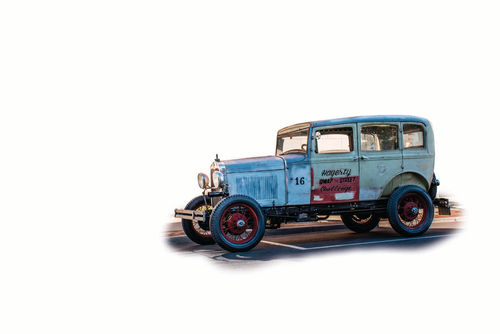 Last April we talked about how some folks from Hagerty, a company that specializes in insurance for vintage vehicles, decided to show that a project truck could be assembled within a few days using parts mainly gathered at a swap meet.
They had traveled to the massive annual swap meet in Hershey, Pennsylvania, with some pieces of a 1946 Ford pickup to conduct their automotive experiment. When they arrived they had a cab and front clip along with a frame with refurbished brakes and suspension parts.
Then, in about 100 hours, they gathered the rest of the parts they needed, assembled the truck and drove it 700 miles to their corporate headquarters in Traverse City, Michigan.
With the success of that project to their credit, four Hagerty employees decided to try again at the 2016 Hershey meet only this time their "Swap to Street" challenge would be a 1930 Model A Ford.
Furthermore, they began this project with only a rolling chassis and built their Model A from there. Every other part used to build the Model A was sourced from the Antique Automobile Club of America (AACA) Hershey Meet, Hagerty reported. The team used either stock or modified parts for the car, depending on what was available.
In what was termed "an effort to illustrate the accessibility of the collector car hobby," the total cost of the project was less than $10,000. And once again, in less than 100 hours the Hagerty team was ready to head for home in their swap meet vehicle.
"The second 'Swap to Street' build brought new challenges, but we again proved that a functioning vehicle could be assembled within just a few days, solely from parts that we could find at the show," said Davin Reckow, Hagerty Parts Supply Specialist.
With their "new" vehicle to serve as transportation, the team started toward home. Along the way they had to overcome a persistent oil leak, dead starter and tend to some other minor repairs while covering some 300 miles in two days at an average of 30 mph. Then, reluctantly, to save time the team loaded the car in a trailer to be hauled the remainder of the way. But even though the Model A didn't roll into Traverse City on its own tires, the team found reasons to be pleased with the project.
"I consider the Swap to Street build a total success, even though we did have to trailer it the rest of the way home," Reckow said. "The decision wasn't because of mechanical issues we couldn't overcome—it was merely to save time. We all have day jobs and families that we needed to get back to and at the rate we were going, we would have been on the road for a couple more days."
And the message they hope the latest project will deliver to the public?
"You don't have to be an everyday mechanic or have a lot of money to do something crazy and fun with an old car," Reckow said. "You just need the passion, desire and the camaraderie that comes within this hobby. We hope the 'Swap to Street' build inspires others to put a project together."
For more on Hagerty and its insurance for vintage cars, trucks and tractors, coverage for automotive tools, spare parts and "automobilia" (any historic or collectible item linked with motor vehicles) along with overseas shipping and touring and club liability coverage, visit hagerty.com.