Automotive Climate Control
Drivers of vintage vehicles often have to do without modern automotive convenience such as factory air conditioning and multi-speed windshield wipers. And if your vehicle is from the Pre-War era, its heater may not exactly keep you toasty warm on the coldest days and at times you may find it's most efficient to "defrost" your windshield with the help of a clean cloth.
But while a sweaty back on an August afternoon or a cold nose in the middle of winter may not exactly add to your driving pleasure, the three images on this page will give you an idea of what "autoists" did a little over a century ago when they wanted to hit the road under less-than-pleasant conditions.
At the upper right a then-new 1903 Packard is seen in Nevada as it traveled from San Francisco to New York City in the summertime with an umbrella as protection from the sun. The ad below that from the Scott Muffler Co. tells us that the use of a Scott product "Makes Zero Weather Pleasant," and at the bottom of the page an ad for Storm Aprons—available with up to five openings—shows us what it took to stay dry while going for a rainy day drive in the early 1900s.
These images were pulled from "Automotive Climate Control—116 Years of Progress" by Gene Dickirson, a retired Ford Motor Co. engineer.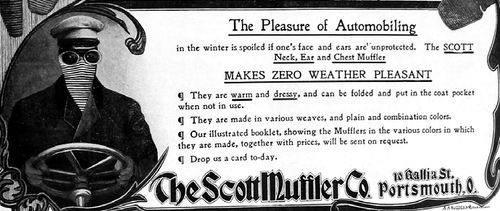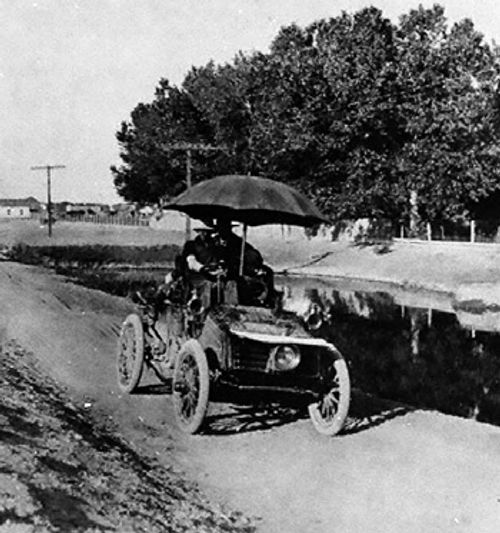 The book is based upon materials that Dickirson compiled for new engineers at Ford's Climate Control Division and it starts with 35 pages of narration followed by some 450 pages of ads, brochure pages and other materials that span the subject of climate control from its history to the present day. In it, you'll follow the evolution of components such as heaters, A/C, windshield wipers and even esoteric items such as lap robe rails.
By the way, while Gene was a career Ford man, his automotive interests have extended beyond the Blue Oval. He currently is the owner of a 1971 Corvette that he purchased from its second owner in 1975. He also led a team that designed and built the GDT Speedster, a one-off vehicle built from scratch with more than 2000 parts. For more on the Speedster, visit gdtspeedster.com.
Gene's book is available from several online sources including Lulu, Amazon and Barnes and Noble ($43.50).
—Ted Kade