A Restorer's Story 1982 Mercury Cougar GS Wagon
It's Uncommon, Practical and Parts Can Be Found.
WHEN YOU THINK of the Mercury Cougar, maybe the XR7,GT-E, Eliminator and large V-8s come to mind. But there are other aspects to the Cougar story, such as my 1982 Cougar GS station wagon.
Mine is one of 19,294 Cougar station wagons built for 1982. It came from the Ford plant in Atlanta, Georgia, and was first sold in the Dallas, Texas, area. Two trim levels were offered on the Cougar wagon in 1982, GS and Villager, and nearly half came with the 3.3-liter inline 6, while the rest were equipped with the 3.8-liter V-6. No four-cylinder or V-8 engines were offered in the wagons in 1982.The V-8s were reserved for the XR7 which was a virtual twin to the Thunderbird and sat on a 108-inch wheelbase vs. the sedans and wagons that came on a 105.5-inch wheel base.
The Cougar wagon seen here is equipped with the 3.3-liter (200-cubic inch) in-line six with seven main bearings and a Motorcraft Single-barrel carburetor attached to a three-speed automatic called the C5 Cruise-O-Matic. My GS version has power door locks, tilt steering wheel, air conditioning, cruise control and an optional roof rack.
A "Temporary" Ride
I bought the car in January 2003 as temporary transportation after loaning my '92 Ranger to my son when his car was totaled. I looked at a VW Rabbit Cabriolet, AMC Eagle and anything else local that was priced under $1000. I needed transportation to and from work for a year and anything would do as I intended to junk or sell whatever I found when I was done with it.
I finally placed a want ad in a local radio station's classifieds and got a reply about a Mercury wagon for $750 right here in town. I called, looked at the car and bought it the next day.
It seemed to be almost too good to be true—cheap; running well with air conditioning, decent-looking…and a car that I did not know had been produced.
Well, after my truck came back I simply couldn't get rid of it, I was hooked. Mercury Cougar station wagons just aren't seen every day and it's been a pretty reliable car all these years aside from a transmission overhaul, top end work to replace a burned valve and a carburetor rebuild.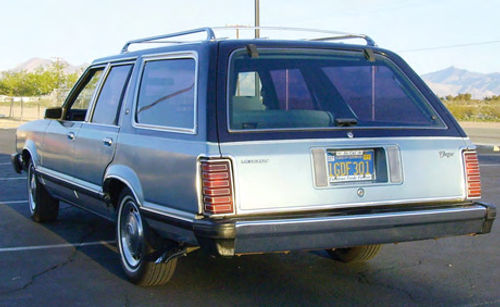 The car starts every time without fuss and I like the modern features of power steering, disc brakes and front shoulder harnesses for added safety. On top of that, it's very useful. This car has been used as a truck since I have owned it; there have been many trips to the dump and to Home Depot. Just fold down the back seat and it hauls most anything including washers, dryers, lumber, trash and recyclables. Even though there is not 48 inches between the wheel wells, 4 x 8 sheets of plywood will fit inside but the load floor is about a footshort to close the rear lift gate. Hauling extension ladders on the roof rack is quite convenient for me.
Economy and Enough Power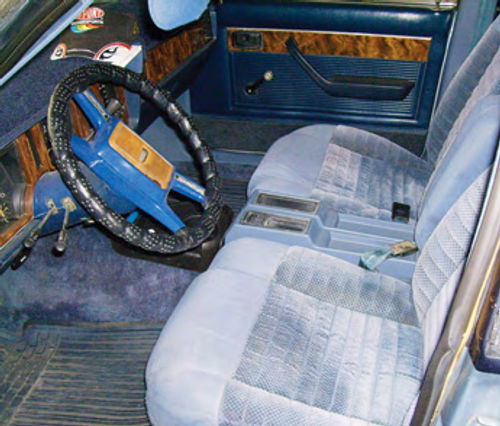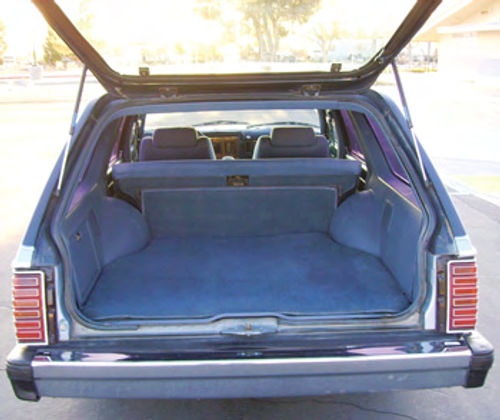 Although the 3.3-liter six is rated at a whopping 88 hp, it does get out of its own way. The power is quite adequate for the 3016-lb. car and is actually thrifty returning 18 mpg in the city and mid-20s on the highway. It's equipped with a 7.5-inch differential with 2.73:1 gearing which goes far in returning good mileage. On the other hand, passing on two-lane roads is a planned event.
Projects Completed
One of the hazards of desert living is the damage from UV rays to the interior plastics. I replaced a majority of the interior plastics and seats with parts from a 1984 Ford LTD wagon found in a local salvage yard.
The Cougar's old vinyl seats were, as expected, hot, hot, hot and rotted from the sun. All the plastic panels in the rear cargo area were quite brittle, and the rear lockable storage box literally fell apart when touched.
Even though the LTD donor car had been in the salvage yard for some years, the interior was protected from the sun by virtue of it being on the bottom of a stack of salvaged cars. Seat cleaning took a couple of days and the plastics were cleaned and prepped with SEM's adhesion promoter and sprayed with SEM plastic refinishing paint.
I also have removed the old sagging headliner fabric and glued on new fabric and installed the courtesy light from the same 1984 LTD. I didn't use the visors from the LTD as they were the same as the Cougar's originals and did not have a center support so they swing out on acceleration and back when braking and they did not shade the center of the windshield. I took the visors from my 1986 Thunderbird and used them as they do cover the center of the windshield better.
The biggest project to date was replacing the heater core. Since the car is equipped with air conditioning the dash had to come down, there is no way around it. This also meant the A/C had to be evacuated and then recharged when everything was all back together, a perfect time for an upgrade to 134a coolant. Although the job was daunting, it was all apart in less than two hours and back together in less than three.
I did find a hood ornament on eBay, an item that was missing when I bought the car. That was the easiest project yet: five minutes, including a coffee break.
Gaining Perspective
As you might expect, the work I've done so far has changed my approach to using my Cougar. The plastic interior parts are getting harder to find as is the proper rear cargo area carpet, so this car will only haul clean loads from now on. After all, I got lucky—only one of the several wagons in the salvage yard had good plastic trim.
Along those lines, I haven't decided whether to keep maintaining the car's finish or to repaint someday. I'm leaning towards maintaining as it is easier and I like to drive the car quite a lot. I'd go mad getting a ding or a chip in a fresh paint job.
The Rolling Restoration Continues
Not surprisingly, there's still more to do. The steering wheel is quite cracked (I currently have it wrapped) and the dash top has a carpet-type cover to hide the horrible deterioration. I need to spray the door panels and the lower dash to match the now lighter blue plastics and seats using the SEM products.(They can be ordered directly at semproducts.com or by calling .) I used off the-shelf colors that matched the Ford colors quite well.
Mechanically, the front swaybar end link bushings have to be replaced and I would like to install coil-over shock absorbers in the back as all the heavy loads take their toll on the shocks and springs.
All mechanical parts are available at most auto parts stores. The engines and transmissions are common and quite rebuildable asis the 7.5-inch rear differential. One thing to keep in mind if you're considering a car like mine is that the sedan doors will not fit the wagon without changing out the window frames and door glass. The wagon's roofis about one inch taller,so sedan doors will come up short.
Electrical andemissions replacement parts are still quite available through auto parts chains such as NAPA and Autozone although I've found that NAPA seems to be the best place to find all the older emissions components, especially the vacuum-operated switches.
Standing Out In a Crowd
The 1982 Cougars don't seem to be very popular and as a result do not command big dollars at resale but they are different. I don't know how many of the 19,294 wagons are left but I wouldn't be surprised if the group only numbers in the hundreds these days.
For example, I attended the 2009 Fabulous Fords Forever car show in Buena Park, California, and there were almost 2000 cars present. Among them were 995 Mustangs and 34 Cougars, but I had the only Cougar station wagon.