He Inherited a Big Car From a Time When They Were Shrinking. Now He's Keeping That Legacy Alive and Sparkling.
IF HISTORY IS a reason to appreciate a certain car, Mark McDevitt's 1984 Ford LTD Crown Victoria wins on multiple counts, beginning with its previous ownership.
"My grandparents," McDevitt explained, "bought that car new. My grandfather had a '51 Packard and he said this was almost as nice as his Packard. He bought that Packard new and he loved that car."
When a Ford Is Like a Packard…
The Packard and the Ford are worlds apart in some ways—flathead straight eight versus overhead-valve V-8, carburetor versus fuel injection, manual everything versus power-assisted everything, curvy versus angular—but besides the obvious points such as the fact that they're both cars with four wheels, they have some common ground.
Probably the most important shared trait lies in the philosophy behind each of the cars as Packard was broadening its model range in 1951 and Ford was continuing its move upscale in 1984. Ford, naturally, wasn't going to do anything that might dethrone Lincoln, but a luxury-for-everyman approach clearly wasn't out of the question and that's roughly comparable to what Packard was working on in 1951.At that time, the 200 series was at the bottom of the Packard line, so it lacked the carriage-trade appeal and pure sumptuousness of the high-end Patrician, but it still was a Packard and that meant it was a well-crafted car finished with quality materials.
A 250 Deluxe two-door Club Sedan was to the Patrician in 1951 about what anLTDCrownVictoriawasto aLincoln in 1984, but the biggest surprise might be the price comparison. The Ford cost $10,954 and the Packard cost $2563, or $10,256 in 1984 dollars. It's an approximate comparison, of course, although not an invalid one and whether McDevitt's grandfather owned a 200 or aPatrician, his likening it to the Ford was praise for the latter.
Ford had earned it, as by 1984, it had been gradually climbing for years from its place among the low-priced three. It made its initial move with the 1946 Sportsman, a wood-paneled convertible whose sole reason for being built was aesthetics. (As the story goes, a one-off initially was built because company president Henry Ford II wanted one for beach outings. It went over so well with company executives that a production version was developed to serve as a "halo" car that would draw attention to Ford's vehicles in the early post-war years when they basically were carryovers from 1942.)
A Sportsman demanded frequent and tedious maintenance, accident repairs were expensive and difficult, it was the highest-priced Ford at the time (over $2000) and it was spectacular. Its disappearance at the close of the 1948 model year had something to do with low sales, but also to do with the approaching end for all woodies.
Competing With Two-Door Hardtops
The restyled 1949-51 Ford body coincided with similarly fresh looks on the competition, but Ford initially had nothing to counter the two-door hardtops from General Motors. Its first response was the 1950 Crestliner, a two-door sedan with unusual two-tone paint, a vinyl covered top, unique trim and the line's third highest price tag and lowest sales, but it was joined in 1951 by the Victoria two-door hardtop. It took over the Crestliners place in the pricing hierarchy and was obviously much more in tune with the public's taste; Ford sold 110,000 Victorias That year compared to about 25,000 Crestliners in two years.
Like the Sportsman convertible, the Crestliner and the Victoria were two-door cars and that set Ford on a path of building slightly unusual two-door full size models for decades. None were exotic, but many were intriguing and most became popular.
The next installment came in 1954, when Ford took a Crestline—the "r" had been dropped on what was by then simply the top series—placed a tinted Plexiglas half-roof over its front seat and created the Skyliner. It was priced at $2164, the same as a Sunliner convertible, and sold more than 13,000 examples. Ford carried the concept over into the 1955 body, but one change made it a very different car.
The original Skyliner had essentially replaced the front section of the roof's sheet metal with Plexiglas, so Ford now went further by adding a wide band of brightwork that separated the transparent insert from the rest of the roof and extended downward to the beltline. It was a curious move in that Ford started with a two-door hardtop, installed the Plexiglas and then gave it what amounted to a brightwork post that seemed to turn the car into a two-door sedan. The post leaned forward in keeping with the restyled body's theme and created a new look to go with the car's new name, Crown Victoria.
Sales, however, fell to just 2000 cars. Maybe the drop was due to the price ($2372) or maybe it occurred because owners of the first series had noticed that solar heat really could make a car uncomfortable if you gave it a big enough window to shine through.
That might have been it for the Crown Victoria had Ford not offered the exact same car with a full steel roof and sold 33,000 examples. Ford gave both versions one more chance by carrying them over into 1956. Total sales were down from 1955 and with 600 Plexiglas Crown Victorias compared to 9000 of the steel models, there was little reason to try again with the big plastic topper.
Neither Crown Victoria, though, returned for 1957 as Ford's plans for another new two-door came to life under an old name, Skyliner. Besides being the costliest car in the top Fairlane 500 series, the Skyliner was the costliest full-size Ford, but the $2942 price was easy to justify when it bought the only retractable hardtop convertible available in America. But then sales of the Skyliners slid from almost 21,000 for 1957 to almost 13,000 in 1959, so Ford went solely with a conventional convertible for 1960.
Going Upscale With LTD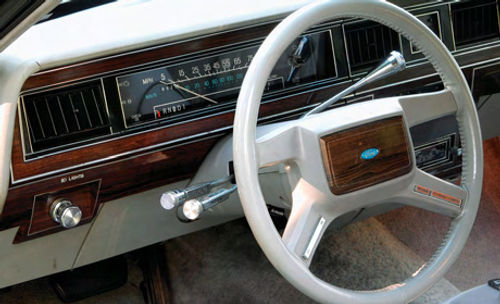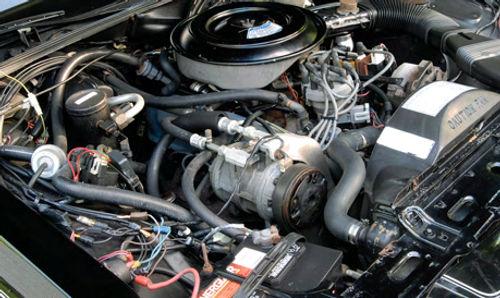 In 1965, Ford re-energized its quest for luxury by adding the Galaxie 500 LTD.The package included better upholstery, an interior light group and, of course, some fake wood grain, while options ranged from air conditioning to a vinyl top. Ford sold about 106,000 LTDs in 1965 and that was enough to guarantee its return, but it's unlikely that anyone could have foreseen where it would go.
Selling at roughly 100,000 per year,the LTD became its own series in 1967, added the Country Squire wagon to its two- and four-door lineup for 1968 and followed with the more-finely appointed Brougham in 1970. The payoff that year was 370,000 LTDssold, but with the oil embargo of 1973 and rising fuel prices, the days were numbered for cars of the LTD's size.
Finally, Ford gave in and although the big LTD was anything but finished in the marketplace, times really were changing and a smaller replacement was introduced for 1979. At 114.4 inches, its wheelbase was 6.6 inches shorter than that of its predecessor. The new car also was about 600 pounds lighter and almost 18 inches shorter overall.
Ford had taken many of the previous full-size LTD's styling cues and reworked them so that the new model was fresh and not shocking, an approach that no doubt impacted sales, with about 356,500 of the new LTDs sold.
The "big"LTD was again a winner and while no one in his right mind could possibly call it a retro design, Ford did give the past one big nod when what had been the 1979 Landau model became the 1980 Crown Victoria.This Time, the piece of bright trim that ran over the B-pillars and roof served to finish the half-vinyl top's edge, but the thought was there and with suitable updates, the Crown Victoria would continue on that body through 1991 and was replaced with an all-new design for '92. The last of the full-size, rear-drive Crown Vics were builtin 2011.
1984 Crown Victoria
GENERAL
Front-engine,rear-drive,two-door sedan
ENGINE
Type Overhead-valve V-8
Displacement 302cu.in.
Bore x stroke 4.00in.x3.00 in.
Compression ratio (:1) 8.4
Fuel injection Electronic throttle-body
Power 140hp@3200rpm
Torque 250 lb.-ft.@1600rpm
DRIVETRAIN
Transmission Four-speed automatic
Final drive ratio (:1) 3.08
STEERING
Recirculating ball,power-assisted
SUSPENSION & BRAKES
Front Ind., coil springs, stabilizer
Rear Live axle, coil springs
Brakes (f/r) Disc/drum,power-assisted
MEASUREMENTS
Wheelbase 114.4 in.
Length 211.1 in.
Width 77.5 in.
Height 55.3 in.
Weight 3546 lb.
Track (f/r) 62.2/62 in.
Tire Size P215/75R14
Swapping a Pickup for a Crown Vic
Since the feature car had been in the family since it was new, for a while McDevitt's Crown Victoria was simply a used car and at one point was no longer on the road. His grandfather had stopped driving it in 1994 and after his death it went to several other family members and was again being driven.
Finally, about five years ago, McDevitt traded a pickup to his cousin and the car was his with 62,000 miles showing. Some mostly minor modifications needed to be reversed, but the car had no rust and was in generally good condition.
McDevitt was the right person to acquire it and said that it would've grabbed his attention even without the family connection.
"It still would have," he said, "because I like the older, bigger cars. I had an '87 Crown Vic four-door. I had an '87 Crown Victoria wagon, and I had an '83 two door. It's all the same body. The '87 four-door and the '87 wagon I had were multiport fuel injection. The '83 and this one are CFI (central fuel injection), which is just two injectors on the top and it looks like a carburetor."
Those were daily drivers and in various conditions with the 1983 two-door being the worst.
"It had some rust on it," McDevitt recalled. "I had to replace the bumper because the bumper was rotted through. It had the half-vinyl roof and there's a really thick pad, so water gets in behind the pad and rusts the roof out. Another thing on those, too, is that the big wide molding, the body-side molding, gets packed with dirt. On (the feature car), I rinse it because on the other ones I had, I'd taken one off. It was rotting off. It was just like someone had taken dirt, packed it in there and screwed it to the car. And it had the holes on the other side to go along with it."
That's some of what he learned from the cars, but there's more and it runs from the obvious to the surprising. Rust is a big concern and like the side moldings, the thin trim around the wheel wells can also hide problems
"They'll rot there and if you aren't careful," McDevitt said, "above the rear wheels in the frame area, where you have a lot of dirt sitting, that'll rust."
None of his cars had damage to the floors, but he said his other two-door's trunk was badly deteriorated. The bottoms of the doors rust and while that's easily detected, the possibility of similar problems with the transmission mount demands a close look. More easily inspected is the car's trim and although missing or damaged pieces aren't going to impact performance, McDevitt said finding replacements might be a challenge. He's not actively looking because he doesn't need any, but he said he hasn't come across suppliers. The better news is in switches and controls thanks to sharing with contemporary Mercurys and Lincolns.
"A lot of that stuff you can get aftermarket at your parts stores," McDevitt said. "If you really don't want to spend the money, you go to a junkyard and find what you can find."
There's This Little Plastic Piece…
There's This Little Plastic Piece… The Crown Victoria's 302 is widely acknowledged as being strong and mostly trouble-free, but like every other engine, it has its weaknesses.
"The rear main seals," McDevitt said, "after they get miles on them, leak and drip oil on the exhaust. Some of them had problems with the throttle body or the injector, especially when they were new. They had problems with those not getting any fuel."
If that fails, an emergency fix is more difficult than rigging a hose between a gas can and the carburetor on an earlier car, but the failure itself is unlikely to cause damage. That's not the case, though, when it comes to another fuel system problem.
"You have to watch the shift linkage on the side of the fuel injection that operates the transmission shift," McDevitt said. "There's a little plastic piece that'll always break. If you don't fix it, you'll burn the transmission up. You'll have to shift it manually until you fix it, but it wouldn't have any transmission pressure and you'd wind up burning the pump. I used to be able to get those at the dealership if they broke. They'd have the little plastic pieces that would snap in there. It's the kickdown linkage, basically, for the transmission. If you look at the injection, right where the throttle cable is, it's right next to the throttle cable. If it's not shifting right and that's just sitting there, flopping around, you know you need to stop driving it and get it fixed."
He's Worked With Them for Decades
The best evidence for the lack of serious problems associated with Fords of the feature car's generation is probably the number of them still on the road.
"I started working in a Ford dealership in 1985 and we really didn't have any trouble with them," McDevitt recalled. "Back then, I thought, the quality was really good. They were pretty much a sound car.
"I remember when the Topaz and Tempo came out. We had a lot of trouble with the way they ran. The Escorts when they came out were fairly decent cars, but these? We never had troubles with them. They always ran all right."
A few had problems with the fuel injection or ignition module, but they were corrected and he said that the series improved as time passed. The tradeoff there is that as quality and performance increased, so did complexity and the need for additional skills when working on them. But those skills have long since become everyday and McDevitt said that a car like his could be a good one for a new hobbyist.
"Anymore," he said, "when you've got to adjust the points, they look at you and 'what are points?' They Really don't know. I prefer to have a car with points and a carburetor myself, but if you don't really know how to work on them, they will give you trouble. And not a lot of people know how to work on that stuff anymore.

"This thing, you just get in, turn the key, pump the throttle once to set its choke and off you go. So basically, for somebody wanting something like that, it'd be good for them to start out with. Get something too old and they have no idea where to start or what you need to do to maintain it. Get Somebody into a car from the '50s or the '40s and they run into the same thing,'what do I do?'They'd be lost. They'd buy something like that and after they had it for a year or two and they find out it needs some work, they wouldn't know who to go to."
Tempting, but there's more regarding these Fords in the plus column.
"If you can find them,"McDevitt said, "you can get one for $4000 to $5000, a nice, nice one. Other than that, you can find the cheaper ones that aren't so nice. You can find them for around $1500, but they need some help."
The feature car, of course, needed very little help and the focus now is on its preservation.
Shouldering the Responsibility… and the Enjoyment
"When I first got it," McDevitt explained, "I was talking to my father and I said 'should I just drive the thing and not worry about it?' He said 'it's stayed this nice and it's lasted this long, so it'd be a shame to tear it up.' I said 'yeah, you're right.' It was a time when I was kind of thinking about just driving it every day. Then when he said that, that made sense and now I'm glad that I didn't do it."
However, while he doesn't use it as a daily driver, McDevitt has driven the Ford to Philadelphia and Harrisburg, several hours from his Moscow, Pennsylvania, home, and it goes to regional activities regularly. He has no reason to suspect a problem, but he does take a practical approach to the situation.
"I don't want to get it dirty," he said. "I don't even like driving it at night because then the bugs get all over the windshield and all over the paint so that I've got to clean it the next day.
"Still, I clean it constantly," he said. "I keep up with it and I keep it clean. I won't drive it in the rain; not on purpose, anyway. I like to go to car shows, car cruises; once in a while I'll take it to church. But I'll never drive it to work. That I'll never do.
"But once a week, I'm cleaning it. Wiping it down and cleaning it. I'll wash the engine bay down and when I get it out in the spring,I'll get underneath and I'll scrub the frame down with a scrub brush and get all the parts I can with that. Next is the interior. Just keeping it clean is preserving it. You've just got to keep up with it."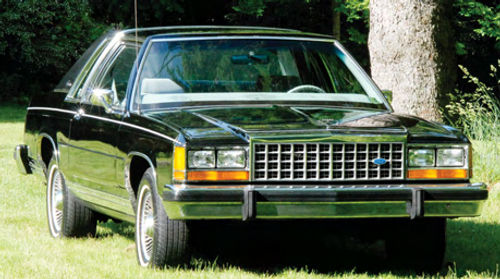 He uses stabilizer in the fuel and changes the oil annually despite the fact that he's only driven the car about 5000 miles in the time he's owned it. The oil change is part of the winter-storage plan and that extends to the day he brings it out in the spring.
"What I'll do (to start it for the first time) is the same thing I do on all of my cars," he said. "I'll disconnect the spark so I won't fire it until the oil pressure builds up. I'll just crank it until the oil pressure builds up in the engine. That doesn't take long. Probably 30 seconds, 45 seconds is enough."
Like the precaution of placing the Ford on jackstands for the winter, it seems extreme, but it really isn't an inordinate amount of work.
And then there's also the matter of history and that family connection.
"My grandfather," McDevitt said, "always took care of it."