What's the Perfect Gift for Your Wife? A Red Pony.
Editor's note: Through the years, one of Auto Restorer's greatest assets has been our readers. They share tips, insights and, of course, their car and truck stories with us. As you may recall, Allen told us about his 1958 Edsel Corsair in the January issue.
I WAS WALKING toward an office building when I suddenly stopped in my tracks! There, coming down the road was something that most men only dream about. No, not the blonde behind the wheel but the car itself, a 1966 Mustang Coupe. It looked and sounded a bit rough, but I knew my wife had always wanted an early Mustang and there it was.
A One-Family Car
I found out that the person who owned it—the car's second owner—got it from her parents—the first owners— when she was in high school and she wanted to sell it. After talking to my wife about it, I bought it as a gift to her for our anniversary that was coming up at the end of May.
But then, after buying the car, I came to realize just how "rough" it really was. (Since I bought the Mustang for $1400 and knew it would need a complete restoration, I hadn't gone through a thorough inspection beforehand.) Well, it had next to no brakes; a broken windshield and only first and second gear (no reverse, either). The rear quarter panels actually "flapped" because of extensive rust (you could see right through the trunk from side to side.) When I pulled into the driveway, I almost went right through the closed garage door.
The transmission needed to be replaced and I thought I would save some money by taking it out myself. Now, mind you, I did not have all the modern conveniences of an auto shop so I did what I could. While removing it with the aid of a floor jack, it slipped and fell, landing on my finger! I ended up with a broken finger and came to find out that the case was the only good thing about the transmission so it had to be rebuilt. The brakes were done by a professional and I ordered new rear quarter skins to replace the "flapping" originals.
As noted, the car also was in dire need of a paint job and extensive body work, such as the replacement of the quarter panels. I knew a classmate who had started an auto body shop, Wilson's Auto Body and Paint, in my hometown of Cando, North Dakota. I just needed to choose the right color, so I decided to drive through some local Ford dealership parking lots to see what the colors were on the then-new 2000 Mustangs. My eyes settled upon a 2000 Laser Red Metallic clear coat that almost looked like a Candy Apple red. It looked really sharp from all sides. We then set out on a trip halfway cross country from Forks, Washington, to Cando with my wife driving the Mustang and me driving our 1969 Semi-automatic VW Beetle with our three kids split between us.
Surprisingly Good Gas Mileage
The Mustang, with its 200-cubic-inch in-line six, actually got better mileage than the old Beetle, 31 vs. 30 mpg! I have added a few items since the body shop days which include a lighted horse corral, sequential, triple-lens rear turn signals (which I lovingly bought for my wife's birthday one year), and air shocks (just to get rid of the saggy Mustang rear end). The car also sports original wheel covers with factory spinners. A CD player was installed and additional speakers are mounted behind the grille for entertainment during parades and car shows.
A new pony interior and carpet are next on the "to do" list and possibly there will be an automatic transmission to replace the 3-speed. (Have to look after the knees!)
An Object of International Interest
Since adding some of the specific details we have taken the Mustang on several trips. A couple of years ago, some friends visited us from Germany. They drove out to Washington from Minnesota and when it was time to return, my wife and I had them follow us to Spokane. We also had a friend from Australia come to visit and she thought just sitting in the car was a pleasure. She had only dreamt of such a thing! So you can imagine how much she enjoyed her grand tour of Forks, Washington, in the Mustang. I offered to let her drive it but she didn't know how to handle a 3-speed manual.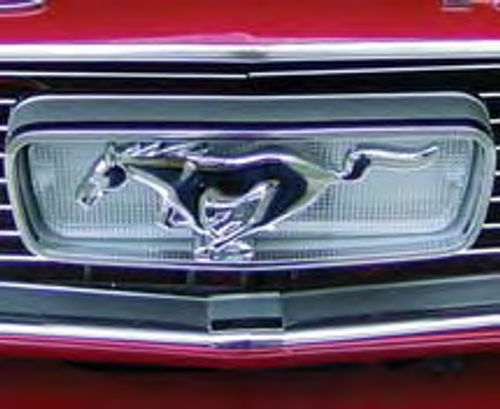 We had our 25th wedding anniversary on May 26th. Where the heck the years go I'm not sure. We must be having fun, right? Of course we're also observing another important anniversary this year…it's the original Mustang's 45th.