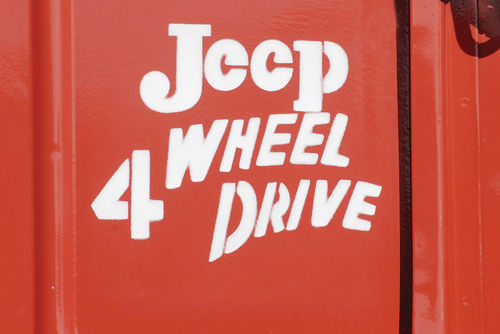 From a Time When Four-Wheel-Drive Meant "Working Vehicle." It's Still Being Called Upon for Some Plowing Duties.
SOME CARS ARE bought, driven, sold and forgotten by their owners while others settle in to leave lasting impressions over several generations. Jim Kenny's 1966 Jeep CJ-5 is in the latter group and probably has been since the day his grandfather drove it home.
"My father bought that Jeep," said Jim's uncle, Clair Kenny. "He was supposed to get a used one and he went down and started looking at them.
"He got to comparing the prices with the new and the used and he got the new one. There wasn't that much of a difference on it and so the next thing I knew, he had the red Jeep.
"He bought it for hunting. He was a great hunter, an outdoorsman, so that Jeep was perfect for him."
His father—also Clair—had made a good choice and in retrospect, one that wasn't especially surprising; four-wheel drive vehicles in general were nowhere near as common then as they are today, but plenty of Americans in 1966 knew exactly what the Jeep had done to earn its reputation during World War II. And an enthusiast who took his outdoor activities seriously was wise to understand the value of the strengths shown by the CJ-5's long line of ancestors in the U.S. military service.
A True Service Veteran
As the U.S. Army worked to define its needs for the fight everyone knew was ahead, it saw the value in a very small, lightweight four-wheel-drive vehicle. The Army wanted a four-wheel-drive scout car weighing 1200 pounds and riding a 75-inch wheelbase.
And if even half of the stories are true, the vehicles produced for the Army mainly by Willys-Overland and under license by Ford provided everything from transportation to protection, reliably and under extremes of conditions.
So it's clear why so many of those who served with them have never forgotten them. Similarly, it's obvious why Willys saw the importance of taking the jeep nickname and turning it into the Jeep trademark.
Jeeps had regularly appeared in newsreel footage and on magazine pages for several years during the war, so even those who had never seen one knew what they could do.
In July 1945, Willys introduced the Jeep CJ-2A to transfer the vehicle and its reputation to the civilian market. Following the experimental CJ-1 and a handful of CJ-2s, the CJ-2A was still close to the wartime vehicle built by Willys and with 214,000 sold through 1949, it proved Willys' instinct correct. The CJ-3A overlapped it, arriving in 1948, offering improvements and selling about 138,000 copies, but leaving the startling change to the CJ-3B. When the new model was released for 1953, there was no mistaking it for any previous version thanks to the notably higher hood, grille and cowl necessary to accommodate the new Fhead four. Like the earlier flathead on which it was based, it displaced 134 cubic inches, but the intake valves were moved into the head and horsepower jumped from 63 to 75.
The military was still a customer and bought its own versions of various civilian Jeeps, the M38A1 appearing in 1952. The M38A1 was slightly bigger than earlier models, used the F-head four and took a giant step forward (for Jeeps, anyway) by adopting rounder fenders and hoods. Two years later its counterpart became available to the public as the CJ5. It would continue through 1983 and while all CJ-5s look about the same, their looks are deceiving.
In its earliest form, the CJ-5 used the Fhead four while a V-6 became optional in 1966. A straight six and even a V-8 arrived in 1972, as did a longer wheelbase to carry the new six. Something else was happening, as Jeeps began to move upscale with packages such as 1961's Tuxedo Park and 1970's Renegade. The trend would continue with both Jeep and its competitors, but CJ-5s would remain prized for serious work. Some served as specialized fire trucks and others as farm tractors or utility vehicles for service stations, but probably the most widely known use was as a plow.
Clair Kenny recalls how his father's Jeep took on that role.
"He got the Jeep," Clair said, "and then my mother said to him 'well, if you're going to have a Jeep, you might as well get a snow plow with it because everybody who has a Jeep has a snow plow with it.' (A neighbor) had a Jeep with a snow plow on it, so Dad had to get a plow on his. Little did anybody ever know that Dad would start bringing in an income with the darned snow plow. He did quite well with it."
The Jeep plowed not only the parking lot for its owner's tavern, but neighbors' driveways, streets in town and even walks at a nearby shopping mall. It still got to do the fun things like the hunting and fishing trips and the running to and from a summer cottage at a local lake, but there also were trips halfway across Pennsylvania from its Archbald home.
"The next thing you know," Clair said, "he's taking it out to Potter County for deer-hunting… He took hunting seriously. When you went out with him, you were going for the day, no messing around, and that Jeep was just perfect."
Going Into Semi-Retirement
Clair said his father suffered a stroke in the early 1970s and the Jeep was mostly parked after that. The plowing had taken its toll and thanks to the road salt in which it had often worked, rust had gotten a start. A vo-tech school made it look good again, Clair said, and his father later had additional work done, but it was soon set aside and although it remained licensed, it was used less often. The cylinder head cracked at some point, and Jim Kenny explained that a friend of his father provided a solution.
"He said 'I know an old farmer who had a Jeep and he plowed the fields with it every day,'" Jim explained. "We drove up one day and there it was. The motor was hanging from a chain in the barn, a flathead four-cylinder Willys from the '50s, a '54. He paid $450 for it and dropped it in."
The motor mounts were changed and some linkages and wiring were modified, but that engine remains in the Jeep today. By then, Jim's grandfather had given the Jeep to him, so he and a friend did some minor bodywork and painted it. Still, it wasn't completely retired.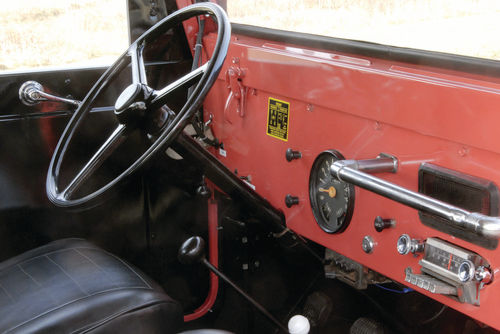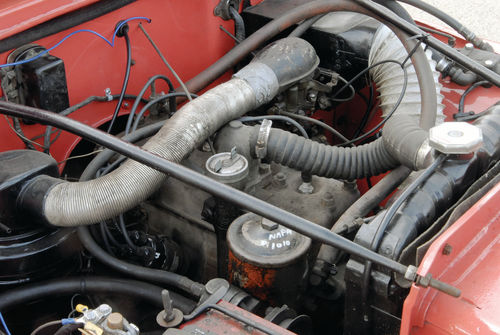 "With the (tavern) business here," Jim said, "we had to take care of the lot. We used it to do just what he did. With the gravel out here and everything, I was using it just for those purposes. I moved stuff around, took trees down with it...I love it. When the snow flies, I love to plow with it."
But then even before he started using it, he'd been hooked.
"My father put me in it when I was a little kid and I just loved it," Jim said. "And I'm a World War II buff. I love the look of it and it was always something that people asked about because it represented the bar and my grandfather."
The combination of his interest in the Jeep, his occasionally using it and even pragmatism finally became too powerful. It had remained driveable, although its brakes seemed questionable and it needed help to pass a state inspection.
"I made the decision five years ago and I started talking to my father about it," Jim said. "We'd had a pretty bad snow storm. You're out there plowing and you hear something crack. I knew the frame was still good, so I said 'if I can find somebody to restore it for a decent price, I'd like to do it.' So I started saving my money. We decided that if I can get somebody, we're going to go for it because it's not practical these days to go out and buy a brand-new truck or Jeep and put a plow on it for what we need to do here."
1966 Jeep CJ-5
GENERAL
Front-engine, four-wheel-drive, quarter-ton utility vehicle
ENGINE
Type F-head, inline four-cylinder
Displacement 134 cu. in.
Bore x stroke 3.125 in. x 4.375 in.
Compression ratio (:1) 7.4
Carburetor Single-barrel downdraft
Power 75 hp @ 4000 rpm
Torque 114 lb.-ft. @ 2400 rpm
DRIVETRAIN
Transmission Three-speed manual
Transfer case Two-speed
STEERING
Cam and lever
SUSPENSION & BRAKES
Front Solid axle, leaf springs
Rear Solid axle, leaf springs
Brakes (f/r) Drum/drum
MEASUREMENTS
Wheelbase 81 in.
Length 135 in.
Width 72 in.
Height 69.5 in.
Weight 2274 lb.
Track (f/r) 48.5 in.
Tire size 6.00x16 in.
Ground clearance 8.0 in.
Time for Some Major Body Work
It's one thing to settle on restoring a vehicle and yet another to determine where to start. Fortunately, Jim happened to spot an obviously restored CJ-5 at a local business and was referred to Frank Ryczak at T&R Service in nearby Mayfield. Ryczak's experience with Jeeps and other four-wheel-drives dates to the 1970s and covers racing, repair and restoration.
"The only original pieces on that," Ryczak said, "are the cowl, the hood, my fenders and the grille."
That's a good way to describe how rough the Jeep's body had become and Gery Martinelli Body Works of Montdale dealt with that part of the project. The tub was beyond realistic repair, Martinelli said, and the holes in its floor and sides were about what could be expected on an original CJ-5.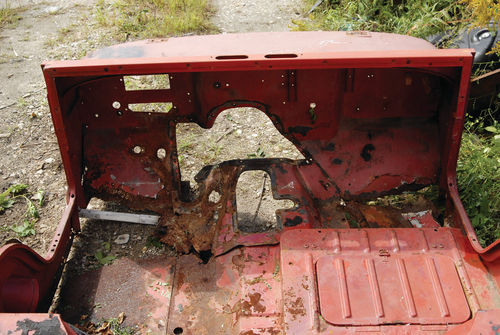 Then the new tub provided an unpleasant surprise.
"There was some crate damage," Martinelli said. "The quarter panel was caved in on one side."
It wasn't an end-of-the-world disaster, of course, but it meant added work. Ryczak's fenders needed some patching, Martinelli said, and he'd expected to do the adjusting and fitting. Since Jim wanted the body to be tight, he made certain that it was sealed as well as possible.
Other things worked out well, too. There's the "4-wheel-drive" insignia at the rear—painted on via a stencil, as it should be—and the Indian Ceramic paint, whose correctness was confirmed by a small area under the hood that had somehow survived.
"That was so many different colors," Martinelli laughed. "I'll bet the hood had 12 layers of paint on it."
As for the look of the new paint, well, consider the reaction from Jim and his father, since his father remembers the Jeep when it was new.
"They pulled up to my garage," Martinelli recalled, "and he said 'that's what it looked like in '66.'"
The other big factor in making it look like it did when delivered is the top and Martinelli said that it had held up much better than had the body. Beyond some parking lot dents, its only damage was a crack in the roof panel at each front corner. He replaced what was left of the original fiberboard headliner with lauan plywood and used 3M decals to match the factory exterior wood grain as closely as possible.
"I never saw the top off," Clair said. "I think it was just out of convenience that he left it on. It's not the lightest thing to take off. It's a project."
And that's where some facts in the Jeep's history begin to fall into place.
"When he'd go out plowing with it," Clair said, "he did not abuse it. He was careful with it."
Plow Use Can Present Problems
Although it's going to be run on the roads—and will plow the tavern's lot again—it won't see salt and that should help to ensure a long life for it. Still, while the mixture of common sense and care it received in its working years protected the feature Jeep to some degree, a plow or evidence of a plow can be reason to stop and think when considering a prospective purchase.
"A lot of guys used them for plowing," Ryczak said, "and they damaged the frames when they put the bolts in and they didn't support (the plow) right. You'll find the front frame horns broken and in back of the leaf springs, you'll find the frames twisted there."
It doesn't have to be that way, as a plow whose mount is designed for a Jeep and properly installed can be used for years without causing damage and even a home-built mount that's carefully thought out can do the same. Ryczak spoke of a Jeep that his brother restored.
"Some guy plowed with that," he said, "and he boxed the front of the frame with wood. You'd never even know that that had a plow on it. He didn't egg the holes out or anything. Sometimes when they bolt the (plow) frame on them, with the way they put the bolts in, the jarring back and forth will stretch the holes."
Even a Jeep that's never plowed can have frame problems due to rust and he said he's seen later models with damage near the shackles and in the center area. He also recommended inspecting the springs for rust.
Jim said that he'd replaced his Jeep's springs, shocks and master cylinder before taking it to Ryczak, who installed one crossmember on the frame and replaced the brake lines, wheel cylinders and emergency brake. Neither the transmission nor the engine needed anything and both remained in place when the body was removed.
"When the (original) motor went," Clair said, "there were 17,000 miles on it and really, there were hardly any miles put on it since then because it was always used for plowing. I'd say there are 18,000, 19,000 miles on it, tops."
Of course, the current engine is older than the original and its mileage is unknown. "He's talking about putting an F-head in it," Ryczak said, "and I told him that I think I still have one that's in useable shape. They're hard to find, but it's not impossible yet."
Difficult, maybe, but he said that nearly everything is available for a CJ-5 either used, new old stock or reproduction. Anyone who's been through a restoration, though, knows all about tradeoffs. When Ryczak listed the Jeep's original parts, he mentioned "my fenders" and the reason is that he knew his used fenders would fit properly with minimal, if any, help.
"They reproduce everything for these Jeeps," he explained. "But sometimes (parts) don't exactly match."
Good reproductions and bad reproductions are out there and if the goal is a Jeep to drive, enjoy and maybe take off-road, standards for many of those parts can be lower than they'd be for a Jeep to be restored perfectly. But when the plan is a restoration, variation in parts quality is only one of the potential challenges; the other lies in correctly identifying similar parts from similar vehicles. Ryczak gave one excellent example from his own experience.
"I've seen guys trying to peddle transmission parts tell me that they'll work on my application," he said, "and they won't."
The best way to avoid both of those problems is to resist the temptation to hurry and instead do the research and get help from someone who actually does know what's right.
The feature Jeep isn't absolutely correct—there's that F-head engine and a backseat and rollbar added during the restoration—but the project still proved itself worthwhile. When he drives it now, Jim said, Jeep-drivers and others aren't the only ones to notice.
"Every time I get out of it," he explained, "I say to my father 'I love this thing.'" His family, too, approves.
"Everybody likes it," Clair said. "I asked my sister about it today and she's happy about it."
No doubt, Jeep CJs and Wranglers in general have an appeal few other four wheel-drives can match. Those who fall for them do so for different reasons and as far as the feature Jeep's owner is concerned, there's the simple fact that's it been around forever.
"Yeah," Jim agreed, "I remember it parked there when I was just a little kid."
"If I had the opportunity," his uncle said, "I'd probably do the same thing myself out of love for the vehicle."