When You've Liked a Certain Car for More Than Half a Century, It Makes Sense to Take Your Time With the
Project.
WHEN JIM FITZ finished the restoration of his 1957 Ford Fairlane 500 early last year, he'd completed a five-year project, a 13- year project, a 20-year project or maybe a 51-year project. It all depends on where the starting point falls along the timeline.
If it's ownership, that happened in 1988, when he wasn't actively hunting for a nice example, but was watching in the hope that one might turn up.
"I just wanted to restore one because I've always liked them," he explained. "They were beautiful cars. I was a sophomore in high school when these came out and I thought they were the most beautiful cars I'd ever seen. I never owned one. Who could've afforded a car like that back then? "But I remember when they first came out. Those colors…they were just beautiful."
That Thunderbird Look
A range and mixture of automotive colors was part of a trend that had been building for decades. By the early 1950s, two-toning was common and manufacturers began offering more variety than a simple split between body-color and roof-color.
Meanwhile, under the hood, Ford was still holding to flathead V-8s in the early '50s but in 1954 it made the switch. The new OHV V-8 displaced 239 cubic inches and generated 130 horsepower—an improvement of 20 hp over the older flathead of identical displacement—and like other makes that were introducing OHV V-8s, Ford took the new design seriously.
The next step in Ford's V-8 evolution was the 272 that arrived in 1955 with 162 horsepower or 182 optionally, and there also was the 292 Thunderbird engine with 193 hp (stick) or 198 hp (automatic).
All of that was well timed, as Ford not only introduced its two-seat Thunderbird for '55 but the complete restyling of its full-size models that year had much in common with the sporty new car.
Wraparound windshields appeared, as did headlight doors that seemed to reach forward, and the new Fairlane offered two-toning that placed one color on the roof and the lower body with the other color on the hood, trunk and tops of the body's side panels. A band of chrome separated the colors and dipped at about the windshield pillar, something that came together notably well on two-door hardtops—but the most interesting model was the two-door Crown Victoria. With a band of chrome trim that ran from the beltline over the roof just behind the door, the Crown Victoria looked like nothing else, and when ordered with a tinted Plexiglas panel ahead of that chrome, it became a Skyliner.
Overall, the 1955 Ford was a very different package from the Ford of just a few years earlier and for 1956, the look was simply freshened. Engines were another matter and Ford added a 312 that with a four-barrel was capable of producing 225 horsepower.
That helped to set the stage for the restyled 1957 models when the 312 was bumped up to 245 horsepower…and although it's become a cliché over the years, the new Ford really was longer and lower than its predecessor.
Perfect for Opera-Goers
Ford touted size in its '57 ads, one of which noted that "the Fairlane 500 Club Victoria (is) one of nine Fairlane models in two series. All offer luxurious room for 12 knees, 12 elbows and six opera hats." For those who didn't understand, the same ad showed a young boy holding a tape measure and exclaiming "Wow! Over 17 feet!" (And for those who haven't been to the opera lately, an "opera hat" is another term for a top hat.)
With five more inches of length than the 1956 Fairlane, the 1957 model looked low and modern, helped along by the gradual move away from roundness in styling. The fins, too, made a difference; although Ford almost completely resisted anything like the fins on some of its competitors, those on the new Fairlane were crisp and noticeable, but low.
Their look worked and Fitz said that after he'd restored 1949 and 1956 Fords, he still liked the 1957s and wanted to own one.
A Rust-Free California Car
"My son was transferred out to California," he recalled, "and I thought 'now that'd be a good place to find a rust-free car.' So I told him to keep his eyes open for a '57 Ford.
"One day I got this call, 'Dad, I found you a Ford.'"
When his son reported that it was virtually rust-free, he told him to buy it. Fitz was then working in Germany, so his son held onto the car for several months.
"My wife and I flew in from Germany with the intention of moving it to South Dakota to store it," Fitz said. "We knew that since he was in the Air Force, he was subject to moving, too, so I had to move it quickly."
They trailered the Ford to his parents' home in South Dakota where it would remain for several years, and returned to Germany. When his assignment in Germany ended, Fitz was transferred to Wisconsin and retrieved the Ford.
"It never got any work done on it," he said. "It was in Wisconsin for three years and then I was transferred back to Germany again."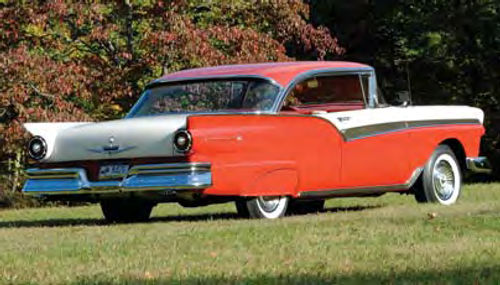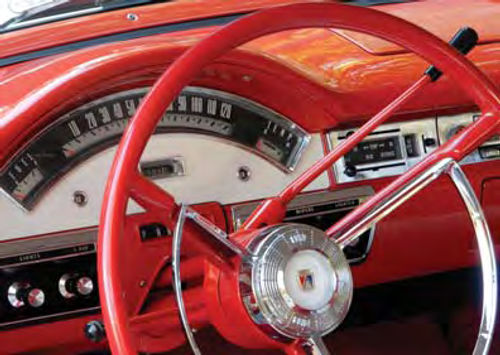 The car then found itself at his brother's home in Minnesota where it stayed until 1995 when it was moved again. This time, it went to Pennsylvania, where it sat until Fitz began work on it in 2003.
One reason for the eight-year delay was a 1974 Pontiac that had been his father's car.
"Actually," Fitz said, "I was working on the Pontiac up in Wisconsin, but I never had it totally completed. So then when we got (to Pennsylvania), moving into a house, getting familiar with the area, a thousand things got in the way and by the time I finished working on the Pontiac, it was 2003."
One obvious question is whether anything was lost in the moves or while the car was in storage.
"No," Fitz said. "I acquired stuff. When we were in Wisconsin, I'd found another car identical to this. It was a Minnesota car, which means there wasn't a good piece of sheet metal on the car anyplace and I acquired it relatively cheap, so my wife and I sat in the garage for a couple of weeks and stripped every nut and bolt we could get off of it. I stored all those parts inside this car, so this car was filled to the brim with spare parts, not knowing whether I needed them or not, but I had them."
A Project Surprise
Once he began the restoration, he received one of those pleasant surprises that are so rare in the collector car hobby; the Ford proved to be better than it had looked when it was intact. It had never been damaged, its body was as it had come from the factory and it really was almost entirely free of rust. The worst problem, Fitz said, was a quarter-inch hole in one quarter panel and some surface rust showing through the paint.
"Even around the door edges, the bottoms of the doors," he said, "there was no rust. The floorboards, I had a little bit of pitting on the floorboards on the driver's side and that was about it."
Rusted or not, the Fairlane was about to receive a total restoration, so he began by stripping everything that could be removed and following a plan.
"Every part I took off that car," Fitz said, "I bagged and marked. I also had another '57 Ford. I used that as a model to make sure that every bolt that went back in was turned the right way; that it was identical to the manufacturer's way. Who's going to remember how to put a bolt in?"
1957 Ford Fairlane 500
GENERAL
Front-engine, rear-drive, two-door hardtop
ENGINE
Type Overhead-valve V-8
Displacement 312 cu. in.
Bore x stroke 3.60 in. x 3.44 in.
Compression ratio (:1) 9.7
Carburetor Four-barrel downdraft
Power 245 hp @ 4500 rpm
Torque 332 lb.-ft. @ 3200 rpm
DRIVETRAIN
Transmission Ford-O-Matic automatic
Final drive ratio (:1) 3.10
SUSPENSION & BRAKES
Front Independent, coil springs
Rear Live axle, leaf springs
Brakes (f/r) Drum/drum
STEERING
Worm and roller
MEASUREMENTS
Wheelbase 118 in.
Length 207.8 in.
Weight 3320 lb.
Tire size 7.50 x 14 in.
The body went on a rotisserie, initially so that it would be out of the way. After its disassembly, the frame was sandblasted, inspected and powder coated, as were the suspension and steering.
"I even took all the springs apart, had those sandblasted, powder coated, had new anti-squeak pads put in," Fitz said. "The ball joints and the tie rods, they weren't bad, but they were bad enough where they needed replacing."
Some Plastic & Seat Replacement
That makes it easy to understand why he spent several years on the chassis before concentrating on the drivetrain. The first step with the drivetrain was to have the correct engine installed as sometime in its life the Fairlane had acquired a 272 in place of its factory 312. Fitz went looking for the right replacement and found two in North Dakota. Both were rebuilt and one went into the car with the original transmission, which also was rebuilt.
Fitz mentioned something else that he did at that point and while it's obvious and not especially difficult, it's a step that sometimes is overlooked.
"I did everything I could humanly, possibly do to that chassis," he said.
"The frame and everything, the engine and transmission, ran it and double checked for leaks because once I put that body on it, I did not want to have to go into that chassis."
Moving to the body introduced a new set of problems, beginning with the interior. Nearly all of the plastic was badly damaged since the car had spent its days in hot climates. Parts such as the window regulators were in good shape and easily salvaged, but pieces such as the plastic handles and knobs were replaced with reproductions from Dennis Carpenter Ford Restoration Parts in Concord, North Carolina.
The most difficult parts to find, Fitz said, were for the seats. The springs in the front seat were broken and needed to be replaced, although the rear seat was internally perfect. Then there was the upholstery and since he needed a kit, he contacted Jerry's Classic Cars & Parts, Inc. in Springdale, Arkansas. It took a year to arrive because he wanted the correct material, but he's not complaining.
"The silver threads," Fitz said, "that was the holdup. You can see the thread shining. He asked if I'd accept a substitute and I said, 'No, I want the original material.'"
And not only is he not complaining…
"Jerry's Classic has probably been among the best people I've ever met," Fitz said. "I had a lot of questions when we did the body, when we stripped off the undercoating, what color to paint underneath."
They had the answers, he said, and the explanations behind the answers. From someone who's meticulous about a restoration, that's a good recommendation. And if—despite the fact that he bought another car just to ensure that he could get this one reassembled to exacting specifications—it's still not clear how meticulous Fitz is, consider the following statement: "I even had the seat frames powder coated," he said. "I hate rust with a passion and I don't want any rust coming back."
An Immediate Need for Troubleshooting
The Ford's glass was replaced all around, although the rear window was good enough that he chose to save it, and all of the trim was re-plated or polished. Most is the original, but he agreed that the side trim has a way of attracting damage.
"Oh, yeah," he said, "it had more dents. But I found out that in the long run, you're better off taking original trim and sending it in to get it repaired and polished than to try to find a new piece or to find one without dents. I sent a couple of pieces in to the plating company I use and they came back flawless. They looked better than new."
When the car was finally back together, however, things didn't go perfectly. Within its first mile on the road, the pinion seal began leaking and there was a definite problem with the brakes. The seal was replaced and the difficulty with the brakes was traced to linings that were too hard. A vibration defied all efforts to solve it, including replacing the driveshaft, until Fitz checked the brake drums' balance and found the source.
One of the Ford's pluses is that it's not exactly a rare car, so the parts are out there when such problems arise. It's about the same with any mechanical component, so it's unlikely that a critical part is going to be genuinely unavailable…unless the car originally had a 312 that's missing or not realistically rebuildable.
Problems With the 312 & Locating Trim
"If you wanted an original engine and it had a 312 in it," Fitz said, "you're going to look hard for a 312."
The problem, he explained, was that very early torque specifications were too high and although they were later revised downward, main bearing castings on some of the engines were damaged. The worst part, he said, is that the engine might run well and the problem wouldn't appear until disassembly.
"About 10 years ago," he said, "I drove all the way to Texas when a guy was advertising a 312. He said it was good, it was just rebuilt, perfect condition, I drove all the way down there, bought it, brought it home, opened it up and two main bearing journals were cracked."
What he also knows from experience is that a 312 and a 292 are difficult to tell apart. He bought two that he believed were 312s.
"I brought them home," he said, "and my brother came down and looked at them and said, 'No, they're 292s.' I said, 'How do you know?' and that's where he educated me (about) the dowel pin in the crankshaft and the bore of the cylinders. The crankshaft has got a 1/4-inch dowel pin. A 292's is smaller."
A 292 will function in place of a 312 and both are good engines, so it's not a nightmare, but it's something that the purist will need to address.
Moreover, Fitz said that 312 cylinder heads are becoming difficult to find, but he has spares from some engines that can't be rebuilt.
Trim, too, is scarce. He said that recent trips to western salvage yards have shown him that it's disappearing. He described yards that until recently always had good supplies of Fords with trim.
"This year," he said, "we went out and we looked, hit two big yards and looked at probably 15 or 20 '57 Fords and found one piece of trim. It's all gone, so it's getting harder, especially for this style."
That's a clear warning that one of these cars should be as complete as possible to start a restoration. If it's not, research is worth the effort.
"The fender trim is basically the same for all the cars," Fitz said. "The door trim is different between the models and the fin trim for the retractable, convertible and two-door hardtop is the same, but for all the other Fords it's different."
The part about the retractable seems hard to accept, as anyone who's ever looked at one has seen that it's a much different car than the conventional models. The answer is simple.
"The back end is different," Fitz said, "but the trim on the fin is the same."
Expect Rust in These Places
The body will also provide its challenges, since 1957 Fords rusted. Fitz instantly cited the headlights as a problem area, as well as the heels of the fenders, the floorpan bracing and the area where the driver's side floor pan becomes the firewall.
The rockers, he said, drain well if the holes are kept clean and open, but can rust if not properly maintained. The quarter panels rust because they trap water on the inside of the skin, which was the cause of his car's single rust hole.
"The quarter window had leaked water," Fitz said, "and it came down in and rusted out the one spot. And, of course, these quarter windows, if they weren't adjusted right, would always leak water back in here."
That sounds worse than it might actually be; the car that he bought to serve as a pattern obviously was given only minimal care and yet survived relatively well. Its worst rust was at the headlights, heels, rear fender wells and rockers that were packed with debris. Its driver's side floor was bad, he said, probably because its carpets were often wet from snow, sleet and rain tracked in on shoes.
Not Tired of His Long Involvement
Learning about 1957 Fords was a benefit of the project's going on for so long and the level of care that went into each phase of the work resulted in the five year stretch of the restoration. But as mentioned earlier, Fitz's connection to the car goes further back. No matter how much someone likes his car, though, that's a lot of time to spend with it and it could get old. It could, but it didn't.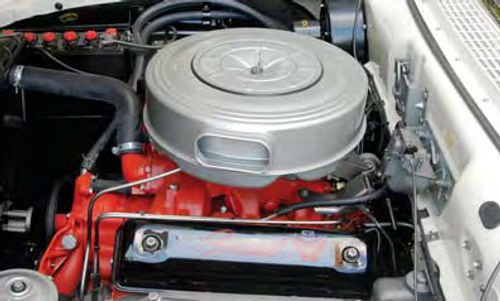 "I always wanted one of these," Fitz said, "and with all the traveling I've done in my life, I never came across the one I wanted to do. And then when my son found this one for me and I saw it, I knew this was the one I'd do.
"It came out the way I wanted it to come out. I made some mistakes with the Pontiac and with the other cars that I've done. I tried to put all of that experience into this car, so I didn't make those same mistakes. I'm satisfied with it."
He's not the only one who appreciates it. A red-and-white '57 Fairlane doesn't blend into traffic on the highway, so it gets attention from other travelers…and sometimes that happens when it's parked as well. Fitz said that he had the Ford at a regional show, where one spectator in particular was fascinated.
"A guy in a walker came by with his daughter and his family," Fitz recalled. "He took one look and they were all over the car. He'd had one identical to this one, same color, same options, and it just tickled him. He asked if he could look inside of it and I said, 'Of course, get in, sit down.'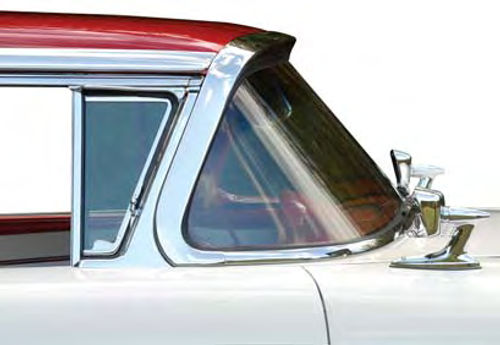 "He said that his Fairlane was his first car when he got married, and it brought back a lot of memories to him."
Resources
Dennis Carpenter Ford Restoration Parts
4140 Concord Parkway South
Concord, NC 28027
Jerry's Classic Cars & Parts, Inc.
4094 McKay Ave.
Springdale, AR 72764
1957-59 Ford parts