It Looks Like a Model A, but Was Built for Heavy-Duty Hauling. This One Apparently Carried Some Very Heavy Loads.
WHEN BRIAN BURKERT bought his 1930 Model AA Ford, it was easy to see evidence of the work it had done in its active years. Figuring out the nature of that work was another matter.
"The front fenders were actually very nice," he said. "The only problem was that somebody had cut a section out near the frame horns in the front. They each had a section cut out. I don't know whether it might have had a snow plow on it, but there were a couple of pieces cut out of the front, maybe 10 inches long by three inches wide, and so when we restored it, we had to take some donor fenders, cut pieces out of those and weld them in.
"The other thing it had was that in one door, there were some extra holes for some sort of control where they'd reach out and operate it. I don't know whether maybe they had some sort of a mower on it. It was a farm truck,so I'm sure that once it left its roadable life, they used it around the fields."
That was in 1998 and not surprisingly, the truck by then had been set aside. Burkert said that Steve Ryan, a Model A restorer who'd earlier helped him with his 1931 Ford Tudor, found it.
"He was actually traveling for business down around Morgantown, Pennsylvania," Burkert recalled, "and on a kind of snowy day, he drove by a tack shop down there. He just saw the very back of the AA's frame sticking out from behind a shed. I don't know how he knew it was a Model AA, but he stopped and walked back there. He walked around and sure enough, it was a Model AA and he decided that here at the lumberyard, we needed a Model AA, so he called me right away and naturally, I had to go and look at it."
What he found was a truck with only a frame behind the cab, but its 157-inch wheelbase did seem like a good match for the family lumberyard in Fleetwood, Pennsylvania, and without a doubt, plenty of Model AA Fords had held down similar jobs.
From a T to a TT to an AA
Often referred to in conversation as the "Double A," it somewhat followed the pattern set down in 1917, when Ford came up with a heavier version of its Model T and designated it the Model TT. The latter grew out of Ford's growing realization that offering commercial versions of the Model T might be a wise move. Early Model T trucks had been built by aftermarket suppliers or the vehicles' owners on Model T chasses and Ford tested the waters for itself by introducing the Commercial Roadster and the Delivery Car in 1912.
Neither did very well, thus explaining the Commercial Roadster's disappearance at the close of the model year and the Delivery Car's exit not long after that.
However, the experience wasn't so jarring that Ford would rule out trucks permanently and in all likelihood, its 1917 re-entry into that market with the TT was at least partly due to the number of conversions still being produced. The conversions, after all, were making money for someone other than Ford.
Factory-built Model T trucks were basically passenger cars modified to carry cargo, but the TT with its one-ton capacity required more. The obvious differences were its 124-inch wheelbase—two feet longer than that of a car—and its worm drive. That might not sound like much, but combined with everything that was good about the Model T, it was a success right through 1927 and when the ModelA arrived for 1928, Ford naturally included a Model AA truck.
What Was Left Was Original
Unlike its predecessor, the 131.5-inch wheelbase AA was rated at a one-and one-half-ton capacity and in common with the passenger cars and lighter trucks, it abandoned the planetary two speed transmission in favor of a conventional sliding-gear three-speed.
The front suspension was still a transverse leaf spring, but it was much heavier than that of the car, while the rear suspension went to more-conventional longitudinal leaf springs. During the 1929 model year, disc wheels and a fourspeed transmission were made standard and 1930 saw the addition of the 157-inch wheelbase and the same styling updates that appeared on the light trucks and passenger cars. The commonality of sheet metal can be an important bonus on an AA that's extremely rough, but luckily, Burkert's truck wasn't quite that bad.
"It was an old farm truck," he explained. "It was probably in a barn for most of its life or else it wouldn't exist at all. But at one point, it left the barn and unfortunately, it got put outside. When they're old and the paint's shot, the metal doesn't last long once they're outside. It was actually a pretty complete truck, but it didn't have the bed; nothing, just a bare frame and the cab. In the cab, the floors were rotted out. The back of the cab was rotted pretty badly and, of course, they have the wooden roof with the bows and that was gone, so the water and snow just came in and sat on the seat, trickled down and rusted the floors out.
"The cowl panels were out. I think I remember that we redid the bottoms of the doors and it took a new floor pan. I think the subrails were still there."
The hood and radiator shell were no longer in place, he said, and while the previous owner had stored the hood inside, the radiator shell was badly damaged and lying on the seat. It's not hard to guess what problems resulted.
"The engine itself seemed almost like it was rebuilt shortly before it was taken off the road," Burkert recalled. "It had very good babbit in it, but it also had three quarts of water in it and it was badly seized. With some automatic transmission fluid and Marvel Mystery Oil and kerosene, I just dumped it down the cylinders, waited several weeks, banged on it with a big block and a hammer and eventually, the engine broke free. I was able to save most of the engine without having to get it rebuilt, which is a nice thing."
The pistons weren't the originals, he said, but were good enough that he was able to reuse them after installing new rings. He honed the cylinders, replaced the valve guides and lapped the valves.
"For some reason," he said, "the main bearing babbit was good and I just adjusted the shims, but the connecting rod babbit was worn down to the point where the shims were all gone and so I ended up getting exchange rods, rebabbited rods and put those in."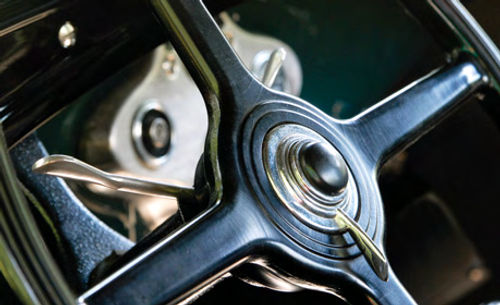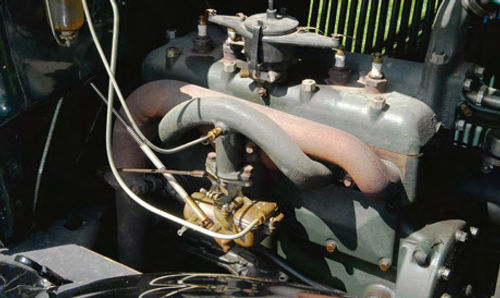 The previously rebuilt engine was a nice surprise, as was the fact that beyond some filler at the bottom of the cab's rear wall, there were few indications that the AA was anything other than original.
"This truck had never really been restored or worked on other than just being used and put out to pasture," Burkert said. "It was nice, everything came apart very easily. Fasteners weren't stripped and surprisingly, even though it had sat outside, many of the fasteners weren't too badly rusted. I could get it apart without destroying it or causing more damage. And it was nice because it was an original truck; it wasn't a mix and-match of something that somebody threw together over the years. It was a complete truck.
"Some things had been replaced, but it had all the original wheels as far as I could tell because the wheels were made by Budd and they were all stamped with the same date. A couple of the brakes had been replaced and mechanically, I could tell it was apart in some areas and things were replaced, but for the most part, the sheet metal's original. The hood's original, the fenders, everything is original sheet-metal wise and the only unfortunate thing is that the original bed was lost. As far as I know, it was a Ford bed. It was a stake bed and I think most of these trucks, when they were sold, probably left the factory with Ford bodies. Of course, you could buy them with-out a Ford body. I imagine that with the economy that Ford had, the economy of scale, the Ford body was probably the best deal and so you'd just order one with a body, if Ford had what you wanted."
1930 Model AA Ford
GENERAL
Front-engine,rear-drive,flatbed truck
ENGINE
Type Inline four-cylinder flathead
Displacement 200cu.in.
Bore x stroke 3.875in.x4.25in.
Compression ratio (:1) 4.22
Carburetor Single-barrel updraft
Power 40 hp @ 2200 rpm
Torque 128 lb.-ft.@1000rpm
DRIVETRAIN
Transmission Four-speed manual sliding-gear
Final drive ratio as built(:1) 6.6
STEERING
Worm and sector
SUSPENSION & BRAKES
Front Transverse leaf spring
Rear Longitudinal leaf springs, cantilevered
Brakes(f/r) Internal-expanding drums, mechanical
MEASUREMENTS
Wheelbase 157in.
Tire Size 32x6
It Had Hauled a Heavy Load
Whether the long-wheelbase stake truck was used anywhere but on a farm is unknown, but its configuration suggests that it worked hard. So do some of the discoveries made during the restoration. Everything adds up, Burkert said, to his Ford having carried a lot of weight. For instance, he's since removed the helper springs that it no longer needs.
"If you go on the back of that truck and jump up and down," he said, "it doesn't move. It's very heavily sprung, but that truck was loaded because the frame was bouncing on the axle. The frame was slightly bent, so it was loaded at one point in its life to the absolute max."
Ford didn't promote the Model AA as a hauler for extremely heavy loads, Burkert said, and the long-wheelbase version was designed not to carry extra weight but to transport greater quantities of bulky materials. Histruck had the standard 6.6:1 rear end ratio and while that seems low enough to deal with considerable weight, the engine only produces 40 horsepower and 6.6:1 is a good match for it.
"It pulled well on hills and it got you out of the ditch," he said, "but that rear axle had some issues. The axle shafts were bad, so a friend of mine, Keith Ernst, who has Tired Truck Restoration up in Orwigsburg, Pennsylvania, had an old high-speed rear axle that was sort of languishing in a field, all rusty and everything. I went up there and he sold it to me for a reasonable price and I brought it back, took it apart, cleaned it up, went through it and put it in."
With its 5.14:1 ratio,that made the truck a better driver by taking the comfortable cruising speed from 35 miles per hour to about 45. The tradeoff, of course, is the need to shift much more frequently.
"You have to sort of row it up the hill with the shifter,"Burkert laughed, "but on the flat, it'll cruise along.
"It's nice because I can actually go out on a secondary or two-lane highway and not be too much of a detriment to the other drivers. But when you come to a hill, you want to get a run because it dies down very quickly. You have quite a bit of weight."
About That Engine…
The 6.6:1 rear's limited speed was less noticeable in 1930 than it is today and besides, the AA is a truck. Low gearing made sense and Burkert described some of the other components that are stronger than their Model A counterparts.
"When you restore an AA," he said, "you really realize how much heavier the chassis is than a Model A, especially the rear axle and the transmission. The Model A transmission you can almost pick up and hold in one hand, but the transmission in the AA you can barely pick up at all. And, of course, the rear axle you can just barely roll around with the wheels on it. It's heavy. They were very overbuilt."
If there's a weak spot in the AA, it might be the engine, especially in comparison to the rest of the truck.
"The engines are almost a little light," Burkert explained. "I think there were some better engines available, but everything else in the chassis on the Ford was overbuilt."
That's not the same as saying that the AA's engine is somehow flawed. The Simple truth that the truck sold well effectively refutes that possibility as does the fact that even today, Model AAs—like As—aren't known as being plagued with engine failures or serious mechanical problems.
"The reason the truck sold well,"Burkert said, "wasthat (the buyer) trusted that the truck was going to work."
The feature AA did just that, but it probably didn't suffer abuse. If it had, the body could be expected to have acquired at least as much damage as rust, but thanks to the interchangeability mentioned earlier, even that wouldn't necessarily mean a horror story.
"It has a '30-style cab," Burkert said, "and the doors are shared with the two door sedan. It's the same cab as a pickup for '30 and '31. Not only are the doors the same as for a two-door sedan, they are very common, so that wouldn't be a problem. The back of the cab is all its own. There are panels above the door and I don't know whether they interchange with anything, but you can get them new; they get all covered with fabric anyway. The cowl section and the windshield section, I believe, interchange with the two-door. The fenders are the same as on a car, but the running boards and the splash aprons are different."
The AA running boards, he explained, use a stamped diamond pattern instead of a rubber covering and the splash aprons differ in length from those on a car since the AA has no rear fenders. His truck needed one of the aprons and while new aprons for an AA aren't available, finding reproductions for a car isn't difficult. The solution was both obvious and creative.
"I purchased a new car apron," Burkert Said, "andmyfriend,Keith Stevens at North Star Automotive, had the plasma cutter. I took the old apron that was rusted through, put it on top of the new apron, marked it with a marker and he just zinged it off with the plasma cutter."
When it comes to the nose, though, things do get slightly complicated. The AA's hood interchanges with that of a Model A, but the feature truck didn't need a hood. What it did need was a radiator shell and a donor from an A would fit although it wouldn't be correct.
"The grille shell is unique to an AA," Burkert said, "because the AA had an extra thick radiator in '30 and '31. The '30 and '31 cars had a three-row core and the truck has a four-row core. A car radiator and a car shell will fit on the truck, but since the trucks are extra heavy and big, the proper radiator to have is the four-row core and that took a thicker shell, a deeper shell. It's also styled a bit differently. The cars have sort of a heart dip in the middle and the trucks are straight across."
Still, he said, starting with a chassis and building a Model AA would be possible since every piece of sheet metal could be found. The greatest challenge to such a plan would be coming up with the cab, as he said trucks' survival rate is lower than that of cars and cabs are in demand.
"A lot of AAs probably sacrificed their sheet metal to pickup trucks," Burkert said. "You have a lot of (AA) chassis parts around and no cabs because people took the cabs to make Model A cars or street rods. Of course, they also made opencab AAs. I don't think they were as popular as the closed-cabs, but they did make an open cab, sort of the roadster pickup cab. Ford just called it an open cab, but you can buy those new. If you were doing an AA and you couldn't find the sheet metal, you could buy a new cab from Brookville Roadster and make your own bed." (brookvilleroadster.com)
Mechanically, even a non-Ford guy should be able to figure out which parts are interchangeable with an A and which are Model AA-specific. Burkert said the engines are the same, but as already noted, the transmissions differ. The Model AA's longer wheelbases, bigger brakes, different rear suspension and heavier rear axle get in the way and then there's something that might surprise even a knowledgeable Ford guy.
"AAs were torque tube,"Burkert said, "some of the Canadian-built ones were Hotchkiss."
None of that is insurmountable, which is a definite plus for a restorer thinking about a Model AA, but Burkert again stressed that many of the trucks still in existence have given up their sheet metal for their lighter relatives.
"If you want to do an AA," he recommended, "you join the (Model A) club and certainly, somewhere you're going to find a contact, somebody with some AA parts.Unfortunately, a lot of them are probably getting scrapped because there just isn't enough demand for them or people don't realize what they have or they just get tired of moving it around because it is big and heavy.Things like the high-speed rear axle are in demand because people want those for modern highway speeds, but I have to say that if you know the right place to look, you can find just about anything. A lot of the wear parts, bushings,small parts, brake linings, they're available from the parts vendors. Axle housings, axles, no, you have to find them. The jackshaft, the driveshaft, you have to do a little bit of searching."
It should be less searching than a Model A's restoration might require because there's less to find. Trim, for example, is minimal.
"Working on the roadster," Burkert said, "there's all the bling that's on it, the chrome. On the truck, you don't have rear fenders to worry about; you don't have shock absorbers to worry about. It's kind of nice that you don't have a lot of those expensive things to worry about, so like I said, if you start out with sort of a chassis and a cab, without too much extra buying you can make a complete truck. It's really kind of nice that you only have to worry about the front fenders."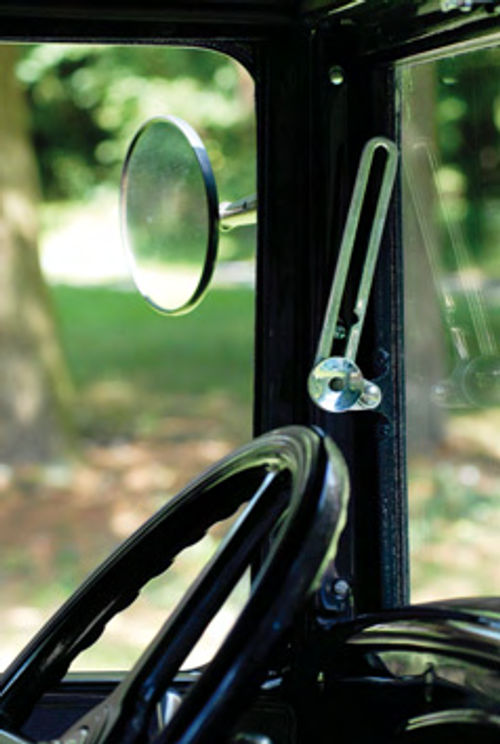 Be Cool About It, Unless…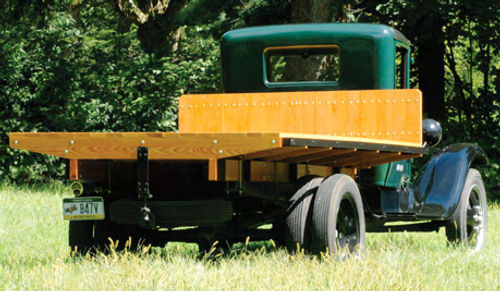 The traditional advice about looking for completeness and the best condition possible apply here and the feature truck's rust is typical. The Model A/AA engine is straightforward, but any engine-rebuild can be costly and that brings up a warning about the AA.
"You've got to remember," Burkert stressed, "that the AA is kind of a specialized collector's item. With an AA, you'll never get out of it what you'd get for a roadster and really, the restoration costs are the same. The paint costs the same and the sheet metal costs the same. The AA, of course, doesn't have as much chrome and fancy top material, but still, you can get a lot of money into it and so you've got to buy at the right price. You have to be careful. And a lot of them had hard lives, so you've got to watch for damage that would have to be repaired."
To some owners, a Model AA can make up for nearly any challenge it creates, whether parts-related or financial. Besides the support and reputation that go with Model As and Model AAs, there's also the truck's role as a less-common version of a very popular vehicle. For Burkert, the realization that he'd made the correct choice came quickly.
"I thought it was the right truck right away," he said. "I guess that when you restore these cars, you have to either buy a car for the right price or buy one that's in really good condition. Otherwise, you can really easily get a lot of money wrapped up in one and get in over your head to the point where it's not enjoyable anymore. For me, the hobby isn't about money. I like to know what they're worth. I'm more of a hoarder than a buyer and seller,so I'm not going to sell it anytime soon. But still, it's nice to know that you're living within your Model A means."
Cool-headed rational thinking rarely enters into the equation on collector vehicles,so a real-world decision is likely to take into consideration a blend of practicality and taste. But even that doesn't always work.
"Sometimes, you stumble upon it, fall in love with it and you have to save it," Burkert observed. "I wouldn't discourage that."