10 MILLION MUSTANGS… AND COUNTING
No one in the vintage vehicle hobby—even folks who don't like Fords—could doubt or begin to question the enduring popularity of the Mustang.
Maybe someday people will grow tired of the original pony car but that certainly won't be anytime soon and meanwhile the Mustang offers vintage fans a wide range of cars to pick from for a favorite ride…from early coupes with an inline six or small V-8 to incredibly powerful muscle cars that have evolved into ground pounders with more than 400 horsepower under the hood straight from the factory.
The Mustang's popularity also has led to a thriving aftermarket business that supplies an array of pony components from mechanical parts to sheet metal replacements. In fact, it's often said that a person could build a Mustang from the ground up with nothing but reproduction components. Conversely, people who restore less-common vehicles often will comment on the rigors of their parts search and then cap it off by exclaiming, "I figured this search would be tough. After all, I'm not building a Mustang, y'know."
An Instant Winner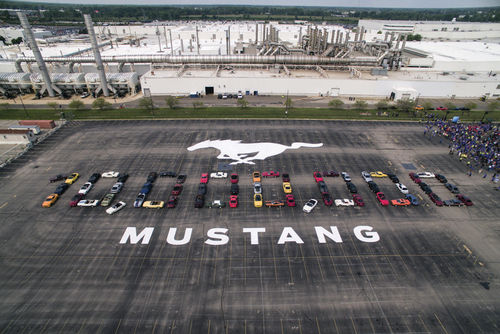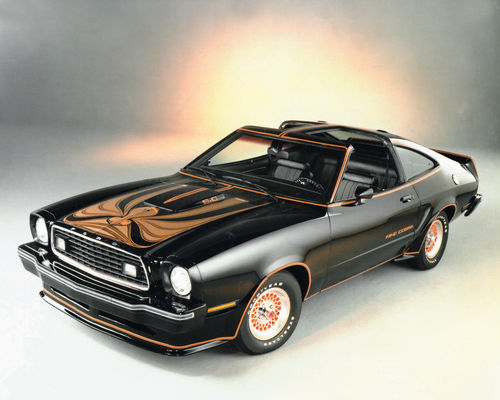 The Mustang literally was an overnight success, drawing legions of buyers right from the start when it was introduced on April 17, 1964. While "official" company sales forecasts tend to be lowball estimates which executives expect to easily surpass, the Mustang genuinely did turn out to be a pleasant surprise even for the FoMoCo sales & marketing people who had expected it to be a showroom success. Original forecasts called for sales of around 100,000 units during the first year, a mark that was surpassed in the first three months. During the first 18 months on the market, more than one million Mustangs were built.
Now another milestone has been reached as Ford recently observed the production of its 10 millionth Mustang, the vehicle which Ford bills as "America's bestselling sports car of the last 50 years and the world's best-selling sports car three years straight." Commenting on the occasion, Jim Farley, Ford's president of global markets said, "Mustang is the heart and soul of this company and a favorite around the world. I get the same thrill seeing a Mustang roll down a street in Detroit, London or Beijing that I felt when I bought my first car—a 1966 Mustang Coupe that I drove across the country as a teenager. Mustang Is a smile-maker in any language."
What a Difference a Half-Century Can Make
Interestingly, both the Mustang bearing VIN 001 and the 10 millionth pony received a Wimbledon White paint job but beyond that, the differences are notable. That early Mustang came with a three-speed automatic transmission and 164-horsepower V-8 while the 10 millionth car has a 460-horsepower V-8 teamed with a six-speed manual and is equipped with what the company calls "the latest driver assist technology," something that was unheard of in the mid-'60s.
Furthermore, in its promotional materials for the latest Mustang milestone, Ford referred to its popular pony as "a cultural icon inspiring optimism and independence around the world." That's a pretty bold claim, even for a vehicle that's seen such an impressive track record over the past 54 years. But if it's a legitimate statement, where does that place the Mustang's elder sibling, the Model T, in the automotive hierarchy? After all, Ford built some 15 million of the world-famous Ts…in just two decades. –Ted Kade, Editor