Straight-Axle Drag Cars Make Comeback
They're Not Meant for Street Use but Have Their Followers. Do Your Homework If You're Shopping for One.
JOHN TINBERG HAS been building straight-axle Novas and '55 Chevys for Stefano Bimbi's Nickey Chicago enterprise for several years. Nickey (with the "K" written backward) originally was a famous Chevy high-performance dealer in Chicago in the '60s. But Bimbi got the Nickey trade name from the original owner's family and substituted"Chicago" for "Chevy" because he isn't a Chevrolet dealer but his collector car shop is in suburban Chicago.
His vintage iron runs the gamut from '60 Chevy Impala convertibles and MGBGTs to the "gasser" style drag machines that Tinberg puts together.
A Project Starts with a Coincidence
Recently Tinberg was doing some work at Nickey Chicago when he got a call from a man named Dave in Florida. Dave wanted some straight-axle parts for his Willys gasser. Dave also told Tinberg that he had owned a number of Corvettes over the years and always wanted to make a Corvette gasser that would be a real period piece. Tinberg liked the idea and said Nickey could build it.
Recently Tinberg was doing some work at Nickey Chicago when he got a call from a man named Dave in Florida. Dave wanted some straight-axle parts for his Willys gasser. Dave also told Tinberg that he had owned a number of Corvettes over the years and always wanted to make a Corvette gasser that would be a real period piece. Tinberg liked the idea and said Nickey could build it.
During one subsequent phone conversation Dave mentioned that he used to race a Corvette at U.S. 30 drag strip in Gary, Indiana, in the '60s. U.S. 30 was Tinberg's old stomping grounds, so he asked Dave his last name. He turned out to be Dave Vanalystine, a man who grew up on the same street as Tinberg in Lansing, Illinois. Furthermore, Tinberg and Vanalystine had attended the same high school with Tinberg one year ahead. "Small world," said Tinberg. "I even remembered his white 1958 Corvette and his white 1959 Impala, which were both awesome cars."
Two weeks later a car carrier pulled up in front of the Nickey shop in Dwight, Illinois, and the driver unloaded a very nice-looking '61 Corvette "roller" that had come from California. Vanalystine had bought the car on eBay and sent it to Tinberg, even though he hadn't seen him face-to-face for 45 years. The following week Vanalystine drove up to see the car he had bought, check out the shop and see Tinberg.
Vanalystine liked the gasser stuff he saw and gave thumbs-up to start work.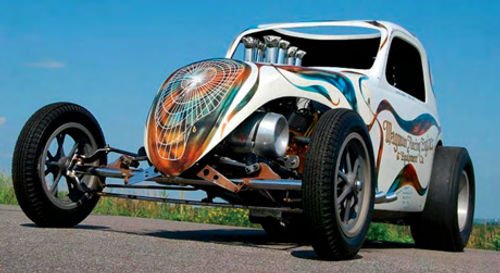 Nickey Chicago's main facility in St. Charles, Illinois, took over as the general contractor and agreed to build the frame along with the straight-beam type front axle arrangement and rear suspension, and also to handle final assembly. Plans called for the straight-axle '61 'Vette to have a big-block Chevy V-8 with a period-style Hilborn fuel-injection system and intake stacks poking through the hood. A four-speed gearbox, ladder bars and a roll bar also were on the list. "It doesn't get much more period than that!" Tinberg emphasized.
Tinberg has been into straight-axle cars since the days when he read car magazines while deployed in Vietnam. For a while he thought he was the only one still involved in this segment of the hobby, but now he knows that's not true. In addition to Dave Vanalystine, he networks with collectors nationwide who are into drag racing nostalgia and history—as well as the restoration of the actual cars.
(Just a bit of background regarding "straight-axle" cars. A straight axle consists of a straight piece of steel tubing with spring pads and mounting provided for kingpins and spindles. The front of the vehicle rides higher with this custom axle and it's used primarily on rear wheel-drive drag cars. The straight axle helps to transfer the vehicle's weight to the rear of the car and provide added traction at the start of the race.
Installation of a straight axle calls for the removal of the stock front suspension components including parts such as the A-frames and coil springs. When the straight axle is installed, the coils are replaced with leaf springs.)
If You're In the Market… …Shop Carefully
At classic car auctions these days you're likely to see many altered-wheelbase drag cars, and gassers are becoming a common sight at "traditional hot rod" shows. Cars spotted include a '46 Ford straight-axle coupe that was raced years ago. The 1955-57 Chevys are popular along with Dodge Darts and, of course, Willys cars.
We had the opportunity to ask drag racing legend "Big Daddy" Don Garlits for some straight-axle shopping tips and here is his response: "I think it will always be a very small, but devoted group (who collect these cars)." He said values of the cars vary widely and depend on who was the original owner or driver, how original is the car and how it performed in races.
Garlits, who took his first trip down the quarter mile at the Zephyrhills Airport meet near Tampa, Florida, in June 1950, said that potential buyers should "be very careful when buying one of these cars. They better have an old magazine article about the car to check out if it is really the car that it is touted to be." According to Garlits, there are lots of "recreations" out there today. (He has many real ones in his museum in Ocala, Florida.)
"Just don't buy a pig in a poke," Garlits said. "Never buy a gasser sight unseen. Go to the location, inspect it and make sure it is what it was described to be."
As for insuring your straight axle car once you've made the purchase, Bob DeKorne of Hagerty Classic Insurance told us: "Our Motorsports Division has been writing (policies for) more and more gassers and racing cars than ever."
He pointed out that since most of these cars are unregistered and non-street driven, they can be covered by a Limited Paddock and Trailering policy that is relatively inexpensive but still provides coverage during storage, transport and paddock use. However, it's important to note that this policy does not cover a vehicle during racing or in practice runs.
He also had some thoughts regarding the value and collector appeal of these cars.
"The standard items that support value, like a chain of ownership, provenance, an accurate presentation or restoration and general documentation are all important when it comes to racing cars," DeKorne emphasized.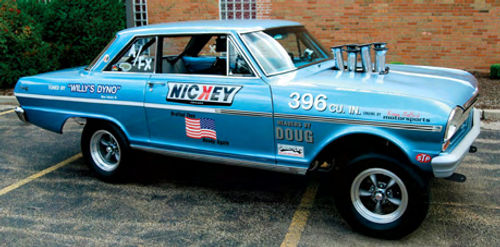 "While competition cars were generally ridden hard and re-worked many times, they still have an undeniable enthusiast appeal, though collectors want the 'real thing.'"
Ask the Man Who Owns One…
Paul Zielsdorf of Schofield, Wisconsin, wants a Willys gasser but at the moment feels that type of car is out of his reach.
However, he found a vintage Altered Fiat Topolino that he could afford. Furthermore, the small Fiat easily fit in his garage.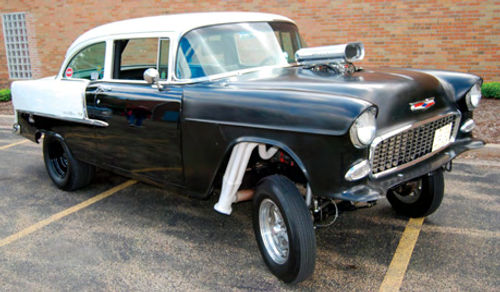 The car had been taken apart, but the pieces were there. Zielsdorf put them together and started research. He found historical documentation of the car appearing at '60s and '70s hot rod shows. He also discovered that it had been raced for at least two full seasons.
Zielsdorf says that when he exhibits the Fiat, about half the spectators realize it's a "real deal" vintage racing car, but the rest of them "don't get it."
He feels the real value of these cars is that they should be as much fun today as they were years ago when they were first raced. However, he won't complain if his dragster climbs in monetary value as well.
"Maybe I'll be able to trade it for a Willys gasser someday!" he laughed.
Resources
Don Garlits Museum of Drag Racing
13700 Southwest 16th Ave.
Ocala, FL 34473
Hagerty Collector Car Insurance
PO Box1303
Traverse City, MI 49685-1303
Nickey Chicago, Inc.
1930 Dean St.
St. Charles, IL 60174