Special Report Chevy's Suburban Turns 75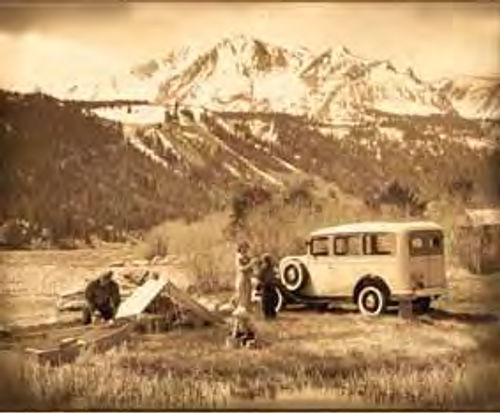 It's Evolved, But Stayed True to Its Hauling Purpose.
WHEN YOU TAKE your first drive in a Chevrolet Suburban, a couple of thoughts no doubt will quickly come to mind.
One is that you now have at least a vague idea of what it must be like to drive a bus for a living. (Well, maybe it's not quite as big as the public transit vehicles, but at 18.5 feet long and about 6.5 feet in height and width, it will call for some adjustment in your driving habits.)
The other thought you're likely to entertain is that in a world where many "SUVs" are merely passenger cars with truck-like sheet metal, the Suburban is one member of the breed that has stayed true to its roots.
The Suburban's construction is still body on frame, and it can seat up to nine people or, with the second-row seats folded and the third-row seats removed, interior cargo space totals 137.4 cubic feet. In other words, it's a workhorse designed for people who need to transport a job crew, large family or baseball team on a regular basis; haul a payload of up to 2153 pounds or hitch up and tow as much as 9300 pounds of trailer and cargo.
And maybe it's statistics such as those that explain why Chevy's Suburban is observing its Diamond Anniversary this year and why it's the first vehicle in the industry to reach the milestone of 75 years in production.
"Times have changed, but the Suburban remains a fixture in the industry for private and professional customers who need truck-like towing capability with maximum passenger and cargo space," Chevrolet General Manager Jim Campbell said in discussing the vehicle's legacy. "The Suburban's core capabilities and dependability have remained constant for more than seven decades, and generations of people know that a Suburban will haul people and their gear."
The Suburban Over the Years
Since the Suburban has been around for three-quarters of a century there are a number of variables to consider if you're thinking of one of these large SUVs as a project vehicle. Furthermore, in keeping with the trend where owners are now more likely to use their vintage cars and trucks on a regular basis, a restored or even partially restored Suburban could be a very useful addition to your garage, especially if you pick one from the last 40 or 50 years or so.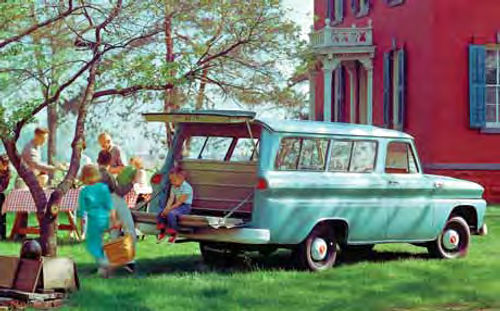 With that in mind, let's take a look at the Chevy Suburban's journey through the past 75 years and some of the changes that have taken place with the vehicle over that time period.
It Started With Wooden "Hacks"
In the first three decades of the 20th Century, vehicles called "depot hacks" were often used to ferry people to and from train stations. These vehicles were built on a car chassis with the Model T's being a popular choice. The hacks had wood bodies, several rows of seats behind the driver and often had open sides instead of windows. Sedan deliveries, on the other hand, had enclosed steel bodies, were car-based, and lacked rear seats and windows. As the name implies, they were used for making deliveries, mainly of relatively lightweight cargo, within urban areas.
You Take a Steel Body, Add a Commercial Chassis and…
Then, in the '30s, Chevrolet looked at the possibility of teaming a steel body with a commercial chassis and that led to the launch of the Suburban Carryall in 1935. Professional customers with heavier payloads to haul liked the idea of working with a heavy-duty chassis, but some folks who had been faced with the task of transporting large families or vacation gear with regular passenger vehicles liked the versatility of the Suburban as well, as can be seen in the 75- year-old photos at the top of page 30.
That first Suburban came with a two door body style, a feature that was to remain for more than 30 years. Power, all 60 hp of it, was produced by an inline Stovebolt 207 cid six-cylinder engine.
In 1937, the Suburban received some exterior streamlining and the engine grew to 216.5 cid and was rated at 79 hp.
After 15 years of offering only side opening "barn doors" at the rear, in 1950 the Suburban also came with a tailgate/top-opening rear configuration.
Five years later, the 1955 model received a major re-styling midway through its run. This "second series" design added a wraparound windshield and eliminated the truck running boards, making the body flush with the fenders for the first time. The redesigned Suburban also was available with Chevy's new 265 cid small-block V-8.
In 1957, factory-installed four-wheel drive was offered for the first time, via the NAPCO-supplied Powr-Pak system. In 1960, Chevy instituted C/K designations to denote two-wheel drive models ("C") and four-wheel-drive versions ("K").
Time to Add Some Doors
In 1967, Chevy introduced a three door arrangement with one door on the driver's side, and front and rear doors for the passengers. Six years later, Chevy brought out a more conventional four door body style. Also for 1973, it introduced a three-quarter-ton model that could be ordered with a 454 big-block engine rated at 335 lb.-ft. of torque for added towing capabilities.
Bring on the Simulated Buffalo Hide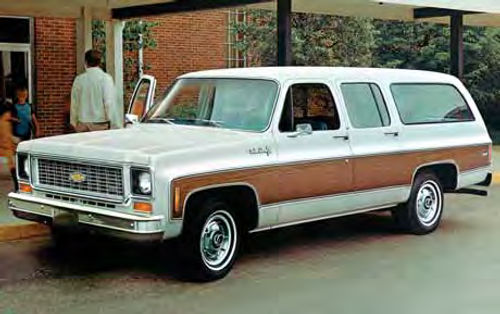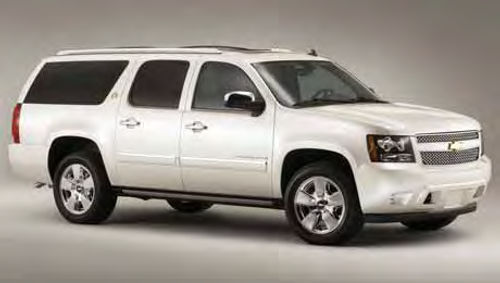 In a move to lure more customers who would use the Suburban as a personal vehicle, in the early '70s Chevy gave increased attention to the interior comfort levels and amenities.
The strategy worked, and for 1975 Chevy made the seats even more comfortable and added wood grain dash inserts, fully trimmed door panels and "simulated buffalo hide vinyl upholstery." (I wouldn't mind seeing some of that simulated buffalo hide myself.)
The Suburban in Modern Times
Electronically controlled fuel injection and a four-speed overdrive transmission were added in 1987 and the 1990s saw a growing interest in the Suburban as SUVs became the "in" vehicle for the mainstream driving population.
The current-generation Suburban was introduced in 2007 with the addition of a wind tunnel-shaped exterior and the elimination of the vehicle's traditional chrome front and rear bumpers.
And now, in observance of its 75th anniversary, a Diamond Edition Suburban, limited to 2570 units, is available. This special edition vehicle, seen on this page, has a "White Diamond" exterior coating, special badging and 20-inch chrome-clad wheels.
But in case you were hoping that this anniversary event would inspire Chevy to bring back its "simulated buffalo hide vinyl upholstery," it just didn't happen. Instead, the Diamond Edition comes with leather covered seating and the first two rows are heated. Oh well, no doubt the Suburban will see its 80th anniversary, and maybe Chevrolet will consider it then.