Joining the ''TROG FAMILY''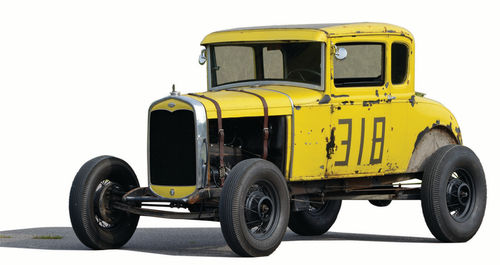 He Felt This Model A Was More Suited to Modification Than Restoration. So He Built It for The Race of Gentlemen.
Even the most unlikely project car can sometimes end up with precisely the right owner.
"First reaction," recalled Paul Kramer, whose 1931 Ford is featured here, "was 'this is exactly what I'm looking for, rusty and no good. Rusty and not running and I can start from scratch and not worry about it' because the build is half the fun. I had visions of what I wanted to do and when I saw this; there was no negotiating to do. I said 'let's go.'"
Not every rough Model A rumbleseat coupe is lucky enough to fall into the hands of someone with a plan. Kramer's statement that "the build is half the fun" provides a good hint as to what he had in mind, namely to prepare the coupe for The Race of Gentlemen.
Billing itself as "the greatest race on Earth," The Race of Gentlemen or TROG explains on its web site (https://www.theraceofgentlemen.com/) that it "isn't an invention. It's been happening (since) well before our founders were born, but now it has a name and a place in the foreground of modern culture. TROG taps into something primal and emotional. An escape from an impressively mundane world, offering mechanical reprieve from its backlit, binary grip. TROG events are real, jarring and built on the strongest, sappiest foundation of all…friendship. A weekend retreat with late nights and early mornings, where you laugh and yell and experience nature in the strangest possible way. A reminder that most admirable aspects of humanity have yet to die off."
Racing Roots That Date Back More Than a Century
More specifically, "the inaugural Race of Gentlemen was held in 2012 on the beach in Asbury Park, New Jersey," a state with "a storied tradition of beach racing, including an epic 1-mile beach race in Cape May during the summer of 1905. The exhibition featured the likes of Henry Ford, Louis Chevrolet and speed record holder Walter Christie. At the time, the Cape May beach was deemed the 'finest racing beach' in the world. The Race of Gentlemen has since moved from Asbury Park to Wildwood—a stone's throw from Cape May—for its flatter, wider beaches and legendary boardwalk. Enthusiasts now attend from all over the country to run their machines down a 1/8-mile straightaway in front of thousands of spectators." The Oilers Car Club, according to the site, was founded more than 65 years ago by "a small group of thrill-seeking friends that built and raced hot rods and motorcycles using outdated pre-WWII era chassis, bodies, motors and parts. In 2010, the keys to the club were handed to Meldon Van Riper Stultz III, a Jersey Shore native who, with his colorful crew of vintage car and motorcycle revivalists, now stage these rolling exhibitions at historically significant locations across the country."
The Oilers Car Club, on its Facebook page, sums it all up as "a multi-day celebration that pays tribute to the early days of racing. Purpose built pre & post war vehicles flood the beaches and battle the tide during this mechanical commemoration."
It all sounds interesting enough, but the critical point is that "'Period Correct' is what Mel is after with the cars, bikes and the entire look and feel of the event…Mel goes through a lot of work, trouble and strife to get all the 'props,' structures, banners, signage, etc. just right to emulate beach racing from the late 1940s/early'50s."
Getting Involved With a Race Car
Once Kramer saw what it was all about thanks to some friends, he was effectively hooked even though he'd never been to an event like it.
"We go to Cape May every fall to a microcar rally," he said. "These friends of mine have a place in Wildwood, which is close, and they said 'hey, we're going to be racing in Wildwood. Why don't you come out in June?' So I told my wife 'let's go.' We went to the races and had a ball. It was like 'I want to do this'…
"That was in '16 and then I retired and my son said 'let's do something. I want to go and see that race.' He knows me. He and I have been antique car guys and we've done car shows. He was brought up with it and he loves cars. This is a normal everyday thing, being greasy and parts all over the yard."
Kramer would not have been the first enthusiast to find something new, jump in with both feet and then jump (or slowly crawl) back out, but obviously, that didn't happen. With that in mind, his first task was finding a suitable car that could be made competitive by the addition of "period correct" equipment. A Model A would be a good choice for reasons ranging from its basically rugged design and the availability of performance upgrades to the knowledge base and parts generated by its decades of unwavering popularity, not to mention the sheer number of cars still out there.
(Editor's note: For a look at a car club that's teaming with teenagers to restore Model A's and perhaps draw them into the hobby, see page 28.)
The Model A Built a Following
Ford introduced the Model A with a stage-managed unveiling across America on December 2, 1927. The newcomer faced a major challenge in that it was succeeding the Model T, the car generally credited with having produced a huge change in society by making increased mobility a true reality affordable to the average working man. Never mind that by the late 1920s the Model T was what might politely be described as an anachronism. Its obsolescence was offset by the fact that it was beloved and familiar, so the Model A's comparatively modern design was at least slightly risky.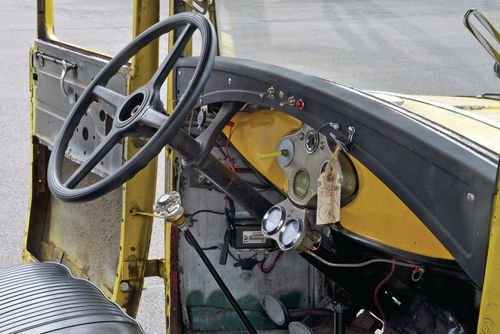 Its selective three-speed transmission was effectively in line with the industry standard, but an utter revolution to those who'd only driven Model Ts with their two-speed planetary transmissions. The T's clutch, brake and reverse pedals and its hand throttle were gone and the faithful now had to learn all about the A's gas pedal and floor shifter. The days of shifting with one's feet and stopping with less-than-four-wheel brakes were over.
The Model A had its virtues, of course, not the least of which was its styling. Ford had attempted to keep the Model T up to date and while in its final years it looked good, it's doubtful that many of its purchasers were drawn by its appearance. That changed when the Model A arrived and almost at once the new Ford was on its way. With more than 3.8 million examples built by the time production ended in the 1931 model year, its success was clear. Add to that the fact that it proved itself to be both reliable and durable for the conditions of its time—just as its predecessor had done in its day— and it's no surprise that the Model A remained popular long after it should have been retired. The widespread lack of money to pay for new cars during the Great Depression surely helped to keep Model As on the road as did to a lesser degree the lack of new cars during World War II.
Finding the Right One…
While all of that was going on in the world of the Model A, aftermarket suppliers were beginning to recognize the A's performance potential and after the war, the hot rod world took off as did the antique car world. Putting all of that together explains why Model As have never really been out of favor and why when Kramer learned of a Ford with potential not very far from his Scranton, Pennsylvania, home, he was interested.
"A friend of mine," he explained, "said 'I know of a car that a guy has. It's rough, but I know he's selling a Model A coupe.' I said 'OK' and I called him and we made a deal. It was about 25 miles away. I don't know whether you'd call it 'local.' It was in Falls (Pennsylvania) and when I got there, I realized I used to work with the guy at the Harley shop. We knew each other."
It would become the feature car because, as he said above, the Model A was exactly what he was looking for even if his description—"you needed a tetanus shot to drive it" – leaves little to the imagination. Still, not everyone is comfortable with modifying a car that some would see as restorable and while Kramer is solidly in that camp, he's also a realist.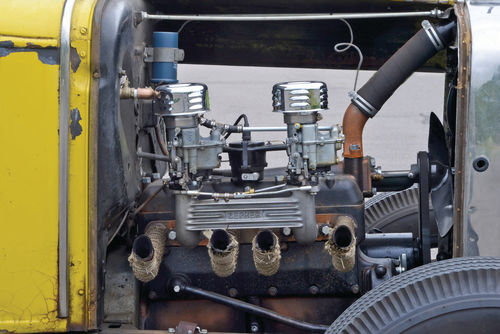 "Anything is restorable if you have a bagful of money," he observed. "The body was pretty bad. Could it have been restored? Maybe. I can't answer that. I have done cars over. This one was pretty rough and I hate people who take a good car and destroy it, but this car was rough, so I'm going to say 'restorable,' but you could find better ones."
The engine, he believes, had suffered near-fatal damage about a year earlier and had the car not been sold, its fate was unclear.
"(The seller) does a lot of cars over and he has all the parts," he said. "He has a lot of this and he has a lot of that, but I don't think he'd wanted to redo this one."
The Engine Was "Banging and Crashing"
Kramer was ready to do more than kick whatever was left of the Model A's tires, as he said that he'd taken his trailer along just to be safe. It was a wise move, given that the car wasn't capable of making even the 25-mile trip to its new home.
"We were lucky to get it on the trailer," Kramer said. "Good thing we had a winch."
Once safe in the garage, he said, the engine did manage to run, but it's doubtful that the car would've moved very far under its own power.
"We started it once," he said, "and it was banging and crashing. I'm surprised it started."
The basic bodyshell and some parts were usable.
"The rumbleseat's fine," Kramer said. "The seats inside, I don't know whether they're original, to be honest, but they're in good shape. So basically, the seats, the wooden floorboards were good and the body was fair.
"The fenders were toast. They went to the scrapyard. There was more plastic and filler on those fenders when I got it and I think I counted something like 100 zip screws where everything was zipped together under a layer of filler. Someone really did a terrible, terrible job on these fenders, which I didn't want anyway. The rules are 'no fenders,' so those are the specifications that you have to follow to build the car."
That was in 2017 and while disassembly is easy, there was no way that the Ford could be ready for that year's race, so the work began without the pressure of an unrealistic deadline. Kramer did, however, have his plan and anyone who's been through nearly any kind of restoration or major modification can guess where it began.
Tear the Car Down & Purchase a Performance Engine
"The first thing was to start taking it apart," Kramer said. "No. 1, fenders off, running boards off, splash panel off, engine and trans out, so basically, I had a frame and a body on wheels. I sent out and had a motor built."
That's an example of his planning. Antique Engine Rebuilding in Skokie, Illinois, handled the work on an exchange basis, a considerable saving in time over sending the engine and then waiting for the rebuild's completion. No less significant are the improvements.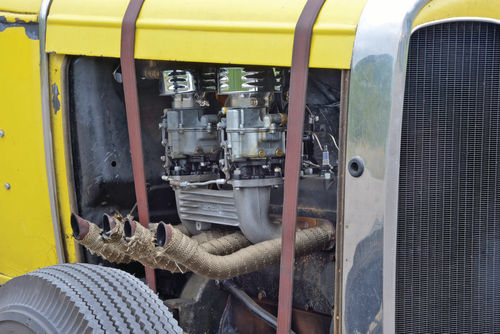 "The babbit bearings are gone and shell bearings put in," Kramer said, "which means higher rpm. It was bored out .060 over, oversize valves, higherduration cam, higher-compression head and then we put twin Ford 94 carbs on it and the four-pipes-sticking-out homemade exhaust in your face."
The new head brought the compression up to 6.7:1—a worthwhile jump from the factory 4.2:1—and a Zepher twin-carb intake replaced the original.
Time for Some Rebuilding and Modifications
While the engine was out of the car, the transmission was rebuilt and with a careful inspection of the rear end, Kramer found that it needed nothing more than fresh lubricant. A reproduction radiator is allowed by the rules and he decided to follow the safe course.
"I had a couple of radiators," he said, "and I got to thinking 'I have a brandnew engine. I don't know what these radiators look like. Do I want to run dirt through a brand-new engine?' So I bought a radiator. There's too much coin invested to hurt that motor for the sake of a radiator, so that's what I did."
The brakes were relined, the electrical system went from six to 12 volts, suspension components were replaced as necessary, the front end was lowered and the steering box was sent to a specialist for rebuilding.
"He's got the right parts and he gets the right clearances," Kramer explained. "I drive this car on the street a lot and it's a tad important to have the steering working right, so I had him redo it."
The wheels look like they could be right, but they're actually 16-inchers from a 1935 Ford instead of the Model A's stock 19s.
"They bolt right on," Kramer said, "the same bolt pattern. They look good. I had them powdercoated flat black and they're smooth so they won't pop tubes. They weren't in the best of shape when I got them."
Let's Start That Engine…
With the new engine in place, it was time to test it. The experience was memorable.
"My son and I built that exhaust," Kramer recalled, "four pipes straight out in your face. That bit me on the first start. The very first start on a fresh engine, you put a couple of squirts of oil in each spark plug hole. At the house, when we put the motor in, the first start, I was standing there to work the carburetors. I didn't have the throttle linkage hooked up and I got a faceful of oil and I loved it. It was great. I wiped off my glasses, got out of the way and started it again."
A Slow Start at the Races
By then, it was time for TROG's 2018 event where the Ford would make its first appearance after being trailered the four hours to Wildwood. Given what had seemed to be an unending series of rainstorms after the car's completion, Kramer said, he'd had little opportunity to test-drive it and combined with the fact that he'd had no useful racing experience, things did not go particularly well. The first run saw him spinning the tires in the sand with the predictable result and when the second and third races ended with less dramatic losses, he took a close look at the car.
"I found out I didn't have full throttle," he said. "I made some adjustments and on my last run, I won that one. I was holding on for dear life, bouncing in the sand, holding on, thought I was going to get wet, but I didn't and I wasn't letting off.
"Then, I hit the finish line and it was 'oh, now I have to stop.' That's when I was running wide open and my GPS said I was doing 65 miles an hour on that short run…Enough (stopping distance), but you slide. They say to shut it down when you get to the finish line—'don't get crazy'—and boy, they were right. And they've got this big sand pile in front of you to hit, the nice soft sand. A couple of motorcycles went in—thunk—but I didn't hit it. I stopped in time."
Those who hit the sand pile, he said, are rewarded with standing ovations.
More importantly, Kramer found that there was little about his Model A that needed to be changed or improved.
Having Fun on the Track & Street
"The car's running great," he said. "It's doing what I want it to do for a four-cylinder. I can't even guesstimate the horsepower, but it goes. I'll bet it's 90- to 100-horsepower. I think so, because everything I've done to it has built it up and the big thing is the shell bearings, the clip-ins instead of the babbitt. I can run at higher rpm now."
Between the exhaust noise and the ride, he said, the feel is that of a racecar.
"You know what?" he asked. "You're doing 65 on the beach. Trust me, you're screaming."
With the right mindset, it's also fun to drive on the street.
"It's a barrel of laughs," Kramer said. "When you hit a bounce or a pothole, man, do you know it. You've got to hold on or you'll be in the next lane. And the five-point harness is neat. I tried driving with that once. I put it on and I couldn't reach the parking brake to release it, so I had to take it off to release the parking brake and then put it back on. That was different.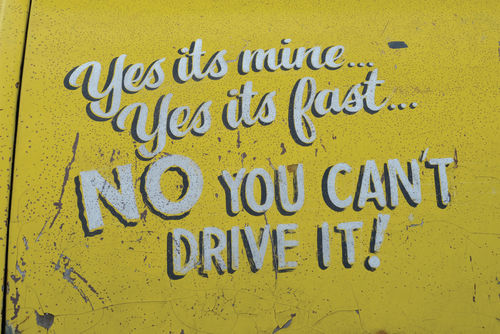 "I like driving it on the street. I put the car seat in it and my grandson loves going in grandpa's racecar. I put the car seat in and then I have the shooting ears (earmuffs) for him because the passenger side's (noise is) even worse. That's where the pipes are, so we put the shooting ears on him and he loves wearing them. He leaves them on in the garage, too. And he's strapped in good. I bolt it right down in the frame. It's safe, and I'm riding around in the city."
His Son's Now In the "TROG Family" As Well
His mention of riding around with his grandson in the car makes it easy to understand that when it comes to TROG, there's more in it for him than just the racing. He said that he and Meldon Van Riper Stultz III ("we call him 'Mel'") quickly became friends and something not much different developed with Joe Oz, whose duty was to stage the cars for each race, a role he played with style.
"He staged you on the starting line in his tuxedo," Kramer explained. "I don't care if it was 100 degrees, he was in his tuxedo, covered in sand. I met him once when we first started going there, then we started to be friends on Facebook. He didn't remember meeting me at the beach—there are so many people there—but I met him when we went to the motorcycle swap meet. I stood in front of him for a few minutes and he looked at me and he yelled 'Paul!' and I got the biggest hug in the world.
"He was a great, great man and unfortunately, we lost him this year. I don't know what's going to happen this year; who's going to do the staging."
He does know, however, that there's a kind of "TROG family" aspect to the activities and that its impact is strong enough that his son now has a TROG-ready car. Both are looking forward to this year's event.
"It's going to be a swap meet Wednesday and Thursday," Kramer said. "Friday is the get-together where we all just hang out and then Saturday and Sunday are the racing. Saturday is a free-for-all, enjoy yourself, race anybody you want. Sunday is the bracket racing, where you race your own bracket.
"I'll be there Wednesday, maybe even Tuesday. I'm retired, so my wife and I'll be there. My son and daughter-in-law and grandson'll bring the cars out Thursday. I'll have a car there for the girls to have and Howard'll bring the truck and the trailer with the two racecars in it.
"That gets parked off to the side and then he and I'll terrorize the town with our cars."