GU 30 GEARHEADS UNDER THIRTY Answering a Mustang's Call
His Vintage Car Helped Him Decide On the Right House to Buy. The Extra Garage Was Just Right for His Project.
I HAVE BEEN a real estate agent in Hot Springs, Arkansas, for 30 years. Early last year I answered a call from a young man (Grant Wood) who wanted to see a house I had listed for sale. We met at the house that afternoon when he got off work. He told me he liked the house and that the size and price were just right.
Then he further explained that the extra, free-standing garage is what first attracted him to this particular house. He said he had an old car he wanted to restore—a '68 Mustang GT. I had just sold my '68 Mustang, so we had something in common. Grant bought the house and as soon as he moved in, the Mustang's restoration began.
I am very impressed that a 23-year-old guy had the insight and personal money management discipline to buy a house. Furthermore, he's restoring the car he drove in high school and he's doing it all himself. Speaking of something in common, I just finished restoring a 1953 Ford that's the same color as the one I drove in high school in 1962. Coincidentally, Grant and I graduated from the same high school, but 43 years apart.
Here's Grant's story:
He Did It Himself
As noted above, Grant Wood is 23…and he loves old cars. In particular, he loves 1968 Mustangs.
In 2006, Grant was 18, a high school student in Arkadelphia, Arkansas, and working at a McDonalds. The fast food job allowed him to buy a car. He had had a couple of Japanese imports, but he wanted a REAL car…he wanted an early Mustang. So when he came upon a 1968 Mustang GT coupe that he could afford, he bought it. He said he was simply drawn to that body style—nothing new lookslike that. The '68 was his only ride for the next few years. He paid for the car himself and did all the maintenance and repairs.
Off to Collision School
After graduating from high school in 2006, Grant drove his Mustang to Houston where for two years he took part in the Automotive Collision Repair and Refinishing Technology program at Universal Technical Institute.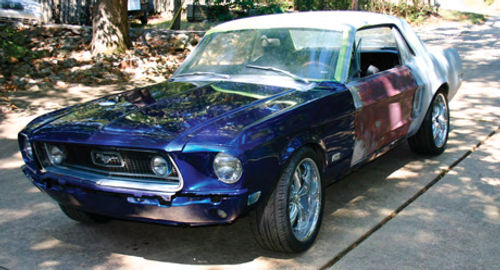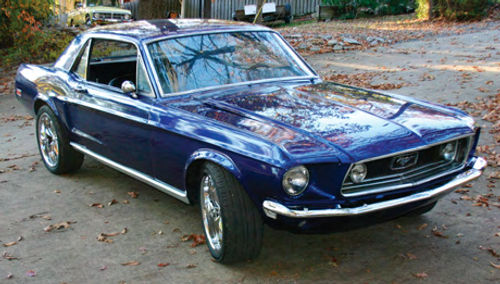 Grant said that at the time the air conditioning wasn't working in his Mustang and the Houston heat and humidity made it difficult for him to get a second date with any girl. He figured that if one did agree to go out with him again, she really liked him (or his car).
While attending the Houston school, he had part-time jobs at a Chevrolet dealer and at a sandblasting/powder coating operation.
Coming Home to a Body Shop Job
After his schooling was completed, Grant landed a job as a painter in Hot Springs at Golden's Paint and Body Shop, the leading body shop in town.
But for the next two years, the trusty '68 Mustang languished in the parking lot of the apartment complex where he lived.
Then, thanks to his working two jobs, he saved up enough money for a down payment on a house and he arranged the financing himself. With that, he moved the Mustang to its new home and the restoration began.
The Police Have Noticed It
By the time Grant started the restoration, he already had gathered up some of the components he needed. He installed a new carburetor, a used fender, hood and door, and an aftermarket trunk lid. He scrounged up and installed some used bucket seats that were the right color and in better shape than the ones in the car. Then he found someone to re-sew the rear seat trim that had come undone. The rims for his car, meanwhile, came from a pawn shop.
Even though he worked at a body shop, Grant did the restoration work and painting in his own little shop at home. He said installing the long tube headers on the Mustang without a lift was very challenging and another "really tough" part of the project was keeping the bugs out of his paint while painting at night in 105-degree weather.
But the return for his work is a car that's "pretty quick," and one that does draw attention. Grant Says That while he's never gotten a speeding ticket with his Mustang, on two occasions police officers have stopped him to admire his restored pony.
It's Show Time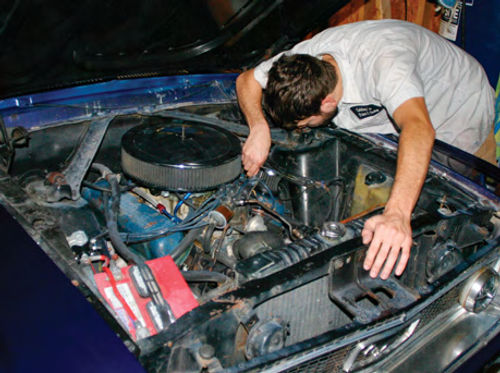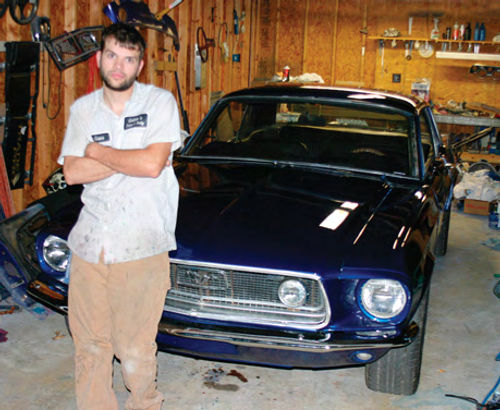 By working many evenings and late into the night, by last October he had the car ready for its first formal outing—a regional Mustang show in Hot Springs hosted by the Central Arkansas Mustang Club. And although the car got "rave reviews" at the show, Grant says he still has a number of things he wants to do with it. Even so, over the past six years the Mustang has gone from being a car in need of some work to being stored in a parking lot to a valued Sunday driver.
And while there's still work to be done on the Mustang, Grant has his eye on another muscle car for a project when this one is finished. After all, his house does have two garages.
Editor's note: As regular readers know, we've been spotlighting young restorers through our Gearheads Under 30 program to encourage additional young folks to enter the vintage vehicle hobby. For all the details on the program, see the most recent GU/30 notice on page 31 of the January issue.
Better still, show the notice to young people who are interested in older cars and trucks and help get them on board.