ARE YOU READY FOR A RESTO-MOD?
Resto-Mods continue to grow in popularity and value in the highdollar segment of the vintage vehicle world. At least that's the conclusion to be drawn by the performance of these highly-specialized, six-figure cars at the megaauctions held by Barrett-Jackson, including their most recent sale at Scottsdale, Arizona.
Just as 1960s and '70s muscle cars moved into the marketplace in a big way a few decades ago, Resto-Mods have been making their growing presence known since the early years of this century. In fact, the auction house said that as early as 2000, Barrett-Jackson Chairman and CEO Craig Jackson and President Steve Davis forecast the growth of professionally built Resto-Mods, "largely due to the burgeoning accessibility of new technology, high-quality custom parts and top-notch design talent."
As the name implies, a Resto-Mod is a domestic or imported vehicle that has been restored to retain all or at least some of its original look while being modified with the latest technology rather than period-correct equipment and these modifications could include updated bodywork, technology, engines, transmissions and interiors.
To give you an idea of the types of cars Barrett-Jackson considers to be part of this upscale Resto-Mod trend, consider a 1971 Plymouth Hemi 'Cuda that sold for $588,500 at their Scottsdale auction a dozen years ago. The 'Cuda was powered by an all-aluminum 572-cubic-inch Hemi with a one-off fuel injection system, a 6-speed Getrag Transaxle, a custom one-off chassis, ceramic-coated titanium brakes, and a carbon fiber hood, front fenders, spoilers and interior pieces.
Another prime example is a 1963 Chevrolet Corvette Split-Window Custom Coupe that sold for $385,000 at this year's Scottsdale auction.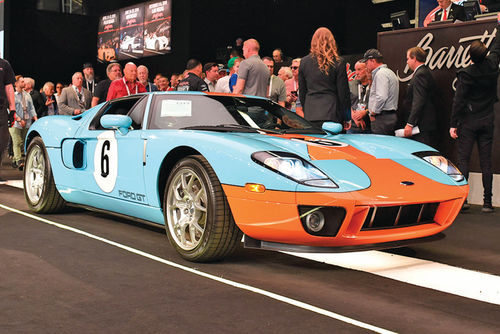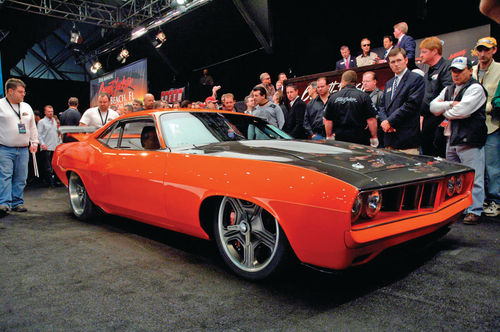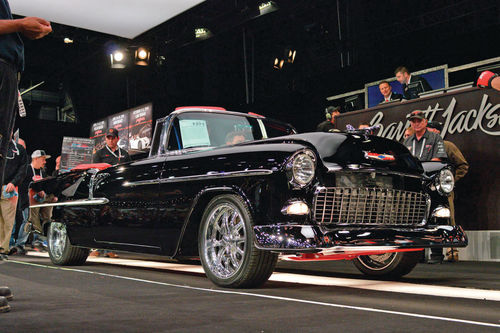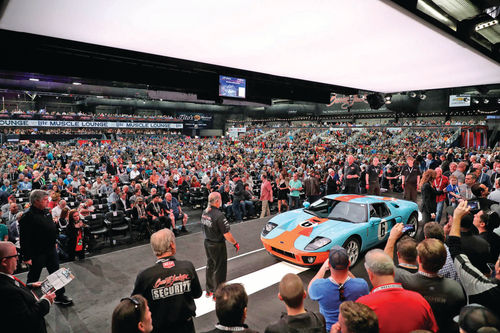 Starting with an original 1963 Corvette coupe, the car sits on an Art Morrison Sport chassis and is powered by a modified LS3 engine that produces 540 horsepower and is backed by a new 4L70E automatic transmission. It has Vintage Air heat and air conditioning, power steering, an AM/FM Bluetooth stereo, a back-up camera, and a custom-fabricated hood and grille. It has a custom stainless fuel tank and custom-made smoked glass. The upholstery work features saddle-colored Brazilian leather with carbonfiber accents.
Or how about a 1955 Chevrolet Bel Air Custom Convertible that sold at this year's auction for $363,000. Power comes from an 8-cylinder LT4 Eaton supercharged engine with a Tremec TKO600 5-speed manual transmission, polished-aluminum driveshaft and ceramic-coated dual exhaust. It has a chrome independent front and rear suspension, 4-wheel disc brakes and coilover shocks. The Chevy has a deep Gloss Black exterior and a red Italian leather interior. It features power rack & pinion steering with a tilt column and a customized steering wheel. Convenience options include power windows, air conditioning routed through the original Chevrolet in-dash vents, smoked glass, a leather-covered center console with cup holders, custom instrument gauges and keyless entry.
For a muscle Resto-Mod, consider a 1965 Oldsmobile 442 that sold at this year's auction for $187,000. It's powered by a 6.0-liter LS engine dressed to look like the periodcorrect Olds 400 cid engine and is mated to a Tremec 600 5-speed manual transmission. It's equipped with a boxed Buick GS frame, and a John Industries 9" rear end with 3.89 gears. The exterior is finished with three coats of Copper Penny, four coats of Candy Red and five coats of clear. The interior has 2012 Camaro bucket seats, Dakota Digital gauges and is trimmed in leather and suede.
Now if the idea of a Resto-Mod appeals to you but these vehicles seem a bit extreme and a tad above your current vehicle budget, you might consider a somewhat less-modified Resto-Mod such as one with a modern V-8 and overdrive transmission, disc brakes and power steering. You probably won't see one like that at an upscale auction, but chances are pretty good that you'll see them on the roadways being driven and enjoyed.
–Ted Kade, Editor