American Muscle Supercars—"From Legendary Tuners"
THERE WAS A time when people routinely set out "coffee-table books" to impress and entertain their guests. These large books are heavy on images—the better to stimulate conversation— and generally center on intellectual and inspiring topics such as historic sites and valuable artifacts…or breathtaking scenic vistas.
But if you want to impress your car buddies this way, skip the collections covering the ancient castles of Europe or the world's highest mountaintops and set out a title like this one instead.
"American Muscle Supercars," a 192- page book with 200 color and 50 black and-white photos, covers the days, mainly in the mid- to late-'60s, when certain enterprising car dealers took Detroit's high-performance offerings and made them better.
The names here, such as Royal Pontiac, Tasca Ford, Grand-Spaulding Dodge and Yenko Chevrolet, will be immediately familiar to those who were involved with high-performance cars at the time…or wished they had been.
Those dealers knew that being a center for the top muscle products of the day not only added to a store's prestige, it boosted a dealership's image as a place that understood the latest technology and, furthermore, believed in the importance of dedication and quality work because it was run by "car guys" who had a true appreciation for well-tuned iron. The adage of "win on Sunday, sell on Monday," was proven time and again as customers in the market for a new ride or looking to upgrade their current vehicle with the latest high-performance components turned to the dealers who sponsored the hottest race cars. (And there was no mistaking a dealer's involvement in racing as the cars carried messages such as "Yenko Super Camaro Dealers" in bold lettering on their sides.)
Consider as evidence this anecdote about Norm Kraus of Grand-Spaulding Dodge in Chicago and his request to the factory for an entry-level muscle car. Dodge responded with a 1967 Dart equipped with a 273-cubic-inch V-8. Those familiar with the car know that it was a potent little machine, but Kraus had his mechanics pull the 273, move the motor mounts, notch the K-member and drop in a 383. So the factory started to build a car like that and called it the Dart 383 GTS. Then Kraus figured that if a 383 will fit, why not shoehorn in a 440. So he used his influence with the factory to have a run of 50 1968 Darts built with 440 cid engines and 727 TorqueFlite automatics. When those arrived, he figured that headers were needed to let the big engines breathe properly, and he had his technicians cut away part of the inner front fenders to provide the needed space. Then he removed the "T" from the GTS emblem and inserted another "S" to turn the car into a Grand-Spaulding Sport. (By the way, Kraus' race cars carried the words "Mr. Norm's" and "Grand-Spaulding Dodge." And in case you're wondering, the store's name came from its location at West Grand and North Spaulding avenues.)
Thanks at least in part to its strong involvement in the muscle car world, Grand-Spaulding Dodge became one of the company's leading dealers. And when the day of the muscle car started to wane in the early '70s, the dealership was quick enough on its feet to turn to the next big thing, van conversions. By 1974, Grand Spaulding was the No. 1 Dodge dealer in the world.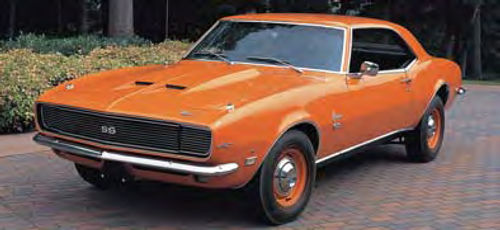 There are stories like that about each of the featured dealers/entrepreneurs, but as much as you'll enjoy the narrative, you'll probably spend more time going over the numerous photos of the cars, their engines and even some of the vehicles in action four decades ago. Flipping through the pages, you'll see Mustangs, Torinos, Camaros, Corvettes, Chevelles, Novas and GTOs, among others. There's even a section on modern supercars like the Saleen S7 Twin Turbo and the Jack Roush 427-horsepower Mustang.
But when you look at cars such as the Orange '67 Camaro that's shown on this page and realize that the Dana Chevrolet dealership in Southern California installed an L72 427 and covered it with a special hood supplied by a local fiberglass shop, you'll know that for the most part, this book deals with a point in time that will never be repeated.
—Ted Kade
Motorbooks—400 First Ave. North, Suite 300, Minneapolis, MN 55401; motorbooks.com; ($35)