A Very Happy Father's Day
Perhaps One Thing That's More Fun Than Driving Your Vehicle… …Is Seeing Your Kids Behind the Wheel.
EDITOR'S NOTE: WHILE Father's Day is a great time for the family to get together for a group breakfast or maybe head out to a local park for a picnic, it's also a very fitting occasion for sharing a father's interest in vintage vehicles with his gathered sons and daughters. There are plenty of car shows scheduled specifically for Father's Day or maybe you'd prefer to just get everyone in your favorite vintage vehicle and go for an enjoyable drive.
What's that you say? You've tried to instill an interest in your kids but they want little or nothing to do with those "old cars and trucks" you own… Well, maybe you just haven't been using your fatherly influence to the best of your abilities. For inspiration, consider the case of Dennis and Dustin Merlau, a father and son who live in Delton, Michigan, a small community in the southwestern section of the state.
Dennis has been involved with older cars and trucks for decades, not wanting to build a concours competitor but instead taking on even seemingly hopeless cases and building them into vehicles that he uses as his daily drivers and working haulers. Along the way, his intense interest in what he refers to as his "toys" has definitely rubbed off on his youngest son. Although Dustin is still in his 20s, he's been restoring cars and trucks for more than a decade, and just like dad, he uses them as his drivers.
Recently, Dennis truly cemented his son's involvement with vintage vehicles by handing Dustin the keys to a 1949 Chevrolet 3100 pickup that Dennis has owned and driven for more than 40 years. It's one of Dennis' all-time favorite trucks and has now become a cherished family keepsake.
To learn more about their shared interest in older cars and trucks, we asked Dennis and Dustin to talk about and show us some of their favorite rides. By the way, the photos on these pages are by yet another member of the family, Alicia Merlau, Dustin's wife.
It Began When Dennis Was a Young Teen
"I have been involved with vehicles since I was a teenager," Dennis said. "I bought my first truck, a 1949 Chevy 3100 pickup, from a farmer down the road at 13 years old in 1970. I completely rebuilt that truck over a period of years and still have it today.
"I use a 1949 Chevy 3100 panel truck as my daily driver, traveling 10-15,000 miles a year. I have had this New Design truck since 1980. It was rough when I purchased it, just a shell with no frame, front clip etc. But away I went.
"I use my trucks on all kinds of roads—dirt included—and haul all kinds of everything.
"I just put a 1970 Nova on the road after a build that took a number of years. The Nova was found the same way as the panel truck, no frame, no front clip, just a gutted shell, but it had original floors and lines, so away I went again to save it so that I and others can enjoy it.
"This year I updated my 1984 Chevy 3 ⁄4- ton 4x4. It has been looking a little rough as the woods can be hard on a truck, but I still use it.
"I found a 1970 3 ⁄4-ton Chevy pickup fresh from California, a VERY nice truck. That is like finding gold in this part of the world. It had 99,000 original miles on it when I bought it from the second owner who was close friends with the original owner.
"My wife and I like to hook our 1953 Va-ca-tion-ette camper on the trucks and go to Lake Michigan. All the way there and while we are at the camp, and on our way home we are a one-car show. A vintage truck and camper definitely draw attention from our fellow travelers.
"I very much like your publication and have to say that it has been hitting home more lately to me. For example, I have been following 'Ruby, the Farm Truck,' and enjoy how the fellow is doing it in a conservative way. The part that impresses me is that you will share some of these "repair restorations" or whatever they want to call them, in the magazine. Like me, not everyone wants to have a 100- point restored vehicle. There are those like myself that like to take them out and use them and enjoy them. There's nothing wrong with a full restoration but there are a lot of us who do not have the time or means to go as far as others.
"Now, back to my first truck, the 1949 Chevy 3100 pickup. I have turned this one over to my son, Dustin. I cannot drive them all and he has always liked it. In fact, he drove it to the prom when he was 16."
Speaking of Dustin, Let's Hear From Him…
"Growing up around vehicles all my life, my dad's passion definitely spiked my interest in vintage cars and trucks," the younger Merlau said. "Ever since I was little, I have been drawn to vehicles on the TV, like in "Dukes of Hazzard," and in movies like "American Graffiti," and I would always turn my head when an older vehicle would pass us on the road. I always liked how when we would go for a drive, dad could name any older vehicle on the road. It is something that I have always wanted to be able to do.
"The first vintage vehicle I had was the 1970 Nova that is (partially) pictured here. I got it from my friend's dad; he was going to scrap it out because it was just a shell and it had been in an accident. So, he thought it was junk. Three of my friends and I loaded it onto a trailer and I brought it home.
"I ended up trading that car to my dad for parts for another Nova that I later acquired. It has been a race for me and my dad to see who could get their Nova on the road first. Mine went down the road first, but it's not complete. So, he has definitely beat me on this one.
"About the same time that I got the '70 Nova my dad had been down in Indiana at a salvage yard and found a 1974 Chevy Nova. The guy wanted $500 for it, so my dad, my friend (now my brother-in-law), and I went down to get it. It was lime green and for the most part solid as a rock. It needed new quarter panels but underneath had no rust. I was 16 at the time. It is still my project car; since then I have put all new quarters on it and some other patch work, and put a new interior in it. It's amazing how long these things take, that was 10 years ago! I hope to never get rid of it and maybe one day pass it down like my dad did with his 1949 truck.
"As for the '49 Chevy truck, I am looking forward to taking it out this summer with my wife.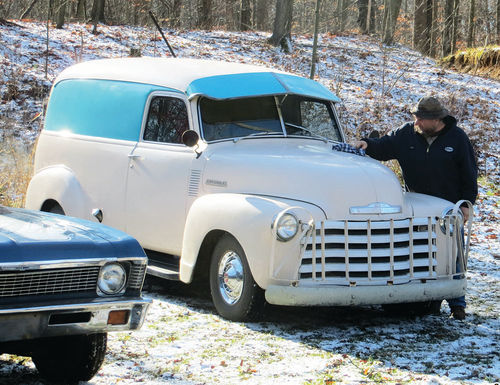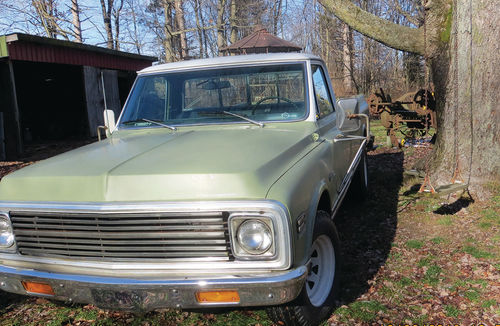 "Alicia and I love to take it to get ice cream and sit on the tailgate while we enjoy the warm weather. We like to drive out to the beach and take it for all of our weekend driving.
"It is always amazing to stop for gas with the pickup and have some stranger come up to you and ask you about your truck. I've found that stopping for gas in a modern vehicle takes five minutes, but stopping for gas in a vintage vehicle takes 25 minutes."
And does Dustin feel that the '49 Chevy truck has a permanent place in a Merlau garage?
"We are expecting our first child in August and I would be honored to pass the truck along when the time is right," he said. "The truck will always be a part of our family, no matter what generation is driving it."