A Gathering of Readers' Rides
Auto Restorer Folk Have a Variety of Cars & Trucks on the Road. Here Are a Few of the Ones We've Seen Lately.
Editor's note: At the end of our Corvette 60th Anniversary tribute in the May issue, we asked Vette owners to share a photo of their favorite sports car with us. A number of people replied…and we've received some non Corvette photos as well. Here's a sampling of the latest readers' rides,and we'll have more in the coming months. While we're on the subject, remember that there's always room for your special vehicle as well. It doesn't have to be a concours winner, just something that you enjoy.
1954 Corvette Ken Rocke—Cypress, California
In 1954 I was a youngster attending Garden Grove High School in Garden Grove, California. Each afternoon as I made my way home from school, driving my 1940 Chevy coupe, I would pass the Chevrolet dealership and stop and drool over the new Corvette in the dealer's showroom. I could dream, but what 17-year-old kid had some $3500 for the car of his dreams.
After one look at the Corvette, I thought that car's style would never change. But then shortly after graduation I was a fresh recruit in the US Air Force and four months later the world changed for Chevrolet and its Corvette. Gone was the stovebolt six (along with much of the original design), and the small block V- 8 was to change the landscape forever.
Education, kids and family took up the next 45 years and then one day I came across a guy who had a 1954 Corvette for sale. It was worth a look, I thought.
Sitting in the seller's garage was the unmolested 1954 Vette of my youth.
The seller—who was the original owner—had been a salesman for the Chevrolet dealership in Pomona, California, after his discharge from the service at the end of World War II. He had purchased the car on April 1, 1955 as the dealer had been unable to sell the car during the 1954 model run.
The Corvette was driven by his wife, a high school teacher in the Pomona area, until 1971. At that time it was parked in the family garage with 91,000 miles on the clock.
My wife of some 50 years was with me in 2000 when I first saw the car and she said, "If not now, when?" Well, no twisting of my arm was needed.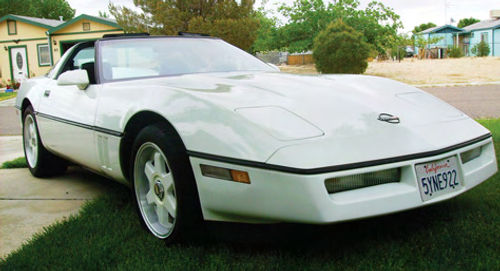 Fortunately, the car was complete with nothing ever having been replaced or removed. What followed was a lot of TLC and rebuilding of the mechanical systems. Since that time we have enjoyed many drives along the Pacific Coast Highway between Long Beach and Newport Beach in Southern California. There have been lots of concours events and cruise nights for us, and wherever the old Corvette goes it still draws a crowd of interested onlookers.
It's not a fire breather like the new models, but at 75 years of age it's a chance for me to drive a car that brings back a simpler time…a time when cars didn't all look like they were designed through the same computer program. Besides, name me a car that can draw more thumbs-up on the PCH.
1990 Corvette Steve Sears—Ridgecrest, California
As always, the timing of Auto Restorer has been uncanny. Just five days after purchasing my first Corvette, the May issue arrived in my mailbox with the "60 Years of Corvette" article.
I initially was looking to restore my '92 Thunderbird which by my own estimates was going to cost $7500 for new leather, wheels & tires, and paint. I read with great interest the January and February articles on headliner replacement.
At the same time I was looking at cars for sale on Craigslist when I came across a 1990 Corvette. Wow! It has every option. It was right at 100,000 miles and the previous owner had all the receipts for work done since it was new. It runs great with an L98 5.7-liter engine and has only minor problems. The air conditioner does not work because it's low on R12. This could be a project. The radio antenna no longer goes up and down but the motor is good, and the Bose stereo no longer makes music in the rear speakers but it is oh, so sweet.
I'd never even ridden in a Corvette before, but when I test drove the car, I knew right away that it should be mine…it looks virtually new. It has been a challenge not to drive like a 16-year-old but I force myself to behave. I'm averaging 17 mpg around town with premium fuel, so at today's prices I force myself to drive like it's a boulevard cruiser instead of a hot rod. Still, the music from the exhaust…that's sweet too.
Thanks for a great Corvette article.
1964 Corvette Ron Spanier—St. Augusta, Minnesota
This Corvette is highly optioned as detailed on the board that I use when showing the car (leather seats, A/C, posi- traction, AM/FM radio, power brakes and steering, 300 horsepower 327 V-8).
It has 42,000 miles and I was thinking of keeping the mileage low, but it's fun to drive and I don't think value will change that much if the mileage does climb to 60,000. Another of the car's options is a Powerglide automatic transmission, all two speeds of it, but the 300 hp engine helps move it. It has the big old Frigidaire compressor for the air conditioning and that, along with the power steering and power brakes, all draw on the 300 ponies.
Don't know much about where it spent its earlier life. It had 39,500 miles when I purchased it and from its condition or lack thereof, it had not received much attention over the past 10 years at least. An oil change sticker indicates 500 miles over the past 10 years. A lot of really heavy dirt and dust in every conceivable spot indicated very marginal storage for some time.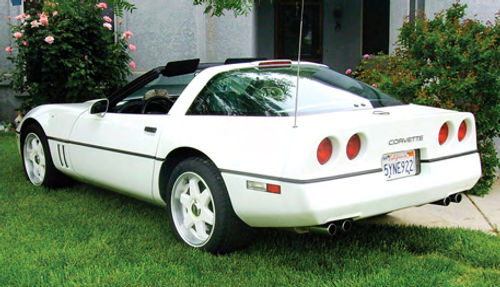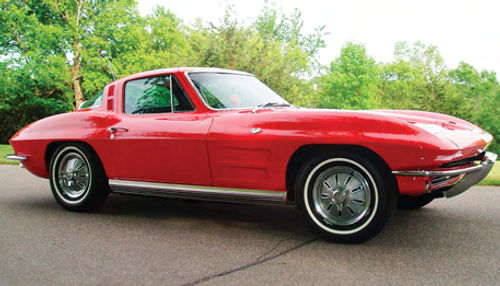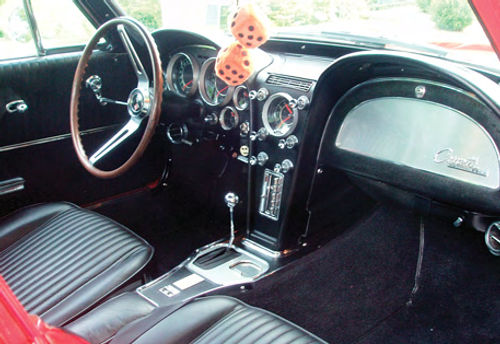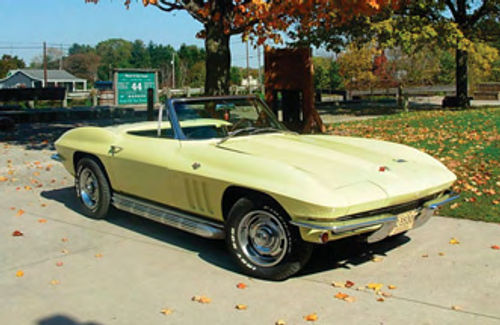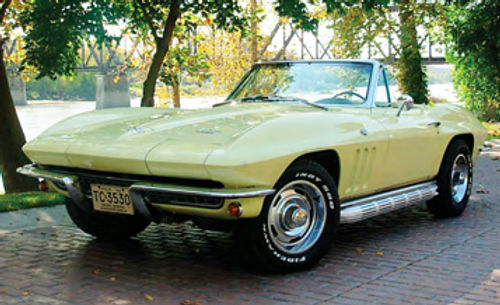 1966 Corvette Bruce Jackowski—Manchester, Michigan
Cars, I love 'em, all kinds, Buick GS, Wildcat, Riviera; Pontiac GTO, Grand Prix, Bonneville; Oldsmobile 442, Starfire; Chevrolet; Ford Torino, Mustang Mach 1, Mercury Marauders, Cougar, Cyclone; Mopar Road Runner, GTX, Super Bee, Superbird, Challenger, Barracuda…
You name it and I'll be glad to talk about it! But when my wife came home and said "I found an old Corvette for you;" that got my attention. All she knew was that it was a 1966, but that's OK. As it turned out it was in a barn not far from our home and was "rough" but savable. Three months of negotiations and it came home; two years of fixing mechanical things and it became a nice "ice cream getter" and, of course, there's the local cruise circuit.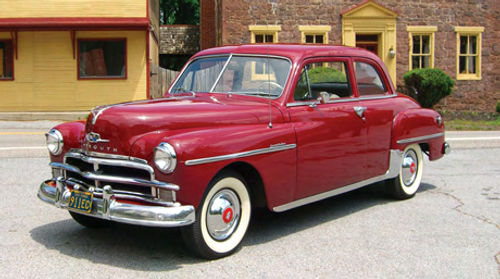 Are there faster Corvettes? Yup. Mine's a 350 hp, 327, 4-speed. Are there better handling ones? Of course. But nothing beats doing 50 mph listening to the side pipes with the top down on a country road.
I enjoy the magazine, keep it up. And as I said, cars, I love 'em.
1950 Plymouth Club Coupe Steven Conover—Reading, Pennsylvania
The April issue had two features in it that seemed written just for me! One was the 1950 Plymouth Deluxe story by Bob Tomaine. We have owned a 1950 Plymouth Special Deluxe Club Coupe for 12 years. My son and I did a lot of work on it, and for years it has been a joy to own. I have attached a picture. It's always good to see a story about a Ply- mouth from the '49-52 era. It's certainly a well-made car.
Another April Auto Restorer feature really surprised me and brought back old memories. "Tuning Up a 1948 Packard" by Milt Webb talked about the same model 356 cu. in. straight-eight engine I worked on as a boy. I worked on the marine version, too! My father got the boatyard crew to use a crane to hoist the 1200-pound engine and transmission from his 30-foot boat. It had been a poor fit, indeed. Without a reduction gear, the 150 hp engine was so heavily loaded that it couldn't run above about 1500 rpm. Then it began running roughly. The engine went home on a trailer and into the garage, where I was allowed to work on it. I was about 12 years old. This was around 1960.
I can remember taking off the heavy, water-cooled exhaust manifold and flushing out as much rust as I could. I did the same with the long cylinder head. Then I managed my first valve job and had quite an adventure with it. After getting it all back together, I would run the engine in the garage with a metal garbage can full of water and a coffee can full of gas. I would flip the short control lever back and forth from neutral to forward gear, then back to neutral and into reverse. It worked perfectly. After about five minutes, the water would get hot and I would shut it down.
My father finally sold the engine. I may have been sad to see it go, but I knew there was no place for it in the boat. Dad bought a Gray Marine flathead six to replace it. That may have been based on a Chrysler Engine. At least it had the 2:1 reduction gear that was required.
My whole interest in engines, and eventually cars, started with that 356 cu. in. Packard engine. Thanks for a great issue.
On a related topic, several years ago Auto Restorer kindly put in an announcement about our web site and forum, www.oldplymouths.com.
It's gratifying when a new member buys a '49-52 Plymouth, doesn't know where to begin, and we can nudge him or her in the right direction.
My son, Rich Conover, and I are the co-owners of www.oldplymouths.com. Bill Ward of Utah started the site and ran it for some years. When I heard that he wanted to close it down, in part because of an overdue updating, I asked if I could continue it, and he agreed. It could not have been done—not even close—without my son, Rich, who accomplished the site overhaul and continues to maintain it. We are in our fifth year.
1967 Ford F-250 Pickup Truck Tom Sherry—Spokane, Washington
I've followed with some interest the work on the '67 Ford F-250 in Auto Restorer, as I own one myself.
A friend of mine bought a house at auction in late 2004, and with the house came a couple of "old cars." My friend knew I was a Ford guy, and asked me if I wanted them, free of charge, just get them off the property. The first was a '67 F-250, the second a '63 Econoline that hadn't seen the road since 1991.
The pickup hadn't moved since at least 1994, and no keys or title were available at that time. According to my friend, the truck had been parked after something broke in the transmission. I used a slim-jim to get into the truck and decipher that it was a Camper Special, had a 352 2 bbl. carburetor and a 4-speed. Here's a shot of it before loading it on the trailer (below). The tire leaning on the side of the truck was from the right rear, and had apparently been off the truck long enough for the casing to fill with water, and then ice. We used a come along to load the truck onto a trailer behind our Ford SUV. The Econo is behind the 250 in this picture.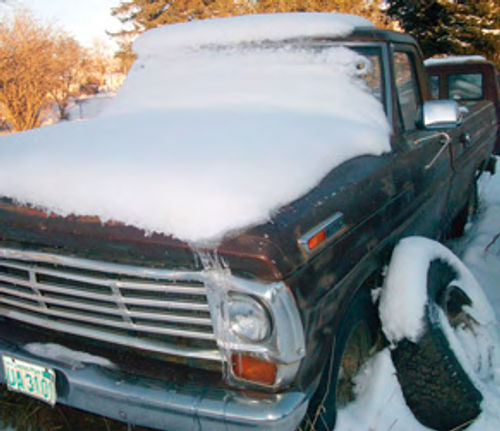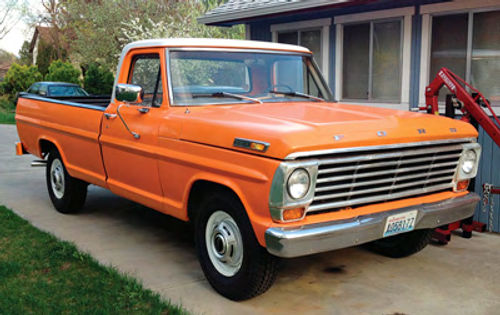 After getting the truck home (another long story there) and thawed out enough to empty the bed of the former owner's possessions, we pulled the Ford into the garage. (Apparently a divorce was involved; the husband's belongings were loaded in the open truck and the van, and left to rot for a decade.)
I then proceeded to open the hood, which was no small feat given that it was padlocked closed. Amazing what a Sawzall can do to a Master Lock. Once that obstacle was overcome, I opened the hood and found the entire engine compartment filled with yellow jacket nests. Since it was January, they were all dead, and I started excavating the engine. Right off, I found a chrome Carter air cleaner, under which was a Carter Competition Series four-barrel. The further I dug, the more I was surprised. Three garbage bags of bees' nests later, I found the headers, and a 1973 390 block, not a 352. I discovered (by checking the stroke) that the engine was a 390, not a 352, and paint on the engine looked fairly fresh, although the patina of 10 years on the top side definitely took a toll. The truck was in neutral, so I put a battery in it, fed it a little fuel, and it started on the second try. I then learned that the "transmission problem" was fairly extensive: The clutch would not fully disengage, the shifter was flopping all over the cab; something was drastically wrong.
I took apart the top of the transmission, found that the shift ball and socket in the transmission case were heavily damaged, and welded up the damaged parts on the gearshift for repairs. That didn't touch the clutch problems, of course. Pulling the access plate off of the bottom of the bellhousing, I found that one of the three fingers on the pressure plate was "gone," so 2/3 of the clutch disc would disengage, but not the last third. A clutch replacement later, the truck was drivable. The truck then was able to start…on 10-year-old fuel. (I did drain the tank fairly soon thereafter, and found three inches of sludge in the side tank.)
Several years later, the truck still looked like used dog food. Last summer I was too embarrassed to drive it any- more, and started working on it seriously. I stripped the body with 3M SandBlaster discs, finding a whole host of things wrong in the bodywork; stripped out the bad plastic filler, welded up all kinds of drilled holes and a couple of rust spots, and discovered that trucks of this vintage were made of real metal. A hammer and dolly just don't cut it without heat. I finally finished painting it last fall, and buttoned up the last of the little things this spring.
It now has a Rustoleum paint job, Safety Orange and White over gray primer, all sprayed on with a conventional spray gun, and thinned down with paint thinner about 50/50. It was wet sanded with 2000-grit and then polished, and a roll-on bedliner was put in as well.
In all honesty, the pictures make it look better than it is in terms of being "straight"—it's meant for dump runs and going to Home Depot, and when it gets character scratches, it's quite easy to fix.
Last weekend I finally sprung for new tires, loading them up on stock 16" wheels and dog-dish caps, and I sold the 10.5 x 16.5" slotted aluminum wheels. I have a lot of friends that now want to buy it…but it's not for sale. Lots of parts on this truck came from the local pick-and-pull, and lots more are from RockAuto.com.
Love your publication. I learn something new every time I get an issue!
(For the latest on the F-250 project Tom referred to, see page 12 of this issue.)