A "Bare Metal" 1949 Chevrolet 3100
There Were Differing Opinions On How To Finish This Family Icon. Then One Night the Owner Saw It Sitting in the Moonlight.
Editor's note: This being the 25th or Silver anniversary year for Auto Restorer, we couldn't resist the story of this silver pickup truck that's been in the same family for 65 years.
IN 1949, A new pickup truck was hard to come by. The end of World War II had brought incredible pent up demand for consumer products which led to shortages as industry shifted from tanks and B-29s to washing machines, lawn mowers…and cars and trucks.
Vehicles were back in the pipeline again, but things weren't moving fast enough for a dairy farmer in Morristown, Minnesota. He was desperate for a new pickup truck to transport milk cans from the farm to the creamery. Having motorized transport was mandatory even on Sunday. How else could he get the family to church on time? Then, a gleaming new Chevrolet 3100 became available.
A New Generation Steps In
Years passed, mostly filled with happiness and prosperity, but in the winter of 1976 the dairy farmer passed away and the truck, or what was left of it after many years of hard work, was retired to the back of the barn.
But not for long.
That following spring a 15-year-old teenager named Mark Pittman purchased the truck from the estate for $400. The dairy farmer had been his great uncle and he wanted to keep the 3100 in the family.
Although too young for a road license, Mark could legally drive the truck on the farm. It ran well, or well enough, for the better part of a year before a range of mechanical problems brought things to a stop. At that point there was only one option: another trip to the back of the barn.
Life moved quickly and by 1981 Mark was a married man and in need of a second vehicle—one that was in running condition.
Things worked out. His brother-in law really wanted to restore the pickup truck so he traded Mark a '72 Vega to get it. The brother-in-law went to work immediately with a complete motor rebuild. He followed that with a lot of body work. But after awhile other projects started getting in the way, and pretty soon the 3100 was yet again being stored in the back of the barn.
An Auction Visit Leads to a Plan
By 1989 Mark felt a yearning for the old Chevy. It was a part of his family heritage, so he offered to buy the half-done truck back from his brother-in-law. That did not, however, change much for the truck's status…except that it was moved to the back of another barn.
Nevertheless, Mark held onto a positive attitude toward the Chevy. He always said that some day the truck would be back on the road. But as they say in Minnesota, "some day" is always tomorrow.
The turning point came in September of 2012 when Mark went to Las Vegas for the Barrett-Jackson auto auction. This was one case where "what happened in Vegas did not stay in Vegas."
Seeing restored 3100s on the sale floor ignited an oxy-acetylene torch under him to get his 3100 back on the road.
So when the family got together for a wedding that November, Mark had a proposal of his own for his nephew and brother-in-law: "If we go in on it together, we could get the 3100 back on the road in no time." Mark had asked the right two guys. They ran Distinctive Revival, of Waterville, Minnesota, an auto restoration business (distinctive revival. com).
A Moonlight Surprise
The first thing the team did was to pull the 3100 from the back of the barn and outfit it with four new tires. Soon after, the car trailer arrived and the 3100 was on its way to the Distinctive Revival shop. The plan was simple, get it 100% mechanically sound, then decide what was to be done to finish the body panels and interior.
At first they thought it would be appropriate to restore the 64-year-old finish to its original showroom appearance, but some previous sanding left the truck with rust-covered doors. Plan B was to create an all-new finish with successive coats of primer, base and top coat in a variety of colors. Once the paint was cured they could sand down selectively to give the truck a vari-colored finish.
Then one night on a parts delivery to the shop, Mark found the 3100 partially sanded down in preparation for the new paint job…and the way the evening's lighting caught the bare metal brought a revelation. After a few minutes he decided he had to have the entire truck in that "bare metal" look. It would be a distinctive, one-of-a-kind appearance that he felt would attract the admiration of restoration hobbyists as well as the general public, not to mention his own good feelings about the truck as well.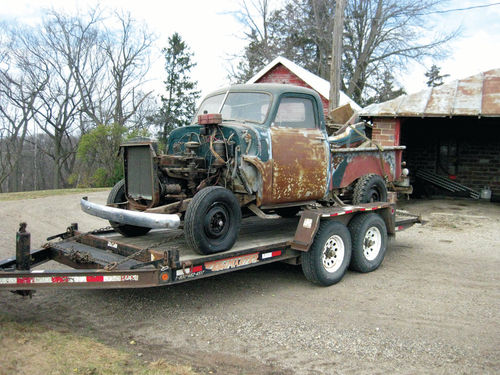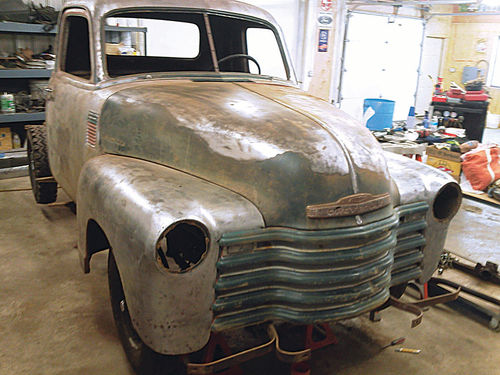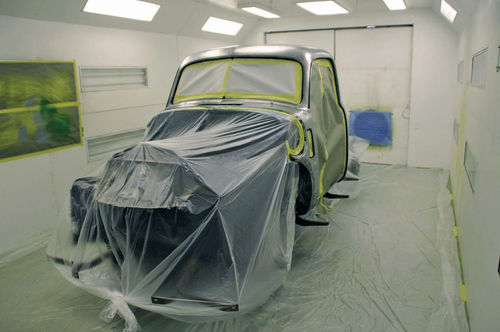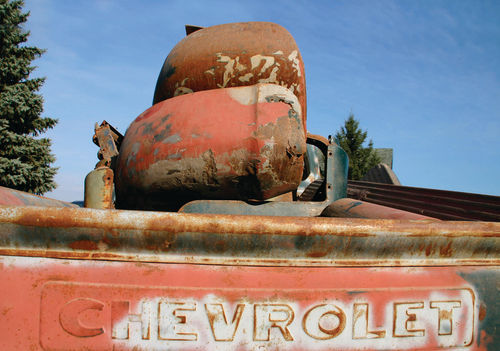 There was, however, one big problem. For this look to work, he had to find a special clear coat that would protect the vulnerable metal surfaces from rust and other discolorations without altering that appealing glow he'd seen that night in the barn.
Let the Silver Shine Through
An Internet search soon led Mark to permalac.com. And there he found the finish he was seeking.
The website said that Permalac outdoor clear coat lacquer protects metal, wood and ceramics from water, salt spray, wind-borne sand, or any other environmental corrosive. In addition, it has UV inhibitors. This means a Permalac finish will not yellow, even under the blazing sun. (Permalac is a product of Peacock Laboratories in Philadelphia, .) Mark said he found the Permalac product to be easy to use, and since it's self-leveling, puddles or runs can be removed with a quick Permalac overspray.
There's also another advantage to using this clearcoat. When it's time to refinish, Permalac can be removed with an acetone rubdown.
The final touch came with the side boards. To make them, Mark cut up some old hog pens which had been constructed from a black walnut tree that grew on his great uncle's farm.
Back to the Farm
Mark's first trip in the restored Chevrolet 3100 was a drive with his 94-year old mother out to his great uncle's farm. Mark swears that he felt a slight tug on the steering wheel as he approached the narrow grass-covered driveway.
"It was like the 3100 wanted to return home," Mark said, "and I could actually feel the presence of my great uncle smiling down, seeing his 3100 back on the road again."