1970 Ford F-600 Wrecker: Feature Restoration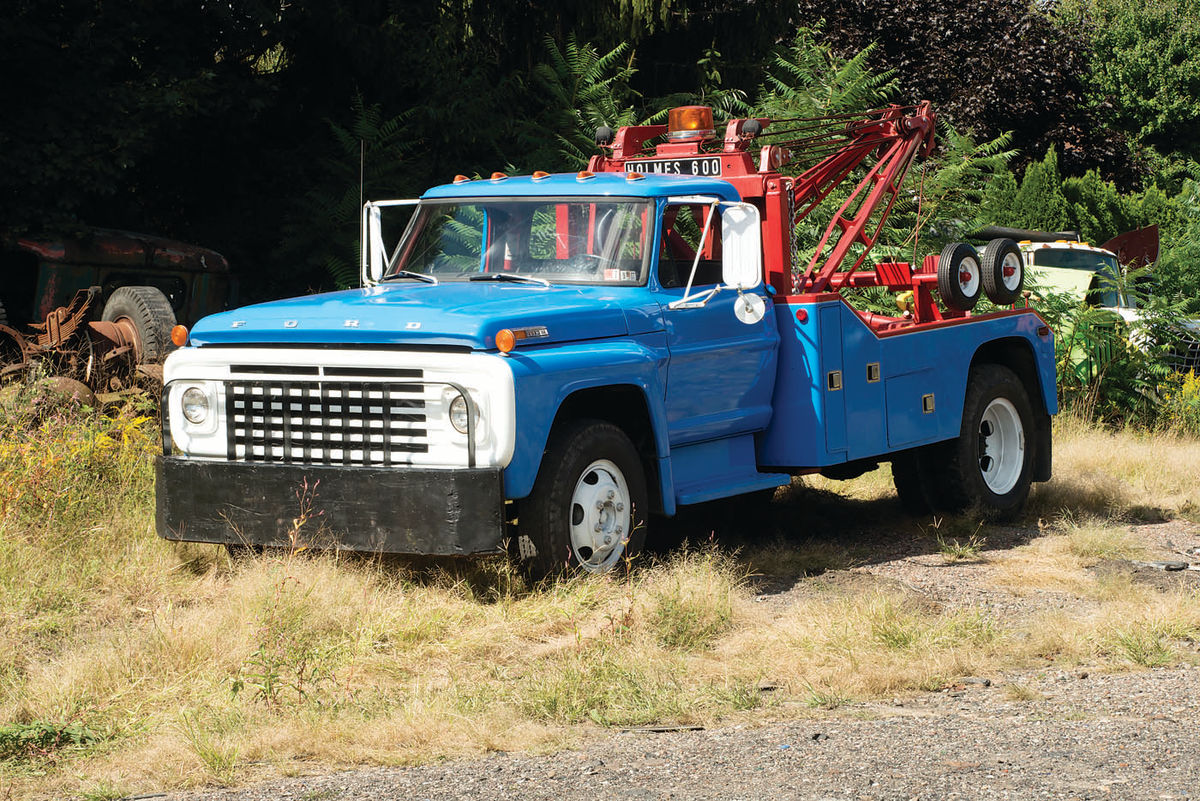 When He Bought It, All He Wanted Was the Wrecker Apparatus. But Some Friends—and the Truck—Helped to Clear His Thinking.
Paul Patchoski's initial plan for his 1970 Ford F-600 didn't include keeping it on the road or even keeping it intact, but then the truck's fortunes changed for the better.
"It started when I was restoring my Mack," he said. "I was looking because it was my grandfather's wrecker back in the day. When I was restoring the Mack, I wanted to restore it back to a wrecker like my grandfather had, but I wanted a more professional-looking unit instead of his rugged old homemade wrecker body. I wanted to have a Holmes (wrecker body) with it because I'm mechanically minded. I love how everything moves on it."
His grandfather had used the Mack, a 1960 B-61, in the family business, Anthracite Auto in Scranton, Pennsylvania, and Patchoski's timing on the project wasn't good. He recalled the problems he was facing in 2012 as he was looking for a suitable wrecker body after both the economic recession and the boom in scrap prices.
"Anything that nobody was using anymore, i.e., the gear-driven wrecker units, had gone to the scrapyard," he said, "and anybody who had them left was hoarding them, so they were hard to find."
It didn't help that the Holmes 600 is "a very coveted unit," but as often happens in restoration projects, a friend came up with information that seemed like it might be a potential solution. He told Patchoski that a Ford wrecker was parked in a town about 15 miles away from his home in Ransom, Pennsylvania, and he thought that maybe he'd seen a 'for sale' sign on it. Patchoski went to look at the truck and found that while it was indeed available, the first step toward its purchase would be some detective work.
"He had a 'for sale' sign on it," Patchoski said, "but no number, no contact. It was in an open, vacant field. I went down with a buddy. He knocked on doors and they all knew it was this guy's (wrecker), but they didn't know how to get in touch with him. We finally found a guy who did, so one day I went down there."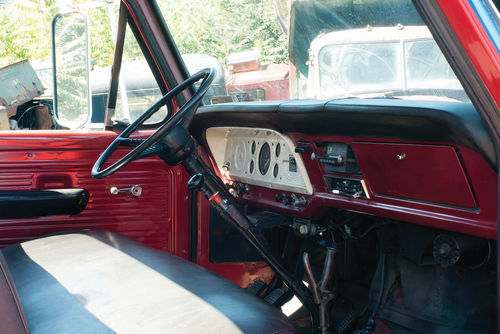 The owner had decided to sell it because he no longer needed a tow truck of that size. The F-600 was wellsuited to the work for which he had used it, namely retrieving four-wheeldrive SUVs and pickups whose drivers had gone a little too far in their offroad adventures.
But F-600s and their similar mediumduty Ford relatives have served at various times as everything from dump trucks and tractors to school buses and city deliveries.
A Medium Truck With Some Light Parts
Ford introduced the F-6—the zeroes came later—in 1948 with a nominal two-ton rating. In 1953, the series was restyled and the designations changed so that the F-6 became the F-600, but the original formula of using at least some sheet metal from light-duty models was continued. It would survive to the feature truck's era and beyond, thus giving future restorers something of a break when it would come to finding parts.
Patchoski's truck didn't seem to need that kind of help when he found it, despite its former off-road duties and the seller's explanation for that grueling line of work.
"He said 'I always got those jobs because nobody else wants to go into the woods with their fancy, chromed-out brand-new trucks,'" Patchoski recalled.
The seller wasn't getting out of the business, Patchoski said, but had switched to a smaller Ford F-350 wrecker. However, he didn't see the F-600 as a truck that was ready for the scrapyard.
"I told him what I wanted to do with it," Patchoski said. "I wanted to buy the wrecker unit to put on my truck and he said 'I'm really looking to sell the whole thing.' So we came to terms on it. He gave me a good price on it and I took the whole thing."
Some Needed Friends Appear
That's where the story begins to grow complicated and the F-600's luck began to change. Patchoski's plan was to remove the wrecker unit and then scrap the Ford, but he hadn't counted on the possibility that the Ford would acquire a champion in the person of his girlfriend, Margaret McElhenny.
"I was working on another Mack of mine that I no longer have," he said. "We had just started dating. She came to visit me and I said 'oh, yeah, I also own this one over here,' being the Ford. She's walking around looking at it. She kind of liked the idea of that truck as a very nice 'little' thing in comparison to what else I had.
"She said 'you should fix this one. You should keep this the way it is.'" Patchoski, though, still felt that the wrecker body was destined for the Mack. He discussed the project with a friend whose skills and experience he trusted. The Ford now found itself with, if not another champion, then at least an advocate whose opinion was based on practicality.
"He said 'first off, you don't want to put that on your Mack,'" Patchoski recalled. "'Physically, it's too big.' It was actually a foot longer. I couldn't match it up to the wheelwell. There was a foot of body in between the cab and the wheelwell that wouldn't fit on the Mack."
His friend didn't stop there.
"He said 'also, this is a very lightweight unit to put on a heavy-duty truck like that,'" Patchoski continued. "I'd need I believe the Holmes 750, which is a bit bigger. Most of them were tandem axle, though, and that was even harder to find."
While nearly anything is possible when it comes to making modifications on a large commercial vehicle, extending the Mack's chassis to accept the Ford's wrecker unit faced a big roadblock completely unrelated to the scope of the work.
"I did not want to do that to that truck," Patchoski said. "As I said, that truck was my grandfather's and it's kind of the only thing left of the business from his era. Everything has been updated— machinery, trucks, way of business—and is no longer what it used to be 50 years ago when he was still around. That's all I have left. I really don't want to change it."
The Owner Is Won Over
Even without its fans' backing, the Ford was a good choice for preservation. Patchoski had towed it home, but he said that was only because of major brake problems. The seller had assured him that with a new battery installed, it would start and run fine. When he got it to his garage and began looking it over, its generally good condition was obvious.
"It had a few rot spots here and there, inch- or two-inch little holes normal for a 40-year-old truck," he said. "There was a little bit under the windshield, under the door panels, along the bottoms of the doors, around the wheelwells where the (road) salt would get. Around the toolbox doors on the wrecker unit, it got a little bit 'crispy.' Also around the light bezels on the wrecker unit. But actually, it was really, really nice."
His friend McElhenny dug in her heels as mentioned above and Patchoski decided to check with another friend. This one owns a body shop—he eventually would help with the truck's bodywork and paint—and so he asked him about the possibility of bringing the Ford back to life.
"He took a look at it," Patchoski recalled, "and I said 'maybe we'll restore it. What do you think? How much work and what kind of money are we talking about to fix this? It'd be a nice truck to keep around because my company used to be all Fords.'
"We looked at the body and there was hardly anything wrong. There was, for lack of a better term, nickel-anddime welding for patch panels, a little bit here, here, and here."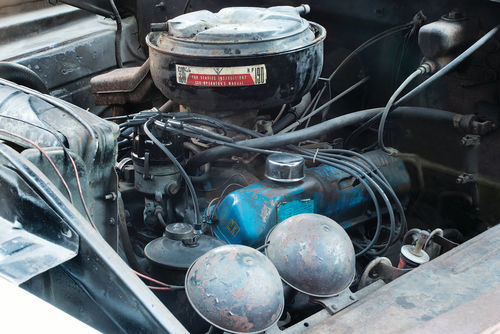 Going over the Ford carefully provided more than just a good look at its overall condition as it also revealed that the truck had been built to be a wrecker and the Holmes body was the original. Patchoski was already coming around to the idea of preserving the Ford, which now found itself with yet another believer in its corner.
"'You've got to keep this on here,'" the body shop's owner told him. "'You can't take it off for your Mack.'"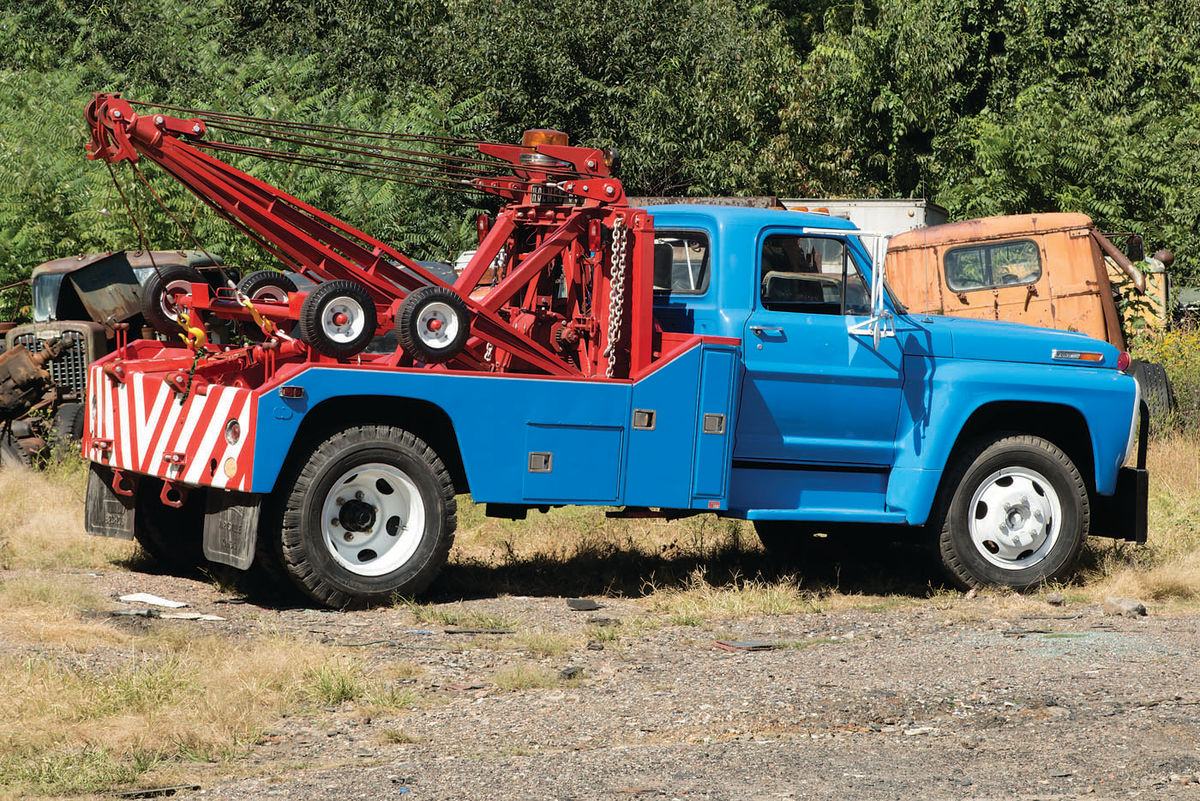 Think of It as an Oversized Pickup
With that, almost everything had fallen into place. Patchoski explained that the Ford, once completed, would enable McElhenny to enjoy the hobby without learning to drive the Mack with its two shifters. The Ford's fivespeed manual transmission and twospeed rear add up to a less-intimidating combination for a driver experienced only with automatic transmissions.
But the story's complications don't end there.
McElhenny explained that the wrecker isn't the truck that inspired her to learn to drive a stick as that honor goes to another Ford, an F-100 owned by Patchoski's uncle. That one's been undergoing a slow restoration for years but it nonetheless played a role in the F-600 project.
"I convinced her," he said, "that this thing is an oversized version of that pickup."
"That was the selling point to get me to drive it," McElhenny said.
It's a selling point, too, for the restorer who'd like to have a truck that's more than a light-duty model but worries about stepping into new territory where everything is either oversize or unavailable.
Patchoski pointed to the cab, which is indeed basically that of the pickup, as is the hood. The larger fenders are necessary to cover the broader axle and he said that the extra width doesn't bother him since he's accustomed to driving trucks. For McElhenny, it wasn't quite that simple.
"I'd only driven Subarus," she said, "so going from a tiny Subaru to that was a major adjustment."
She admits that she's still polishing her skills and said that once Patchoski taught her the basics of double-clutching, she began driving it on uncongested roads for practice. It's the only way to get better at it, she agreed, and she's struggled with the same mistakes that everyone who knows how to drive with a manual transmission looks back on, sympathizes with and understands completely. After an occasion on which the Ford stalled, she asked Patchoski to drive.
"That's when I said 'I'll teach you how to drive on something that's a little more broken in,'" he explained. "With that (F-600) you have to get to so many rpm and then hit it. It's very easy to go in, but if you hit it the wrong way, you have to come to a dead stop and reposition yourself whereas with some of the newer trucks I have, like my other tow truck, the company truck, it'll fall right in. I tell everybody 'why don't we try on one of those first and then we'll work our way back.'"
For McElhenny, that wasn't the best approach.
"I knew when I really started loving it," she explained, "that it was a stick and for me to drive it, I would have to learn. And I'm the type where Paul pushed for me to learn on something easier and that doesn't work for me. If I learn on something easier, I'm not going to want to gradually build up to something harder. I want to throw myself in, learn it the hard way and everything else is easy."
It's now a matter of building confidence through practice, but time constraints because of her schedule and the truck's winter storage make that challenging, as does the Ford's ongoing restoration.
The non-functioning brakes that had seemed unimportant when the truck was destined to be scrapped became a priority and Patchoski said that he solved the problem by replacing the wheel cylinders, lines, springs and hardware. The shoes and drums showed little wear and both the master cylinder and the booster worked as they should, so they weren't changed. The engine and transmission were in good condition, which is no surprise on a 37,000-mile truck, so Patchoski gave the 330-cubicinch V-8 a complete tune-up and replaced its belts, hoses and valve cover gaskets.
"I had some electrical issues," he said, "the brakelights. I'm in the process of putting a new exhaust system on it. Over the wintertime, it's going to go back in for that. It's been a slow workin-progress with our 10-plus hours a day working."
Parts Are Available
Slow work sometimes pays off, though, as he's found a set of modern rims that look like the originals and are suitable for use with tubeless tires. They've been powder-coated in the correct color and he plans to install them when he changes the tires, but an easier swap will be the correct air cleaner that he recently purchased in a salvage yard to replace the Chevrolet unit that somehow ended up on the F-600's engine. The Chevy air cleaner probably found its way to the Ford because it happened to be handy, given that the parts necessary to keep the 330 running are available.
The best proof of that is Patchoski's statement that he's never had problems in finding anything for the 330. Less extensive—but still out there—is the selection of patch panels designed with pickups in mind and in many cases suitable for larger models such as the F-600. It wasn't a stumbling block for Patchoski as the feature truck's body had its "few rot spots here and there," a damaged body mount and not much more.
"There was no significant damage to the body," he said, "except for a little bit of rot and rust obviously from being in this area where we have a lot of salt because we're in northeastern Pennsylvania. There was no damage like dings in the fenders, doors smashed in half, (dents from) people ramming into the wrecker body or bent booms from trying to lift too much."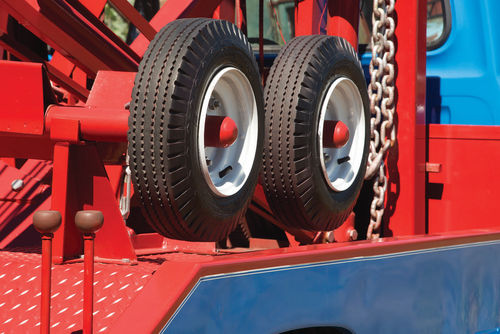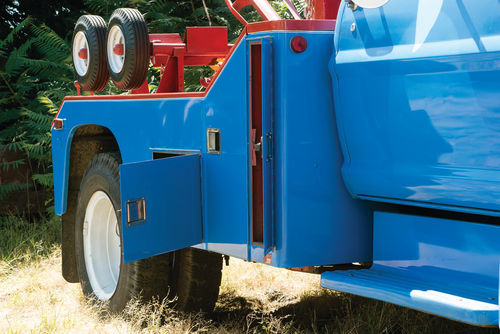 The Cab's Mainly Original
Beyond small patches on the floor, the cab and interior are original. Patchoski said that the interior and dashboard are in effect industrial versions of what would be in a pickup.
"The dash actually is all the same," he said. "You have your oil pressure, your fuel gauge, your odometer. It has a black-leather (type) bench seat that every Ford truck I ever owned had. You could have a bullfight in there and it still wouldn't hurt it."
Ford described the upholstery as "durable black vinyl" on a standard gasengine F-600's "big, three-man seat." While the seat is intact on the feature truck, the headliner is missing. Its mounting strips are in place and Patchoski plans to replace it. The doors, he added, have the knockouts where pockets would have been installed, but he said he's seen those only rarely and agreed that most probably disintegrated over the years.
The cab overall is tight with doors that close smoothly, he added, enough so that the friend who worked on the body commented on its condition.
"He said 'this one, I'm amazed at how easily and nicely the doors close and the lines match up,'" Patchoski continued. '"Yours is beautiful. I just had to tap it and it would close and lock and it would lock up tight. You very rarely see that.'"
Later trucks seem to have more body problems, he said, but as with any vehicle, starting with the most solid example is the best approach. The Ford was solid, but the wrecker body had one major piece of damage that had happened by necessity rather than by accident or deterioration.
"He put a hydraulic wheel-lift system into it," Patchoski explained, "to lift the more-modern cars. As he said, you can't lift a modern car that's made of plastic with a big steel hitch on the back. The sling, you can't pick up a new car with that, so the wheel-lift that connects to the tires and wraps around, he put one of them on and when we made the deal to buy it, he asked 'can I have my system back?' I gave it to him because it wasn't original to the truck and I really didn't need it. The spaces that he cut out to affix that to the truck—the bolt-holes, where it came out at the back end—that all had to be welded up."
It's Big, But Not Intimidating
The wrecker body can be deceiving, in a sense, as it makes the truck seem large. While it's certainly not small, it's a medium-duty model and therefore can fit in garages not much larger than one which would accept a modern pickup. Like competitors such as Chevrolet's C60, it could be the right truck for the restorer looking for something bigger and not just because of space requirements.
"It's a very easy vehicle," Patchoski said. "You've got the best of the world of small vehicles in the fact that it's not the big steering wheel with the bigmuscle steering. It's not one of those that you need all three lanes of the highway to turn in."
Its size has already made it the right truck for McElhenny, although garage space has nothing to do with it.
"The Mack, the Brockways, everything at the (truck) shows," she observed, "is huge and intense. I would never have gotten behind the wheel of one of those and now, I know eventually with Paul's pushing that I will be driving the Mack. Eventually.
"I guess you could say this Ford is kind of my gateway truck."