1965 Ford Falcon Deluxe Club Wagon
This Falcon Was an Ancestor of the Popular Minivan Movement. And Its Design Makes It Especially Interesting to Drive.
SOMETIME IN THE mid- to late 1960s, teenagers discovered vans and for the next decade or two, parents feared the worst and often with good reason. By the time a brochure described the Falcon Club Wagon as the "Falcon at its handiest," many of its younger owners had already figured out for themselves that yes, their earlier models certainly were handy vehicles and their versatility likely exceeded anything that Ford had in mind.
That brochure appeared in 1967, two years after Phil Zwick's Deluxe Club Wagon was built and more than 30 years before he found it hiding among a fleet of Hupmobiles in a Long Island garage. A friend knew the owner and invited Zwick along on a visit.
"I said 'sure,'" Zwick recalled. "He had this huge garage where he had something like 17 Hupmobiles and in the back corner of this garage, there was this '65 Ford Econoline van or Falcon van. I looked back in the corner and I said 'let's go over and take a look at that van.' I really liked it. It caught my eye like the old hippy vans but he wasn't selling it. It was in there for 17 years — I asked him how long — and it was all dusty."
Developing a "Compact" Van
That means the Falcon had been put away sometime around 1983 and while it had by then become hopelessly outclassed by its more modern relatives with their civilized manner and posh amenities, the story had been something very different on its arrival as a 1961 model.
It had begun — indirectly, in a sense — a few years earlier when the Big Three finally realized that the threat posed by small foreign cars was real and Detroit was producing nothing with which to fight back.
Detroit's first response was some captive imports, and then it released four new compacts for 1960 — the Chevrolet Corvair, Chrysler's Valiant and two from Ford, the Falcon and Comet. Unlike the Corvair with its air-cooled flat six above a rear transaxle, the others were completely traditional with inline sixes — water-cooled — up front driving the rear wheels through everyday transmissions. That conventional layout would remain the standard for decades, but there was one important addition in 1961 as both Ford and Chevrolet introduced light-duty trucks on their compacts' platforms.
Both offered cargo and passenger vans as well as pickups in what today would be called cab-forward layouts, but as with the cars, the Ford's conventionality eventually trumped the Chevrolet's daring.
A Versatile Marketplace Winner
In 1961, Chevy sold 47,557 Corvair light trucks against Ford's 61,355. In 1965, the numbers were 1528 and 76,867. That was the end for Corvair trucks, but the comparison to the Fords isn't quite fair because late in the 1964 model year, Chevrolet had begun phasing in the Corvair's front-engine, rear drive replacement van and while the numbers aren't available, that surely siphoned some of the sales that would otherwise have gone to Corvair. From the Ford fan's point of view, the new Chevy — now with a GMC counterpart —and the competing Dodge A100 series also introduced in 1964 proved that Ford had known what it was doing.
Ford had launched its compact truck as an Econoline covering pickups, vans and basic passenger vans, but called the passenger van a Falcon when equipped with better comforts. By 1962, the range had grown to roughly a dozen possibilities and a brochure that year announced the Falcon Deluxe Club Wagon with standard equipment including second and third seats equipped with armrests and ashtrays, a padded dash and visors, dome lights, chromed wheel covers and a 170-cubic-inch six in place of the 144 in the lesser Station Bus and Club Wagon.
Ford boasted that each carried eight passengers or 204 cubic feet of cargo and all were "so wonderfully versatile, too — they're as much at home on a vacation camping trip, a shopping trip or the twice-daily trip to school. They're as thrifty and economical as any member of the Falcon family." The Deluxe Club Wagon was "the one that most deserves to be called 'the family Falcon'…(with) huge double doors at curbside and rear for loading and unloading." Its "trim 90- inch wheelbase gives you the smallest turning circle, tightest maneuverability of all Falcons."
Three years later, the Deluxe Club Wagon looked just about the same but that year also saw the addition of an 18-inch-longer version with "a mammoth" capacity of 242 cubic feet and when the first-generation models were about to be replaced, Ford noted in a 1967 brochure that "camper conversions are available to make any Club Wagon your 'roving campsite.'"
Somehow, It Survived the Salt
Zwick doesn't know much about his Falcon's history, whether it ever carried eight or whether it really did take all loads. Even the mileage is something of a mystery; the odometer shows about 20,000 miles, but he said it's probably 120,000 miles and if he's right, that makes its condition when he bought it about a dozen years ago surprising.
"It was actually in fairly good shape," he said. "It needed a paint job because it was the original paint. Other than that, along the bottom, there was just a little bit of rust and bubbling. That was about it. A friend of mine repainted the whole vehicle and got it all back in shape. There are new bumpers on it because the chrome was faded.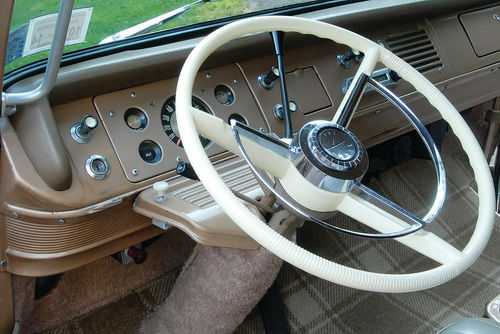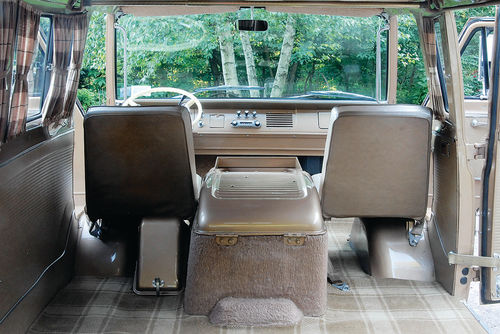 "I spent a winter going through the thing, redoing the inside and trying to keep it to the era. It was a nice project."
It might have been a nice project, but it wasn't a simple one as Zwick struck a balance between originality and practicality. Consider that despite its position at the top of the Econoline-Falcon hierarchy, the Deluxe Club Wagon wore a rubber mat on its floor and while that probably made sense on a vehicle designed for "a vacation camping trip, a shopping trip or the twice-daily trip to school," it did little to minimize noise.
"I just outlined the mat with the carpet and put in the brown plaid carpet to match the color of the van and keep it to the era," Zwick said. "Actually, I have some insulation carpet and then I have the finish carpet on top of that."
Keeping the '70s Alive
He kept it to the era in another way, too, by retaining some of the aftermarket items dating to the Falcon's early years and others from the time of the van culture a decade later.
"When I bought it," Zwick said, "it had curtains inside the van and I have no idea how long they've been there, probably from back in the '70s. And it had the silk-screening that was very popular back then. The Arizona landscape is on the silkscreen so that you can't see into the back. It's all private."
1965 Falcon Club Wagon
GENERAL
Front-engine, rear-drive passenger van
ENGINE
Type Ohv in-line six
Displacement 240 cu. in.
Bore x stroke 4.00 in. x 3.18 in.
Carburetor Single-barrel downdraft
Power 155 hp @ 4200 rpm
Torque 239 ft.-lb. @ 2200 rpm
DRIVETRAIN
Transmission Three-speed automatic
SUSPENSION & BRAKES
Front Solid axle, leaf springs
Rear Solid axle, leaf springs
Brakes (f/r) Drum/drum
MEASUREMENTS
Wheelbase 90 in.
Length 168.3 in.
Height 76.9 in.
Width 75 in.
Track (f/r) 60 in./60.2 in.
Weight 2918 lb.
Tire size 6.50 x 13
The wagon's mechanical condition when he bought it was even better than that of the body and its biggest need was exhaust work.
"The engine is all original and hasn't been touched," he said. "I didn't rebuild the engine and maybe I should have — it's a little tired — but it runs great. I just ended up detailing the whole motor out to looking brand-new, but I didn't do anything with the motor (beyond) plugs, points, wires, stuff like that. It runs great...I'll wait until it needs it because the amount of miles I put on it, realistically, is maybe 200 or 300 miles a year."
The Falcon was missing its center seat when it was resting among the Hupmobiles and Zwick hasn't found a replacement, but the parts situation for Econolines and Falcons breaks down fairly neatly into two distinct tracks. One is the mechanical side and he said that everything to keep it running is easily available. It is, after all, an extremely simple vehicle with its 240-cubic-inch six and Ford's C4 automatic transmission, both of which are durable and well-known. Interchange with other Ford products is extensive and most components are relatively easy to reach for maintenance and routine work.
The body, though, is another matter. Finding trim will be difficult or worse and finding major body panels in either new or good used condition is likely to be almost impossible. Some patch panels are available and the sheer number of early Falcons and Econolines built means that salvageable used panels might be obtained, but by nearly any measure, the two most important points when considering a Falcon like Zwick's — or one of its relatives — are completeness and lack of rust.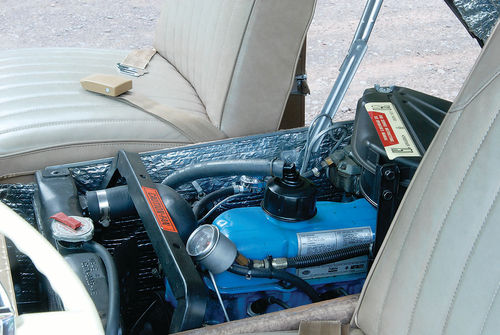 Many Lived a Hard Life
"These tend to have a lot of rust problems," he said. "Although this van was almost completely rust-free, the back ends of these used to rot out a lot. That's why there's not a lot of them."
The "back end" is the actual rear corner on each side, as well as the rear floor and the door bottoms. The bottoms of the side doors are potential problem areas, too, and remember that these vans were available with four, six and eight doors. Rocker panels, the front pan and the front floor, particularly between the bottom of the A pillar and the wheel well, often have rust damage.
What makes all of this even more of a challenge is that the Falcon's construction relied heavily on welding, so disassembly for restoration and subsequent reassembly can become a major undertaking.
What would be considered restorable condition on a more conventional vehicle might be too much to be worthwhile on a Falcon or Econoline and it doesn't stop at rust. The Falcon's utilitarian relative was seemingly everywhere in its day thanks to its popularity as a service or light delivery truck and like many fleet and commercial vehicles, it was often worked hard. If it needs serious mechanical attention, most work short of an engine-swap won't pose a problem, but removing the dents and scrapes frequently accumulated on such a truck can be as difficult as replacing rust. And it's not only an example used commercially that might be in such condition; an Econoline or Falcon that wound up in the hands of one of those teenagers mentioned above probably spent its last years on the road with less than optimal care and was driven until it died. That would have happened a long time ago and Zwick said that "where did you find something like that?" is a common question, but it's not the only question.
"One thing people do ask me about when they see this," he said, "is that it says 'Falcon.' 'A Falcon van?' They know the Econoline… A lot of people see 'Falcon' and they say 'it's not a Falcon. Falcons are cars…and they never knew that Ford made Falcon vans."
Still, not everyone is baffled by the sight of a Falcon van, and those who can identify it aren't limited to car guys.
"People will say 'I remember these' or 'I remember driving these,'" Zwick explained, "or 'I went to Woodstock in one of these.'"
A Memorable Driving Experience
It's easy to believe that somebody would remember driving one like it. The last time I drove one like it was in the mid-1970s and I remember it, but the best part is that Zwick's Falcon drives exactly as I remember it. After the short trip in the Falcon from his home to downtown Delhi, New York, we switched seats. I'd driven it only a block or two when he raised the obvious question.
"Isn't this fun?" he asked.
Well, certainly, it's fun. It's a lot of fun. Those in other vehicles notice us and at least some pedestrians turn to watch us go down the road.
"A lot of people give me thumbs-up as I go by," Zwick observed. "Then they think 'what the heck is that?'"
The ones who know what the heck it is might be surprised, given Falcons' tendency to rust and upstate New York's commitment to winter road salt, but there's more to enjoy than just their reactions. The Falcon, like every one of its competitors then available in the United States, would require some mental and procedural adjustments of a first-time driver and then pay him back for his effort.
"It's like you're driving a tractor-trailer," Zwick said, "because the steering wheel is a little bit flatter than the normal and the wheels actually are a little bit behind you, so it's easy to turn."
More precisely, the wheel is almost horizontal, which turns out to be a comfortable position whether cruising along or dealing with back streets. But sitting on top and just ahead of the front wheels isn't the same as sitting a few feet behind them and that calls for different timing, especially when turning corners in town. The actual turning needs to be delayed beyond what initially seems right and failing to do so is typically followed by driving over the curb. How many times has Zwick done that?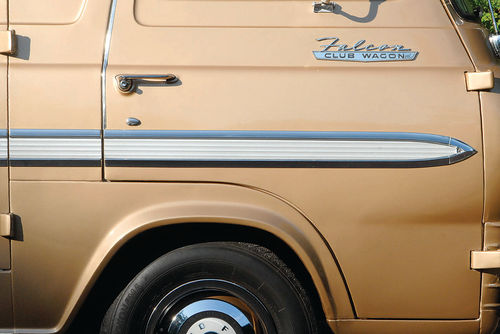 "None," he laughed. "I'm a very careful person."
I didn't do it, either, even when he suggested that I make a U-turn in an intersection and added that he thought it would work. He was right and it did work, but for more than one reason. The 90-inch wheelbase deserves much of the credit, as does the visibility. Develop a feel for where the front wheels really are, take advantage of the fact that it's possible to see almost directly in front of the bumper and go on to impress bystanders by performing astonishing maneuvers in shockingly tight quarters.
"I don't even notice it, really," Zwick said. "I'm used to driving it."
Getting used to driving it isn't very difficult. First-generation vans with their flat fronts were popular when new and no one then gave a second thought to the idea that they might be tough to deal with on the road. The Falcons, Corvairs and A100s haven't changed since their time, roads are roads and 48 years after it was built, Zwick's van is still fun.
"Doesn't it feel like it just floats right along?" he asked. "That's why when I think about selling it, I drive it and I'm saying 'no.'"