The Uncommon Big Block Engine Always Draws Attention. But Unlike Many Bruisers, It Can Be Easy to Drive.
THE END OF the big-car performance era was not yet in sight when Gordon Maxwell's 1962 Chevy Impala Super Sport was built and that helps to explain the one feature that catches the attention of those who know.
"Certain people will notice that 409 in a heartbeat,"Maxwell said. "They just say 'wow, look at that. A real 409 car.'"
The 409 was a big and powerful engine in its day and although not built in the huge numbers of some other Chevrolet V-8s, the comparison of a 409 with Chevy engines of the early postwar years less than two decades earlier is astonishing.
At Chevrolet, the cars built during 1946-48, basically carryovers from 1942, were uncomplicated and practical with their 216-cubic-inch sixes and three speed manual transmissions.
It was a proven combination—Chevy had built nothing but sixes since introducing its 194 in 1929. And given that, in the post-war years it was difficult to see a Chevrolet as exciting.
While the Powerglide automatic transmission appeared in 1950,simplicity still reigned at Chevrolet and might have done so for some time to come but for developments at two other General Motors divisions a year earlier.
The "Modern" V-8
Cadillac and Oldsmobile had pushed their way into the future in 1949 by each introducing what's since become known as a modern overhead-valve V-8. The concept behind such an engine is simple; the diameter of its cylinders' bore is greater than the length of its pistons' stroke, touching off a string of improvements in everything from performance to weight. By today's standards, neither engine sounds like much as Cadillac's 331 produced 160 horsepower and Olds mobile's 303 generated 135, but they broke new ground.
Buick introduced its modern V-8 in 1953, leaving Pontiac and Chevrolet to wait until their turn came in 1955. For Chevy the wait proved to be particularly worthwhile as its new engine began a dynasty.
That Legendary Small Block
The Turbo-Fire V-8 displaced 265 cubic inches and initially produced 162 horsepower. But before the model year was over, options were available to push output to 195.
Advertising called Chevy "The Hot One" and the completely new look of the '55 model made even the still-avail- able six seem almost thrilling. The car's sides were smooth and clean as even the suggestion of separate rear fenders had finally been banished and both the hood and trunk no longer bulged upward. The beltline itself was now straight and broken only by a slight dip just behind the front seat, while the egg crate grille was one of the simplest in years.
Still, it was the new V-8 that mattered most and 1955 was just the beginning. By 1956, a 265 with dual exhaust and two four-barrels produced 225 horsepower. And then 1957 happened. The 265 was now in its last year and was joined by a 283, the additional displacement resulting from increasing the bore by 0.125 inches and hinting at the direction the Small Block would take. Much more important in the short term, however, was another number. Although the basic 283 produced 185 horsepower, the fuel- injected version reached 283, the magic one-horsepower-per-cubic-inch. It did- n't hurt that the car was in its third year on the 1955 body because this time, the restyle was so successful that it created an icon. The 1957 Chevy is a car that's never fallen from popularity.
The same is true of the Small Block V- 8 and in both cases, the division evolved.
New Look…New Engine
While a restyled Chevy was introduced for 1958, another important event took place under the hood as a new engine arrived that year too. Moreover, the 348 didn't replace the 283; it was a completely different design having nothing in common with the Small Block. Horsepower ranged from 250 with a single four-barrel to 280 when equipped with three twos, and since the mid-1950s had already shown that no engine was quite big enough, the 348 grew. It reached 315 horsepower in 1959, then 335 in 1960 and finally hit 350 in 1961 when it was joined by the engine that would replace it, the 409.
Creating the 409 from the 348 required increasing the bore by 0.1875 inches and the stroke by 0.25. With that, a four-bar- rel 409 produced 360 horsepower—the old cliché about there being no substitute for cubic inches was safe—and in 1962, a 409 with two fours returned a convenient 409 horsepower.
A 283 Can Be Great, But In This Case…
Like the 348 on which it was based, a 409 can't be mistaken for a Small Block and that fact certainly helped in drawing Gordon Maxwell's attention to the future car. It happened about five or six years ago when a dealer friend was preparing to take it to Hershey and sell it. Maxwell hoped to sell a car there, too, and knew about the Impala, but he also knew that his own sale had to go through before he could buy another car.
"And I told him that," he recalled. "I said 'I'd love to have it' and he showed me all the pictures. I didn't make a fuss. You could see in the pictures them tak- ing the 409 out. I saw the valve covers and I guess he really didn't see it."
The pictures had come from a previous owner who had dropped in a Small Block, but the car was supposed to have a 409 and that was enough. After a somewhat complex three-way deal at Hershey, Maxwell owned the Impala and since it was drivable with its incorrect engine, he took it to a friend's shop and announced his plan to install another 409. It was a plan that worked out flawlessly and just a few weeks later, he asked his dealer friend to stop by.
"He came down and said 'what's the matter?'" Maxwell recalled. "I said 'there's something wrong with the car you sold me.' I didn't open the hood. I turned the key and he said 'what did you do? You put a 454 in there.' I said 'no.' I opened the hood and he was shocked."
Understandably so, especially given the fact that this was less than three weeks after Hershey and Maxwell hadn't had a 409 gathering dust in his garage. They're not impossible to find, but 409s generally aren't lined up awaiting buyers, so luck was clearly on the Impala's side.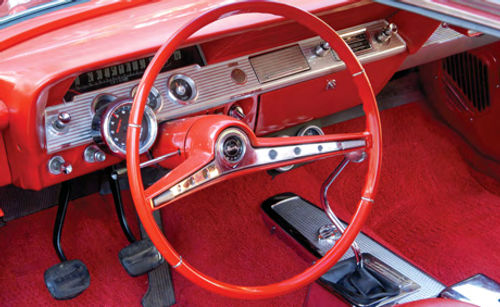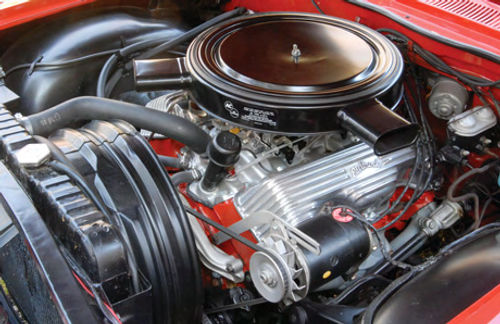 "I ran into somebody who met somebody who knew this guy from Indiana who was selling 409s at Carlisle," Maxwell said. "It took me a while and I was just going frantic, calling people, calling this one, calling that one and then finally, somebody knew this guy's name. A guy told me 'I know a guy who knows him and he works at the Chevy dealership right near where this guy lives.' So I called the Chevy dealer out in Indiana and he said 'oh, yeah, you want to call him. We call him 'Mr. 409' around here.'"
That's a tough recommendation to dismiss, but Mr. 409 was in Indiana and Maxwell was in Pennsylvania. Buying the engine over the phone left the matter of transportation, a problem that was solved almost instantly when Maxwell learned that a local body shop which had painted cars for him was preparing to deliver a GTO to Indiana, not far from the 409. The engine came back in the shop's trailer, complete and in running condition, and the deal even included some extra parts. But while Maxwell and those who helped him have no shortage of experience with Chevy Small Blocks, this was new territory.
A Comfortable Walk on Unfamiliar Ground
"We took the motor out," he said, "and we were amazed. You're dealing with something you've never dealt with before, so all of a sudden you're thinking it'd be like trying to put a 440 in it. It's not going to fit; it's just not going to work."
But it did work.
1962 Chevrolet Impala
GENERAL
Front-engine, rear-drive, coupe
ENGINE
Type Overhead valve V-8
Displacement 409 cu.in.
Bore x stroke 4.321 in. x 3.50 in.
Compression ratio (:1) 11
Carburetor Two four-barrel downdrafts
Power 409hp@6000rpm
Torque 420 lb.-ft.@4000rpm
DRIVETRAIN
Transmission Four-speed manual
Final drive ratio (:1) 3.36
SUSPENSION & BRAKES
Front Coil springs
Rear Torque arms, Panhard rod, coil springs
Brakes (f/r) Drum/drum
MEASUREMENTS
Wheelbase 119in.
Length 209.6 in.
Weight 3450 lb.
Height 55.5 in.
Width 79in.
Track (f/r) 60.3/59.3 in.
Tire Size 8.00x14
"We put the motor in and no difference," Maxwell continued. "Putting a Big Block or a Small Block in the car, the power steering, the pulleys lined up. I had to get the 409 shroud, but everything just worked…
"Even with the exhaust, my buddies were saying this was all new territory. We do Chevelles and Camaros; it's nothing, you call Flowmaster. But here's this car and all the pieces are weird. The pipe has to come down, the muffler has to go here, but the hangers—everything—fit perfectly; I mean, like a glove. We didn't have to cut anything; we didn't have to bend it."
Looking at all of that, from Maxwell's noticing the engine in those old photos to his hunting down a replacement to a group of knowledgeable Chevy people proceeding cautiously, it shows that a 409 is something a little out of the ordinary. That raises the question of how and why the original engine became separated from the car. Maxwell has some partial answers that began with a can of paint among the parts that came with the car.
An Earlier Owner's Story
"I called the paint company that sold it," Maxwell explained, "and sure enough, they found the body shop and then the body shop told me about the guy who owned the car. I called him up and he started telling me about the car. He just said it had been in a garage for years when he found it and then he started the restoration. It was in southern Pennsylvania, almost near West Virginia. That's pretty much it. He really didn't get into it. He just told me he couldn't afford to put the 409 into it and that the motor had seized. I asked if he still had it and he said no, he'd just sent it to the scrapyard."
That complicates the story since the car shows about 23,000 miles and if that's accurate, the original engine had a remarkably brief life. The odometer stopped working after Maxwell bought the car and that may or may not be important since he has no way of knowing that it was right in the first place.
"The car is so solid everywhere," he said, "that I really want to believe it, but can I say it? I don't know."
The Impala needed only minor work on its front suspension, had no wear on its steering wheel and was reported to have been in long-term storage, so 23,000 miles seems possible, but worn pedals and that seized engine argue for a higher number. Even the body doesn't fully tip the scales one way or the other; it had been completed before Maxwell bought it and that work likely hid or eliminated some clues. He did, however, have the photos and one shows a quarter panel being replaced. Another shows it without fenders and apparently revealing no problem areas.
"You look at those and you think maybe it wasn't 23,000," Maxwell observed, "but it's not a bad car. If you can really look past (the appearance), it's not bad."
Looking past the appearance in the photos isn't easy. Grime left behind when trim was removed means the car probably wasn't washed very often and the mismatched wheels on the car at the time don't exactly make a great first impression. What's known even without the photos is that the Impala needed a new engine and was repainted twice, but while a touch of mystery can be amusing, it doesn't amount to much more than a conversation-starter in this case.
Balancing Restoration and Preservation
Chevrolets of the early 1960s can rust badly, but beyond the quarter panel— where the damage that forced its replacement is unknown anyway—this one had few problems. Typically, the frame is a real concern, particularly below the cowl, above the rear axle and near the transmission. Searching for damage at any of those points translates to crawling under the car, but if rust at the extreme rear has progressed far enough, detecting it might be easy; look for a badly aligned, hanging or missing bumper.
"There are only two small brackets in the back," Maxwell explained. "The front is just tough as nails."
Like the quarters, fenders rust mostly at the bottoms behind the wheel wells. That's not hard to spot, nor is another weak point Maxwell mentioned, the door bottoms. When it comes to rocker panels, though, looking at them without going under the car will reveal only half of their condition. Since the feature car was painted before he bought it, Maxwell took a different approach to checking out the body when it was wet-sanded.
"We wet-sanded and buffed the whole car," he said. "We had to touch up some spots. I could have gone a lot crazier and I didn't. If something happens, if you went too far with the wet-sanding and buffing and you went through, then you've got problems."
Even knowing where to draw that line didn't eliminate every headache. The car had Rally wheels when he bought it and Maxwell said that he drove to New Jersey for the correct seven-inch steel wheels. The hubcaps now on those wheels are reproductions, but he has a set of originals that he found at a local engine shop.
"They had a fire there a couple of years ago," he said, "and so anything that didn't really get damaged they'd brought down. I go walking by, walking down the aisle where they have all the parts, and here's this box with two sets of hub- caps. Vince is the guy who runs parts and I said 'what are you doing with this stuff? I want those hubcaps.' 'Go on, take them,' he said. 'I was going to put them on eBay and sell them, but you can have them.' He knew they were worth money as originals, but repops are so close to them that you can't believe it."
The reason they're not on the Impala is obvious.
"I won't put them on the car when. I just drive it around," Maxwell said, "because if I lose one, I lose it."
Replacing it might mean searching and the same is true in varying degrees of some other pieces, such as the trim panel across the rear. Maxwell did the grille and bumpers, but he drives the car and that influences the extent of the work he'll do as does the idea of preserving something of its past.
"There was one piece (of SS trim) that was taken off," he said. "I think it was on a door. But there were so many little dings on other parts of it that I was either going to replace it all or just leave it as it was, so I decided to just leave it as it was… "There are minor things in the chrome that I have to fix. That (delaminated) wing window needs to be fixed. When I first got the car, it was 'I've got to change it, I've got to change it,' but you know what? To me, it's character. It speaks that this is the way the car is, so I left it. I bought brand-new pedals and when I went to put them on, it was 'no, I'm not doing it.' (The wear) might be from somebody who wore aggressive shoes or boots when they drove it. Who knows?"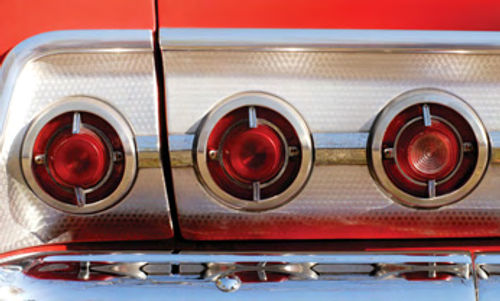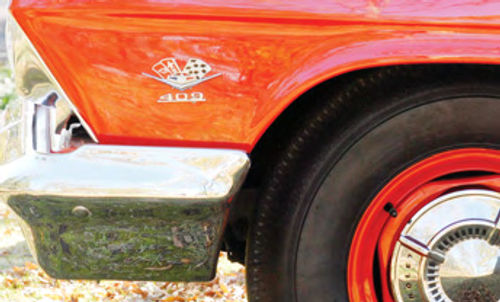 A Magnet for Enthusiasts
Maxwell said that finding his car's twin—with or without the traces of wear—wouldn't be easy and building it might therefore be the better solution for somebody who really wants the 409. An Impala SS with a Small Block is an alter- native, but the engine in Maxwell's car can be a magnet even to people who aren't looking for one. He gave the example of stopping for gas.
"I pulled in there," he said, "and next thing, here's a Yukon from North Carolina and the guy's talking to me. They have to just comment. 'Wow, look at that.' And then they say 'a 409!' Certain guys notice that."
What might be a major surprise to those who notice it but know little about cars like Maxwell's Impala is the fuel consumption. It could, he said, return as much as 18 miles per gallon under a right foot delicate enough to keep the secondaries from opening.
"Drive it like you were driving it," he told me. 'You weren't aggressive."
True, but in my defense, that requires some explanation. First is that I refuse to pound someone else's car even when it's this tempting. Second is that unless it's purely a racecar, how it does in normal driving is the more important part and Maxwell's car did fine.
Vroom With Room
The first thing I noticed on getting in is how open the interior feels. As far back as the 1930s, manufacturers had begun realizing that drivers and front-seat passengers didn't need to be cramped. By the 1960s, dashboards were lower and felt far away, windows were big and bench seats really could fit three across. An all-day trip in the Impala certainly would be doable.
It would also, of course, be fun. Once I figured out the clutch with some practice moves in a parking lot—initially, my choices seemed to be stall it or spin the wheels—it became a genuinely easy car to drive.
"My first drive with the 409 and the two fours," Maxwell recalled, "it just wasn't that earth-shattering, tire-spinning car where right away, you're nervous. You know what? You can bang second gear and the car goes. The power on this car, like when we were cruising around at 30 or 40, you don't feel the power. When it gets to six-grand…"
Two hours behind the wheel would've made me comfortable—probably not comfortable enough for 6000 rpm, but comfortable—although it didn't take long to recognize that the four-speed's shifting was precise and that the handling bordered on surprising. It's not a 2012 Chevy and it doesn't drive like one; it's a car that feels instead like it could get away in the curves, but probably won't.

Even driving it less than aggressively, the Impala was certainly no slug and while it obviously would've been entertaining to see just how fast it could really go, it isn't my car.
A brief excursion (ahem) over the legal speed limit told me a lot, as did driving it in traffic and climbing a mountain without downshifting. It was a fair assessment, as the only engine modifications are a very mild cam, a flex fan and Edelbrock carbs that directly replace the original Rochesters. Setting aside the run up the mountain and keeping in mind my admittedly restrained driving, an Impala with a Small Block under the hood probably would feel nearly the same in most real-world situations.
That's certainly not bad; it's just that kind of car once made an impression on Maxwell, and it wasn't quite the same thing as his current Chevy.
"My second car was a '62 Impala," he said, "a 283 two-barrel, not a 409."