1915 Ford Model T Touring
He Bought This T, Sold It and Then Worked Extremely Hard to Get It Back Again. This Time, He Plans On Keeping It.
Most collectors might admit to vaguely knowing someone who really, really loves his car, but fewer would admit to being that someone.
"Seller's remorse set in very early," said Clay Green, the Conshohocken, Pennsylvania, owner of the featured 1915 Ford Model T touring. "That was in 1992 and the guy I sold it to was only 25 miles from where I was. I delivered it to him, taught him how to drive it and walked away from that delivery thinking 'he will never drive that car.'"
Seventeen years earlier, he'd learned that the Ford was for sale and since he was interested in having a Brass Era car, he drove to Tamaqua, Pennsylvania, and bought it.
"This car was put in a barn in 1919," Green explained. "They'd bought a 1919 T. It was one of those newfangled electric start things and they shoved this into the barn in 1919, considering it the backup car or parts or whatever and there it sat."
Henry and His Automobiles
The fact that it was essentially parked and forgotten when just four years old says much about the automotive industry in 1919 and the Model T in particular. Ford had introduced the Model T in late 1908, but that wasn't the start of Ford Motor Company or even of the automotive ventures of Henry Ford.
Briefly, Henry Ford had been experimenting on his own with selfpropelled vehicles as early as the mid1890s while earning his living at Edison Illuminating Company in Detroit. What he was doing in his home shop is sometimes described as "tinkering," which is both incorrect and unfair as his considering, calculating and designing were the necessary steps toward building his first automobile.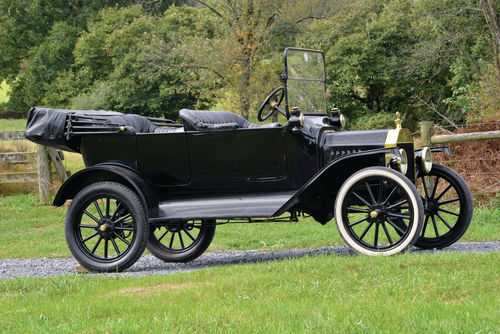 The result was his Quadricycle; a roughly four-horsepower runabout that ran in the summer of 1896, but only after Ford removed part of a wall so that it could exit his shop. The Quadricycle was eventually sold and in 1898, Ford built another car. The following year, he walked away from his full-time Edison job to join the Detroit Automobile Company. The plan was that Ford would design the company's product, but things didn't work out and the Detroit Automobile Company soon vanished. Next came the Henry Ford Company, established in late 1901, but Ford left it in 1902 and by 1903, the Ford Motor Company of today was formed (and what had been the Henry Ford Company became the Cadillac Automobile Company).
From a Race Car to Street Machines
In a general sense, the timeline and history of Henry Ford's early companies is representative of what was happening across the country as others were making similar attempts to enter the automotive world. While he had been responsible for several completed examples under those early companies, the best remembered after the Quadricycle is undoubtedly 999, a racer in which Barney Oldfield covered a mile in just under 60 seconds.
The 999 later hit the astounding figure of 91.37 miles per hour and although Ford had seen and appreciated the publicity value in race cars, he had decided by the time Ford Motor Co. arrived that focusing on cars for the road was a better idea and the first result was the Model A. (Certainly not to be confused with the Model A that arrived more than two decades later.)
Launched in July of 1903, the logically named Model A was a straightforward two-seat runabout riding a 72-inch wheelbase and weighing about 1250 pounds. Its 100-cubic-inch twin produced eight horsepower and drove a chain to the rear axle via a two-speed planetary transmission controlled with pedals.
Looking back from more than a century later, it's not hard to see the Model A's uncomplicated nature as a hint of what the Model T would be, but there were several other larger, heavier, more powerful and more expensive models along the way before October 1908 when everything changed for Henry Ford, Ford Motor Co. and the automotive industry.
It's "T" Time
Even Henry Ford himself probably didn't realize the future that lay ahead for his new car—the Model T—as it was simple and unassuming, two qualities that hardly seemed destined to create a standout in the market.
Costing as little as $825, the T was built on a 100-inch wheelbase and used a 22-horsepower, 176.7-cubic-inch four and a two-speed transmission driving through a torque tube; a service brake that worked on the transmission and a handbrake that operated internal expanding brakes in drums on the rear wheels. None of that seemed like a legend in the making, but it was the basis for Model Ts that would continue to roll out the factory doors until May of 1927. No doubt, Ford's approach to business was one reason for that long production life as the T gradually became more affordable while following its original formula.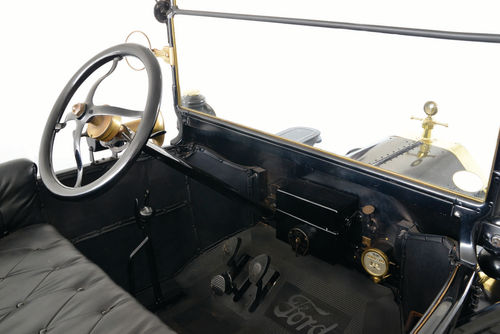 The dedication to the initial concept came back to haunt the Model T in its later years, though, as the competition made it seem somewhere between having a quaint charm and being outdated, but the popular myth—outside of the automotive world—about the first Model T's being virtually identical to the last Model T is just that. The T was restyled in 1911 and again in 1912 before a major redesign appeared for 1913. Further appearance changes were made in 1914 and again in 1915, when the feature car was built. As mentioned above, this car didn't have a long working life because the improvements that came along just four years after it was built relegated it to a shed.
The Feature Car's Turn for the Worse
In a perfect world, Clay Green's T would have quietly waited to be brought out into daylight and returned to the road. Unfortunately, it's not always a perfect world.
"It would have been a marvelous original find," Green recalled, "had the shed not collapsed and the elements not gotten to it."
That's less disastrous than it sounds because even though it hadn't survived as well as it might have, the car had never suffered the fate of those Model Ts that were kept in use with parts from other Model Ts of varying years.
"The car was so pure, so correct as I got into it," Green explained, "and there's an awful lot of unique features on '15s. It was the first year for electric lights; the light switch is unique to '15. The upholstery was the first year for what they called 'leatherette;' however, the corner of the seat right by the door was still leather because it wore better.
"One other interesting thing—and I was just talking to someone about Henry not throwing anything out—is theoretically, the white floor mat ended in 1914. This car had a white floor mat in it. The thing was petrified. You touched it and it just crumbled into powder in your hand, but I wish I had taken a piece of it and put it in a plastic bag, just because."
A Challenging Project
The T would be Green's first restoration— sort of—as he'd completed a very different project, a Corvette that he said didn't really count since it was a relatively modern car with parts and expertise readily available. In those pre-Internet days, working on the T required that he look through books, apply what he already knew about mechanics and learn by doing as the car introduced him to problems that Corvetterestorers are unlikely to confront.
"It was a rusty pile of junk," he admitted. "The wooden frame was all rotted, the doors were kind of hanging, it's a wonder that it didn't blow apart on the way home.
"The engine was seized, so I pulled the head on it and just soaked it with oil and kerosene and anything else I thought might break it away.
"Almost every night after work, I'd come home, put a 4x4 on a piston and just tap it to see whether I could break it loose. Finally, I did and in the meantime, I was seeing what else I had. The gas tank? Forget it, after all those years, but once I got the engine free, I could see whether it ran. I put it back together, I had gone through the timers and the coils and the carburetor and all of that."
But there was still that gas tank, so Green began thinking about how to rig a temporary gravity-feed system. A possible solution revealed itself when he looked at his son's motorcycle and realized that he could borrow its fuel tank, set it on the Model T's passenger door and connect some tubing to the carburetor. Cooperation from his wife, who'd looked the car over when he brought it home and questioned what he'd paid for it, would play a key role.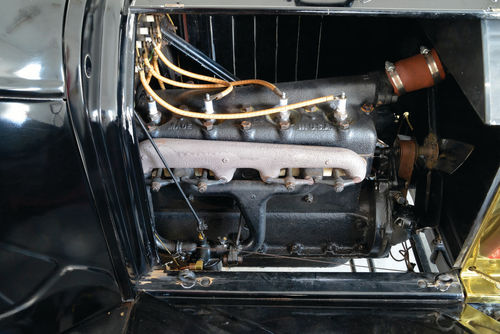 "When I went to start it," Green said, "I asked Rene to give me a hand, mainly 'make sure that gas tank stays on that door.' When I'd had the head off, the head was full of acorns, nuts and all this garbage, but I'd gotten it cleaned and I went to try to start it, primed it a couple of times, did 10 or 12 pulls on the crank and son of a gun, it fired up. So now I had what you would call a running engine.
"I'd had a few oversights in my preparation for this, one of which was Rene holding the gas tank. That was fine, but remember, I'd soaked this thing in oil for several months. When it went off, the garage literally filled up with smoke and of course, Rene wanted to exit stage right. That wasn't the bad part. What I was not aware of was that a family of rodents had set up housekeeping in the exhaust system, so we not only had a garage filled with smoke; we had rodent remains coming out of the tailpipe. We're still married. It was marginal, but we're still married."
The Restoration Gets Rolling In the Lone Star State
Not long after, his work called for a transfer to Texas and the Model T went on a trailer. There, he said, the restoration began to move along as he found plans for the wood in the body and taught himself the necessary woodworking skills to follow them and re-wood the entire car.
He'd already begun acquiring sheet metal, but even at the Hershey swap meet he was unable to find the hood that's specific to 1915 and 1916 Model Ts. He did find two halves in poor condition; gave one half to a friend and they then split up to look for a match. It saved time, but it didn't work. Then, after moving to Texas, he found a complete hood.
He also had wheels fabricated and decided that since they were new, they should have whitewalls. That led to another new experience.
"I'd never mounted clincher tires," Green recalled. "They are nasty to do, but I finally got them done."
A Quick Engine Fix
He painted the car and with help from his sister-in-law, upholstered it and installed the top, so that the Model T was complete by about 1978. With that, he began to use it on local tours, but as with any car being driven, the work was never really finished and after several years, he decided to drop the pan to inspect the rods.
"I was adjusting the rods," Green said, "and I'd already pulled the head to decarbonize it. I was lying under there and looking up at No. 3 and I was seeing light. That can't happen.
"The carbon had filled the hole and when I cleaned the carbon off, there was the pinhole in No. 3 and at that point, an engine-rebuild was just not in the cards. My father-in-law was visiting us down there and he was an operating engineer whose mission in life was to keep equipment working because downtime is expensive. So I was complaining to Mac about this problem and he came out, took a look at it, walked over to the workbench, got some tools to clean it really good, grabbed a sheetmetal screw and some Loctite, screwed it into that piston and that car was still running in 1990 with the sheetmetal screw in the piston."
He Sold It…and Tried to Buy It Back
The Model T went back to touring, but by the time he sold it in 1992, the engine had been rebuilt and things had changed. He'd been transferred back to Pennsylvania and like any conscientious collector, he'd acquired more vehicles. The Ford was being driven far less because he now had other Brass Era cars and so he let it go, but several years later, a friend in the hobby called to say that he was looking for one and Green suggested that he contact the Model T's current owner. He also went further.
"'I'll make you a deal,'" he told his friend. "'If you buy that T, I will guarantee you that I will buy it from you when you're ready to move up to something bigger and better.'"
As he said, seller's remorse had set in early, so he provided the new owner's contact information and hoped his plan would fall into place. It didn't.
"Finally," Green said, "they connected and the guy said 'You're not going to believe this. I sold it on eBay last week and I'm sitting here watching them load it into a Horseless Carriage trailer. It's going to California.' The irony of that is that I vaguely—more than vaguely—recall seeing that car on eBay, but never put it together. Ebay doesn't give you an address. It was just a picture of a '15 T.
Keeping In Touch With the New Owner
"So it went to California. I called the guy I had sold it to and asked him who'd bought it. He gave me the guy's email address and this is where the fun began."
That was in about 1998 and a running correspondence with the Model T's new owner began. Green emailed him with information on work he'd done, right down to an incorrect fastener he'd used when he ran out of the proper ones and the fact that there had been a sheetmetal screw in the No. 3 piston. The emails continued every several months and grew to include more than talking about the Model T.
"I got to know his wife's name, his kids' names, his hobbies, his business," Green said. "He was traveling quite bit and we did correspond, but we never did connect. I never met him face-to-face, never talked to him and I kept telling him through all of this correspondence, 'Bob, I want the car back. Just tell me where to send the check.' 'No, I'm not ready to sell.'"
Sometime around 2012, the car followed its owner in his move to Tennessee, a development Green saw as the universe beginning to work in his favor.
"We joked about it via email," he said. "'It's coming home; it's getting closer, 800 miles instead of 3000.' We always referred to it as 'our T' in all of our correspondence, not 'yours,' but 'ours.' I kept bugging him. 'I can do that in a day, Bob. I'll be down to pick it up.'"
An Offer That the T's Owner Didn't Refuse
Forces of the universe aside, the matter might never have progressed beyond that point had he not learned that the Ford's owner also had 1956 and 1957 Chevrolet convertibles. Once again, a plan seemed ready to fall into place as Green was considering selling his 1955 Chevy convertible, a truly excellent car. Admitting that he'd tried nearly everything else, he said that he made the obvious point that his Chevy would fit perfectly with the Model T owner's other two Bowtie cars.
This time, the plan worked, and after a year or so of negotiating, the deal was struck.
"We set it up for September 3, 2017," Green recalled. "I loaded up the '55 in the trailer and Rene and I took off. It was a 13-hour drive, as I recall, and as we're going, Rene asked 'do you know this man?' 'No, I've never spoken to him.'"
Once they'd arrived and greeted each other like the old friends they were—via email—he found that while the T was not without its problems, its overall condition was good. Paint on the rear fenders had been damaged, he said, but the real disappointment was that the engine was again seized. Green said that he'd discussed that possibility in emails with the owner and was prepared for it. Following some further negotiation, the deal was made and the Model T was once again heading back to Pennsylvania. His goal was to have the car running in time for the Hershey swap meet, which was just weeks away and it soon became clear that the universe really was working in his favor.
"This time," he said, "I didn't have to deal with acorns and I didn't have to deal with rodents. Smoke, yes, because of the penetrating oil. I managed to get it free fairly quickly. It was very lightly seized. This would be 'stuck.' It was seized the first time. The second time was a light surface-rust seizing and having engines sitting in the shed for two years, we'd gone through that. It doesn't take much to break them loose when you break them carefully. A little this way, a little that way and they start to go.
"But once I got it free and put the head back on, it fired right up. 'Hi, Daddy. I'm home.'"
He checked and serviced the entire drivetrain and adjusted the transmission bands, but found that it still wasn't stopping as it should. Since he had the typical last-minute errands to run before Hershey, two friends offered to correct the problem for him.
"They both know which end of the screwdriver is the operating end," Green said, "so I was off taking care of my errands, I came back and they were riding around in my Model T and it stopped. It wasn't going to stop for long because we were dealing with threads instead of bands, but I had a running, driving, stopping T. I brought it to Hershey and did Hershey, did the Hershey Hangover Tour and then I got smart and put new Kevlar bands in it. I had the time and the luxury to do it. And then we did a local (HCCA) Susquehanna Region tour in it."
Having covered enough miles since he got it back, he knows that all of its needs are minor ones amounting to not much more than adjusting. With that in mind, he said he's as pleased with the Model T as his Chevy's new owner is with that car, but maybe he's even more pleased with the T.
"Running around Hershey last year in it," he observed, "in the Red Field alone there were three 1915 Model T Fords for sale between $10,000 and $15,000 and one of the things I find interesting is that this is not an expensive hobby to get into. Yeah, some of them are worth $30,000 or $40,000, but some are worth $10,000 and I kind of thought for a moment 'boy, you worked awfully hard to get a '15 T when you could've walked over there, turned the crank and owned it,' but my T? Very big difference. I did not want another '15 T. I wanted this and like I said, 25 years I chased it. That's a quarter of a century."